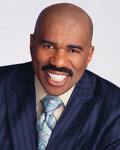 Comic Steve Harvey is bringing his morning radio show to television.
The simulcast will begin this fall on Centric, the spinoff network to BET that appeals to older viewers.
BET also said Wednesday that Academy Award winner Mo'Nique will return for a second season of late-night comedy. BET says it will also take on "The Game," a series that used to air on the CW network and in syndication, about women following a fictitious football team.
The network also plans to start a romantic comedy called "Let's Stay Together."