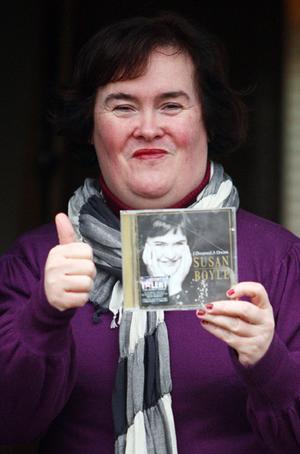 smh.com Reports:
SUSAN Boyle, the singing sensation who stormed the Britain's Got Talent TV show this year, has the top-selling album in Australia.
Boyle's debut album, I Dreamed a Dream, sits on top of the ARIA chart. Her label, Sony, has shipped 70,000 copies to shops around Australia, enough to earn platinum status.
Worldwide, the CD has sold more than 2 million copies in a week. In Britain, it has become the fastest-selling debut of all time – 411,820 copies since its November 23 release.
The 48-year-old Scot stunned the judges on the TV talent quest in April when she performed I Dreamed a Dream, a song from Les Miserables.
She said she hoped to become as successful as stage musical star Elaine Page.
Much was made at the time of the unlikelihood of a dowdy "spinster" having such a remarkable voice, though it later emerged that Boyle was not quite the novice it first seemed. She had recorded a version of Cry Me a River for a charity CD in 1999, and also recorded a demo that same year.
Boyle became an instant celebrity. Footage of her outings on Britain's Got Talent and amateur videos of earlier performances have been viewed more than 300 million times on YouTube.