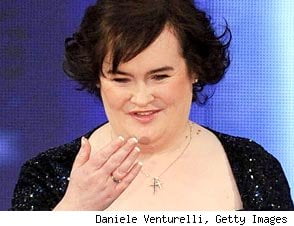 After an alarming break-in last month, Susan Boyle's brothers have come forward with their concerns for her well-being. John and Gerry Boyle fear she's unable to handle the pressure of celebrity and may reach her breaking point soon. "The traveling and the whole [fame] thing is exhausting. She still has her anxieties and her loneliness," Gerry tells PEOPLE.
Boyle's older brother John claims the singer "needs 24-hour care."
Boyle's close friend, Lorraine Campbell, admits the 'Britian's Got Talent' star sometimes visits her late at night. "She knows she can come up to me anytime," Campbell said. "If she's upset, she'll stay the night. Security would bring her up to my house. I take her home in the morning. Susan stayed with me a week ago. Nighttime is a lonely time for her."
Boyle shot to instant fame during an audition for 'Britian's Got Talent.' She shocked audiences with a beautiful rendition of 'I Dreamed a Dream.' Once the video clip hit YouTube, she sailed through to the finals. (Watch clips of her on the show.)
Last month, Boyle returned home to an unexpected houseguest, the BBC reported. The intruder made a run for it when Boyle arrived at her Blackburn home, and still hasn't been identified by police.
"The owner was very distressed to find someone had been within her home and we are keen to speak to anyone who can assist with our investigations," police said.
But Boyle claimed she was doing well. "I'm fine," she said. "It's in the hands of the police now."
According to reports, Boyle, 48 – who lived with her mother until she died in 2007 – has since installed 24-hour security outside her home.
From POP