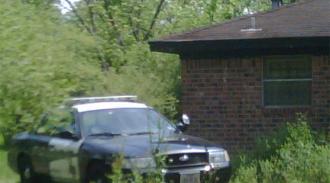 JACINTO CITY, Texas – A manhunt is under way for an armed suspect that fled from authorities in a stolen police car. It happened in Jacinto City east of Houston early Sunday.
Police said around 12:30 a.m., a Jacinto City police officer pulled over the driver of a Kia Optima on the East Freeway feeder road for speeding.
After checking the license plate, the officer discovered the car was reported stolen from Georgia and flagged in connection with several robberies. The driver in the car took off east on I-10 and the officer gave chase.
The suspect, identified as 40-year-old Donnie Lewis Knight, lost control of the vehicle near Uvalde and smashed into another car. Knight attempted to flee on foot, but was apprehended by the officer. The officer handcuffed Knight and placed him in the back seat of the car. The officer then went to check on the occupants of the car that Knight crashed into.
The officer said somehow Knight managed to get his hands in front of him, climb through the middle caged window and into the front seat. He then sped off in the patrol car. There was a police shotgun in the trunk of the squad car.
As of 11:20 a.m., police located the abandoned police car off the East Loop in Houston, but there is still no sign of Knight.
Police said the shotgun was missing from the vehicle and the suspect should be considered armed and dangerous.