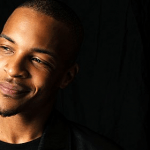 Atlanta rapper T.I. has almost completed a one-year prison sentence for attempting to purchase machine guns and silencers in 2007.
Today, the rapper will be released from house arrest and will begin three years of federal probation, his attorney's revealed.
Now that he is off of house arrest, T.I. must observe a strict curfew for the next 23 days.
The rapper must be in the house by 11.PM, unless he has a show, in which case he will be allowed to stay out until 1:00 AM.
"He's been working," T.I.'s lawyer Steve Sadow told The Atlanta Journal-Constitution. "He intends to continue working, which includes being in the [recording] studio and performing concerts."
T.I. was also fined $100,000 and he already completed 1,000 hours of community service prior to spending his time in prison.
In related news, T.I. has reportedly contributed a new verse to a track titled "Winner" featuring Jamie Foxx and Justin Timberlake.
The song is taken from Foxx's new untitled album which is due in stores in June.
T.I. also premiered his own comeback track earlier in the month titled "I'm Back."
The song is taken from an album T.I. is reportedly scheduled to release this August.