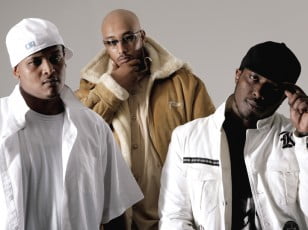 With the underground release of their first album 'Road Map' ripping up the UK rap game, Tefco's new single Rebel Muzik , features reggae legend Luciano and is due out in late June. With its addictive hook and fresh flow it just goes to show that these West London boys are seriously banging out some blazing tracks.
If you're tired of the usual bling then Tefco's strong views on today's ever changing society drop a much needed freshness onto the urban music scene. With their refreshingly humble attitude and unfaltering determination, here is one group that definitely needs to be talked about.
So tell me how did you guys get together and what is the coalition all about?
Big Fize We all know each other from back in the day you know, we grew up together in West London. We're like family man.
Trojah The name Teflon comes from a metal material they use to make bullet proof vests out of. Basically it's impenetrable and that kinda reflects our relationship as a movement.
So what is this movement's music all about? What are you trying to promote?
Trojah Independencewithin the music. We got a couple of tracks where it's on a nice cool vibe, like 'Dreams', but on the flip side we've also got the club bangers with hard, heavy beats.
So what's going down for you guys at the moment?
Trojah We're just trying to be all over the place, we got the mix tape album, the Road Map, and our latest single out on MTV base at the moment featuring Luciano.
Yeah how was that, shooting the video with the legendary Luciano?
Trojah Ah that was an experience man. He's like a proper humble person.
First time we met him was when we took him a demo to his hotel and he treated us like family. Next time he came to London he had the ideas flowing straight away, then we all started adding ideas in the studio and got a real creative bond.
So what are you aiming to achieve next?
Blaze I We also set up ZTMP (Zero Tolerance music productions) alongside Black Pearl Entertainment, so we can bring on board other talent. You know giving other people the opportunities that we've had.
So what would be your ultimate dream?
Trojah For ZTMP/Black Pearl to be like Def Jam in the UK on a level of respect. We wanna make quality music that people pay attention to and put UK hip Hop seriously on the map.
So what is the most important thing that the industry has taught you so far?
Blaze I Mainly that it's not easy and that nothing happens overnight. You got to set goals and be determined.
So where can we catch the movement next?
Blaze I TheSummer fest in Great Yarmouth and we're planning some gig dates for the UK.
Anything you wanna holla out to your fans?
Trojah Yeah stay positive and work hard and watch out for the movement coz we're moving at pace!
'Rumors' and 'The Road Map' are available in specialist stores now