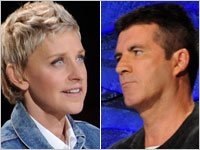 Simon Cowell and Ellen DeGeneres flat out don't get along, and the tension is building … this according to multiple "American Idol" sources.
Our insiders say Simon and Ellen aren't even trying to hide it. Ellen can't stand what she believes is Simon's cruelty toward contestants. And, we're told, Simon actually enjoys pissing Ellen off with his blistering critiques.
People working on the show last night tell TMZ … it was apparent on and off camera … Simon's tolerance level for the contestants was at an all-time low, and he knew it was making Ellen uncomfortable but clearly didn't care. As one insider put it, "He was intentionally pushing her buttons."
It all started badly when Simon showed up late for Ellen's first week of "A.I." taping and made her wait around. Producers separated the two — who began the season sitting side-by-side — but the tension has gotten worse.
But business is business. "A.I." is beating the Olympics, and ratings for Ellen's show skyrocketed last week. In Hollywood, contempt has its upside.
TMZ