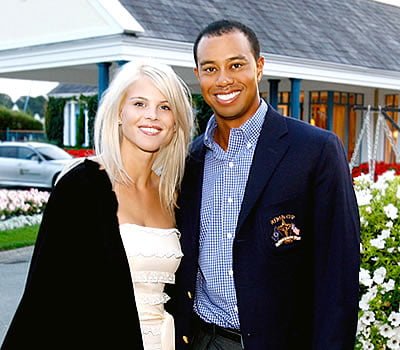 In what police have explained to be a "questionable" car accident, Tiger Woods was found bloody and lying in the middle of the street in his Windwere, FL Subdivision early Friday morning at 2:25 am.
Woods' wife, former supermodel Elin Nordegren claims that she heard the accident and broke the glass of Tiger's Cadillac Escalade and pulled him from the SUV. But some are speculating that this is not the entire truth of the matter.
Woods crashed into a fire hydrant and into a one of his neighbors trees once the maylay came to an end. It's being said that Elin was actually chasing Tiger with the golf club, which would actually explain why she would just randomly be up at that time of the morning and prepared with golf club in hand.
By the time a Windermere police officer arrived on the scene, Woods' wife had pulled him from the truck and layed him on the ground. Officers found Woods dazed and bleeding from his mouth.
According to reports obtained by the Orlando Sintinel from the Orange County Sheriff's Office, Tiger was unconscious for close to six minutes and was drifting in and out of consciousness throughout police attempting to get information from him. 

The police Chief of Windmere, Daniel Saylor says that Mrs. Woods claimed that when she heard the accident, she came running with golf club in hand and busted out the back window…. hmmmm… the back window??? Why the back? Once police arrived, she was seen frantic and hovering over her husband visibly upset.
Windermere officers administered first aid until medical personnel arrived. After treatment at the scene, Woods was transported to Health Central Hospital in Ocoee in "serious" condition, Florida Highway Patrol Sgt. Kim Montes said. On his Web site, Woods said he was treated and released at Health Central.

The police reports do not mention anything about a domestic dispute and police believe that this is merely just an accident.