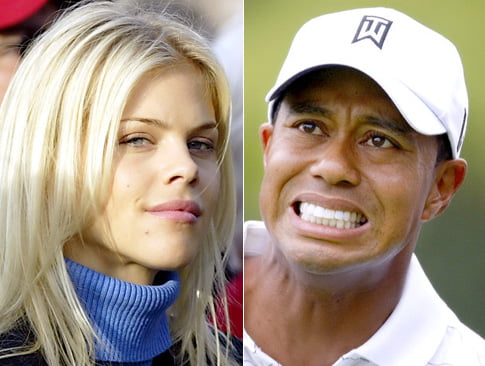 Tiger Woods' angry wife may have flown the coop.
Elin Nordegren left their kids with a nanny and took off from Florida for "destination unknown" after Woods completed his big comeback to pro golf by finishing fourth at the Masters tournament over the weekend, People magazine reported Tuesday.
"She is so over Tiger," a friend of Nordegren's told the magazine. "I wouldn't be surprised if she files for divorce sometime soon."
There is no evidence that the Swedish stunner had filed any papers to dump her cheating husband, but her friend said she's run out of patience with Woods.
"She's so far beyond hurt now," the friend told People. "If she were angry or if she hated him, they might still have a chance to work it out. But she's beyond that. She's numb. She just doesn't care anymore."
The Woods marriage was rocked by reports he betrayed Nordegren with a bevy of babes, including a porn star and nubile neighbor who lived near their Orlando-area home.
Woods mothballed his clubs and underwent sex addiction therapy in a bid to save his marriage. He also publicly apologized for letting down his family and fans.
Evidently, that wasn't enough for Nordegren, who was not happy Woods decided to get back to the links – and who was "disgusted and outraged" by the creepy Nike commercial which featured Woods staring straight into the camera while his late father could be heard saying, "Did you learn anything?"
"Elin was violently angry over this commercial and thought it was a cheesy thing to do," the friend told People. "She wouldn't have gone near the Masters under any condition, but that just made her madder."
When asked about the Nike ad after Day One of the Masters, Woods, 34, called it "apropos."
While millions around the world tuned in to watch Woods' comeback at the Augusta National in Georgia, Nordegren was home watching movies and videos with the kids, her friend said.
"Elin's not the type to get all weepy or have pity parties for herself," the friend told People. "She mourned the loss of this marriage, and now she's moving on. It's the only thing she can do."
Nordegren, 30, has not made a single public statement since the scandal broke in November. But she has been photographed without her wedding ring and bought a secluded vacation home in her native Sweden just before Christmas