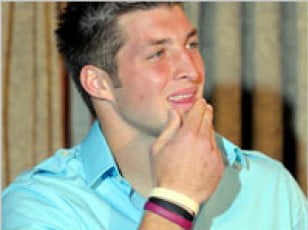 Tim Tebow was a polarizing prospect in this draft, with some thinking he could go as high as No. 8 or No. 9, and others feeling he would drop to the third round. The reality fell in the middle, as the Florida quarterback was drafted by the Denver Broncos at No. 25. Kyle Orton should still be the starter in Denver for 2010 and possibly 2011, but Tebow will now be the future face of the Broncos franchise.
The Broncos spent Thursday night moving all over the draft board in the first round, and after snagging Demaryius Thomas with their first pick of the draft, they traded back into the first round to draft Tebow. The Ravens received picks in the second, third and fourth rounds from Denver in the trade (No. 43, No. 70 and No. 114).
The biggest shocker in the grand scheme of the draft was that Tebow was drafted ahead of Notre Dame quarterback Jimmy Clausen, a player that most thought was clearly the No. 2 prospect at the position (behind Sam Bradford). Clausen was expected by some to be drafted in the top 10, but suffered a precipitous fall on draft day.