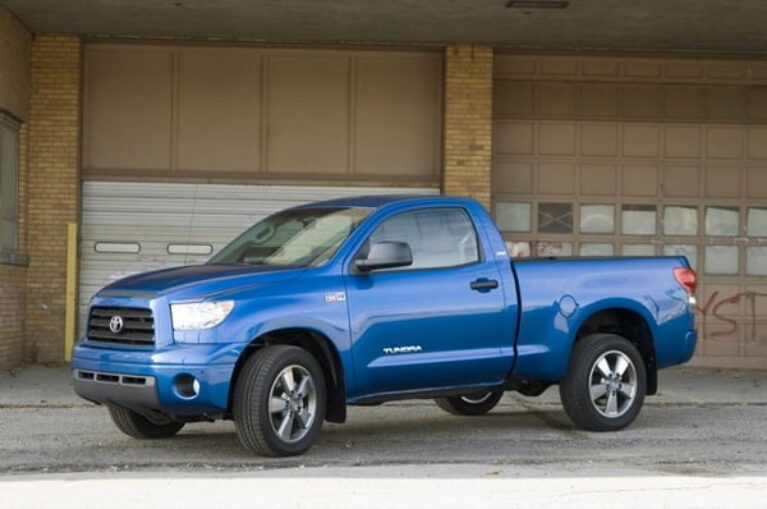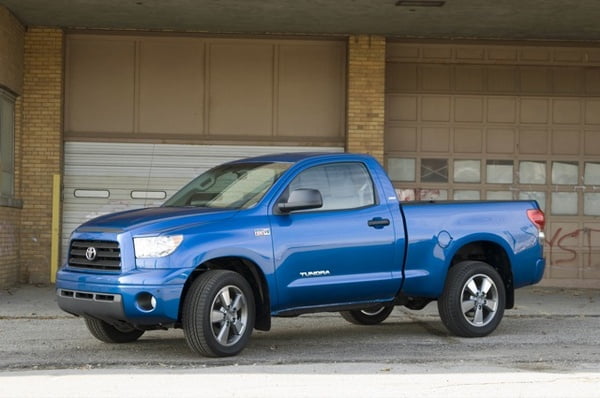 Another day, another Toyota (TM) recall: The world's largest automaker said Wednesday it is expanding a previously announced recall of Tundra pickup trucks to fix frames that can rust and possibly lead to the loss of the spare tire, which is mounted underneath the truck bed.
Toyota first announced the recall, which included 110,000 Tundra vehicles sold in 20 "cold weather" states and the District of Columbia, in November. The updated recall has been broadened to include 2000-03 Tundra models sold in all 50 states, Toyota spokesman Bryon Lyons told the Associated Press.
Dealers were notified of the expanded recall Tuesday, but Lyons didn't immediately know how many additional trucks would be covered. He said Toyota would provide more details.
Toyota is in the midst of a massive recall of more than 8 million vehicles worldwide for problems related to unintended acceleration, allegedly caused either by bulky floor mats that pin the gas pedal to the floor or by sticky accelerator mechanisms. The company continues to deny electronics as a possible source of the problem, despite a highly publicized acceleration incident in California on Monday, in which a 2008 Prius hybrid sedan sped uncontrollably down a San Diego-area freeway.
The driver, James Sykes, dialed 911 to report the incident, and a highway patrolman was dispatched to help him to slow the vehicle, which had reached speeds of 94 miles an hour. The 61-year-old driver said he was pressing so hard on the brake pedal to slow the car he could smell the brake pads burning. After deploying the emergency brake, the vehicle slowed to under 55 mph, and Sikes was able to turn the engine off. Speaking to reporters after the 23-minute ordeal, a shaken Sikes said when he pressed down the gas pedal, "it did something kind of funny … it jumped and it just stuck there."
More Than 60 Reports of Sudden Acceleration in Cars That Have Been Fixed
Toyota and the National Highway Safety Traffic Administration have dispatched investigators to look into the matter. Despite a report by The Wall Street Journal and other media, including DailyFinance, Toyota said Tuesday it isn't planning a new recall of 2004-09 Prius models to fix gas pedals that may become entrapped by rubber floor mats. The 2004-09 Priuses were included in a voluntary recall last November to address floor mat entrapment in some Toyota and Lexus vehicles, it said.
Regulators have linked 52 deaths to crashes allegedly caused by accelerator problems. Still, there have been more than 60 reports of sudden acceleration in cars that have been fixed under the recall.
Police are also looking into an incident Tuesday involving a 2005 Prius that struck a stone wall in Westchester County, N.Y., after its accelerator stuck, according to the car's driver, who escaped serious injury. An official said the floor mat wasn't a factor, according to the New York Post. Toyota has not yet said whether the company will also investigate.
Monday's runaway Prius incident couldn't have come at a worse time for Toyota, which just a few hours earlier sought to debunk tests performed by a Southern Illinois University professor showing the company's electronic throttle-control system was susceptible to glitches that could lead to sudden and dramatic acceleration.
During a live Webcast Monday, Toyota raised issues with the methodology and credibility of a demonstration by professor David Gilbert and depicted in an ABC News segment late last month which showed that the throttle-control system of a Toyota Avalon sedan could be easily manipulated into producing sudden uncontrolled acceleration. Gilbert also testified before Congress about his findings last month, alongside Rhonda Smith, a retired Tennessee social worker who experienced uncontrolled acceleration in her Lexus ES 350 sedan during an incident in October 2006.
Despite its recall woes, Toyota said Wednesday that North American sales have surpassed company expectations, rising some 50% since the beginning of March with the help of incentives, according to the Associated Press.