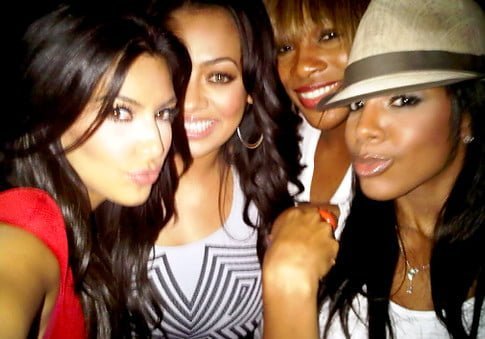 Demi Moore may have helped save a fellow tweeter's life but now she wants to take another one down.
In front of her 2.6 million followers, the actress took a swipe at fellow Twitterati Kim Kardashian for using the term "pimpin" Sunday night.
The 29-year-old star of "Keeping Up With the Kardashians" had taken the photo at a charity event in Miami and posted it on Twitter. The image showed her, Serena Williams, LaLa Vazquez and Kelly Rowland above the caption "Big pimpin."
Moore took offense at the off-hand use of the term.
"@KimKardashian No disrespect I love a girls night out but a pimp and pimping is nothing more than a slave owner!" she wrote.
Realizing that her tweet had a resounding effect, Moore posted an addendum.
"Just so ya'll are clear I like @KimKardashian I was just making a point about how we have used a word and desensitized the real meaning."
Kardashian was surprised by Moore's outburst and clarified that she was using the term in reference to a song.
"Clearly I stirred up a s— storm, but 2 create change U have 2 be willing 2 take a risk and be willing 2 provoke thought & conversation," Moore wrote in response.
No word yet on who won the war but at 3.2 million followers and counting, Kardashian definitely has the upper tweet.
 NyPost