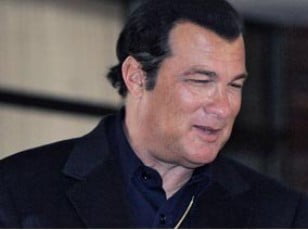 Two more women have accused Steven Seagal of sexual assault, TMZ reports.
According to the Web site, both, who say they were hired as personal assistants but quit due to Seagal's behavior, are assisting Kayden Nguyen with her lawsuit against the movie star. They provided Nguyen's defense with sworn statements that claim they were victims of Seagal's, too.
One alleged that he fondled her breasts and told her that he was "checking just as a doctor would for lumps."
"Seagal reached his hand down my pants. He said, 'I just wanted to touch it for a second to see what it felt like,'" her statement read.
Seagal's lawyer, Marty Singer, has shot back at the new accusations. "My client has no knowledge of these women and a preliminary check of his employment records does not show that they ever worked for him."
Singer added: "The declarations were clearly prepared by Nguyen's lawyer to be leaked to the media to help bolster his client's meritless claims."
Meanwhile, Sonam Choezom, the former nanny for the 'Under Siege' star, told TMZ she is "very surprised" by the allegations being made and that he was "always very nice and respectful" when she worked for him. Choezom said she never felt threatened during her employment.
Seagal is being sued by Nguyen (above) for sexual harassment, illegal trafficking of females for sex, failure to prevent sexual harassment, retaliation, wrongful termination and false representation about employment.
The actor hired the 23-year-old model to be his executive assistant. According to her lawsuit, he not only treated her "as his sex toy," but that he had "two young female Russian 'attendants' on staff who were available for his sexual needs 24 hours a day, 7 days a week."
Nguyen says she complained about Seagal touching her breasts, putting his hands up her skirt and forcing her hand down his pants, but nothing was done, and she explains that he tried to sexually assault her the next day.