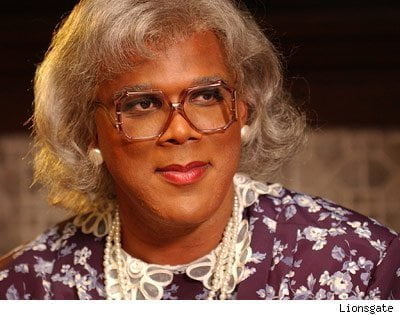 BV: Hollywood mogul Tyler Perry is planning to get dolled up as Madea a whole lot next year.
The 40-year-old filmmaker recently announced that he's launching a new touring play, called 'Madea's Big Happy Family,' on Jan. 5 in Denver.
"Madea is officially going on tour! That's right, a Madea play, live on tour! I have managed to carve out about a year to go on the road and see you all again," Pehttp://www.fevermag.com/sites/default/files/imagefield_thumbs/image… announced via an e-mail to fans.
Perry, who was just named one of Barbara Walters' "10 Most Fascinating People of 2009," last toured in his production of 'Madea Goes to Jail' in 2Tyler Perry005. That play was adapted into a motion picture that was released four years later and grossed $41 million during its opening weekend.
"It's been five years since I've been on the road, and the timing just happened to fall right into place. I needed to get away from Hollywood for a second…clear my head. There is no better way to do that than to come out and see your faces and be reminded of where this all started," Perry wrote.
'Madea's Big Happy Family' is scheduled to run until May 9 in Detroit, though Perry was clear: "More cities will be added as we go.