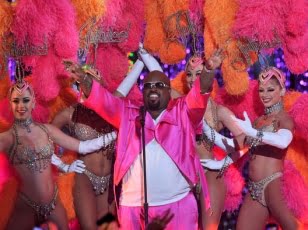 I'm giving props to the man, Cee Lo Green, for deciding to be a headliner for the next several months at Planet Hollywood's Resort and Casino in Los Angeles, CA. He's still running as a judge in the hit TV show, "The Voice" and making music that's cutting edge and classically artistically offensive but still has plenty of groove. The props are for doing something that ordinarily in the high point of an artist's career would signal downfall and death, or is often attributed to post-fame in the spotlight of his life.
No knocks against Planet Hollywood, as they're cool, it's just that casino entertainment, unless that's what you've done all your life like some of the Las Vegas greats, usually means your career is past over. But Cee Lo is rewriting the lyrics on that page, letting everyone know your career doesn't have to be dead to work a casino crowd.
Moving on, his first performance there recently was pretty hot. Lots of Vegas-style dancers and music tailored to Planet Hollywood's style with the Cee Lo twist. What's even more fun is the shot taken of him in performance that editors kind of forgot to double check. Take a look–what do you see?
I'll give you a hint: Middle bottom of the screen. That's right; the photo caught a fan's hand right in front of Mr. Green's "junk". Ooops! It looks like his "undercarriage" is getting the personal treatment. Great show, Cee Lo, and here's a little extra!