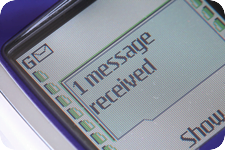 (AP) ALTUS, Okla. (AP) – A Mangum woman has been arrested for allegedly sending a text message about illegal drugs to a drug task force agent. A warrant was issued for the woman for possession of a controlled substance and unlawful possession of a controlled drug with the intent to distribute. A Jackson County jailer said Wednesday the woman wasn't in custody.
Authorities said District III Drug Task Force agent Chris Counts received a text message that said, "if you want a hit of this stuff before it is all gone, you better get over here."
Counts sent a message asking for an address and determined that the suspect lived there. Officers said she thought she sent the message to a friend.
Authorities said they found a gun and a powdery substance during a search of the residence.