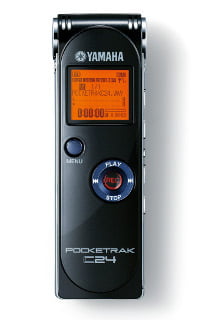 Yamaha makes great audio devices and sound systems.Introducing the Pocketrak W24 and C24 portable recorders, touted to produce great sound in a compact package. Both of these new convenient, reliable and unique portable recording devices were the result of deep thought and design.
The C24 comes with an omnidirectional microphone which is basically the most suitable choice for most applications in schools, houses of worship and all-in-one recording needs. It is touted to be the smallest 24 bit/96KHz recorder on the market, where each purchase will be accompanied by a mounting adaptor. Apart from that, the C24 is also the only portable recorder which is light enough to attach to a mic or music stand. You can also hook it up directly into a USB port, doing away with the need for an additional cable.
As for the W24, you will get a wireless remote controller with it as that particular add-on sure comes in handy in selected situations. As an added bonus, it is also equipped with a Scene Memory function which is capable of recalling the settings for a particular recording session or location automatically. When recording in MP3 mode, you will be able to get up to 27 hours of audio.
Both models will include value-added features such as a metronome, an instrument tuner, 2GB of internal memory (which is expandable thanks to a miniSD memory card slot) , a Peak Limiter that avoids distortion on sudden loud passages and a High Pass Filter that eliminates low frequency noise on recordings. With the Speed Change function , one can speed up or slow down MP3 playback without effecting a change in pitch, which is similar to high-priced guitar training machines that allows guitarists to practice a demanding barrage of notes or chord changes at a slower pace.