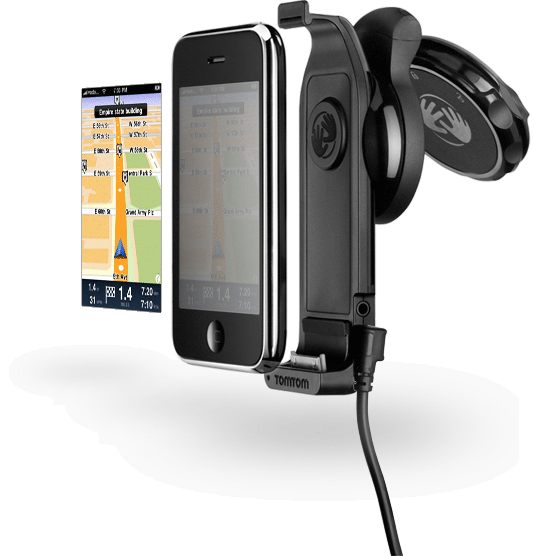 The long awaited TomTom App for the iPhone is officially here bringing the company's popular turn-by-turn navigation system to your phone. The App can operate on its own or with TomTom's Car Kit which enhances GPS reception, voice instruction volume, as well as charging and hands-free calling.
The Car Kit uses a line-out and not an FM Transmitter. While the latter works without wires, and not all vehicles can accept line-in, FM transmitters are typically junk. The Car Kit will also have its own speaker to out-power the iPhone's own speaker as well as a microphone to handle hands-free calling. The Car Kit is not a requirement however, the app will work fine without it.
The app will also is very "iPhone-like". The map can be zoomed in or out on by the standard iPhone "pinch" gestures, menus will swipe, and double taps are contextually recognized.
Unlike many other mobile phone based applications, the iPhone's maps will be "on board" and not served "over the air". So if you are out in the boonies without phone reception, you will still have maps. Map updates will also be made available, the software will set you back $100. The actual iphone TomTom car kit is $120, so expect to pay $220 for everything.