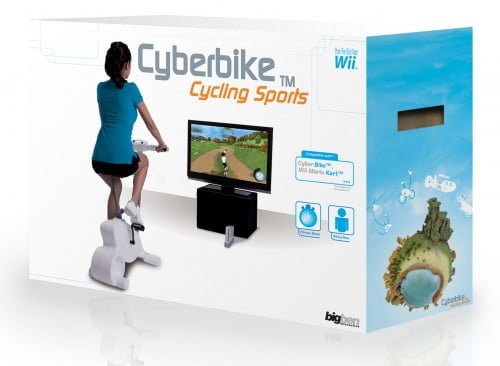 The Wii system has always secretly been a game console that likes for you to get off the couch and exercise. Now the Wii is offering an acessory Wii Cyberbike that brings excersise to a whole new level. The Wii Cyberbike is what its box implies, a stationary bike designed for the Wii. It comes with a game that involves the player biking around the world picking up pollution. Apparently, this world in the game is something not of this world, as the island on the side of the box implies.
The rumor is that the Wii Cyberbike is also going to work with Wii Mario Kart, but I'm guessing for only one player. Let's hope this isn't the player who travels the slowest because he or she has to pedal while his or her competitors have motorized autos.
The Wii Cyberbike is set to launch in January of next year, but only in Europe. No price point has been set as yet, and there is no word of it coming to the United States.