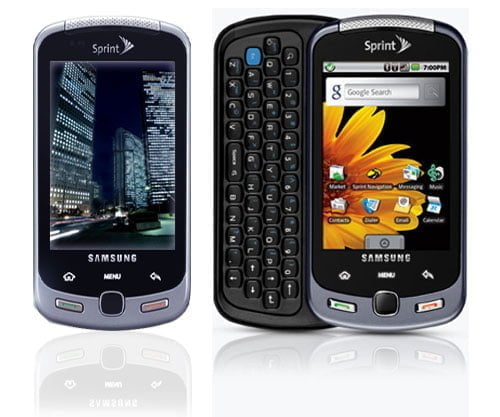 The Sprint Samsung Moment is one of the most impressive android phones released by any carrier this year. The AMOLED display screen lights up with such bright, saturated colors you will be mesmerized. Throw In an 800MHz processor, slide-out keyboard, and superb Wi-fi capabilities and this touch-screen phone is arguable one of the greats. Fever Magazine's Technology Editor Larren Cosby, tried out the Sprint Samsung Moment to determine if all the hype surrounding the mobile device was justifiable. Below are his findings:
Performance

The most important thing consumers should consider when a purchasing a new phone is if the mobile device just works — no delays, no crashes, no annoying little quirks. The Moment passed this test with flying colors, in large part due to the 800 MHz processor. Apps launch quickly, and my every command was carried out almost instantaneously, with no waiting.
Wireless/Call Quality

The call quality on this device is superb. I made some test calls/prank calls to friends this morning while the dog was barking and television was on maximum audio output; one of my test callers simply couldn't believe how clear the conversation was with all the disturbances were going on in the background–they would have sworn that I was inside my office! Calls come through loud and clear, and there was no interference and no problems whatsoever with background noise.
Wi-Fi works great with the Moment. Setup was simple, just a matter of entering in my WEP key. After that I was flying along and really enjoying the best email and web browsing experience the Moment has to offer.
Productivity

The email app on the Samsung Moment is great — it works flawlessly with GMail. And the file viewer does allow you to view text and PDF documents as well as Word, Excel, and PowerPoint files that are sent to you as attachments. The Moment works well with a variety of other email services such as Yahoo, Windows Live, and others.
The web browser is spectacular, offering a stress free experience that is clear and easy to use. The default view is easy to read, but if you need to zoom in just tap the screen to bring up the controls and then touch the plus and minus bars as needed. If you want to see the whole page at once, tap the box in the lower right corner of the screen and then drag with your finger to scroll and tap to select a particular area for a closer view.
Other productivity applications include Calendar and Contacts, which that can be linked with your Google account once you complete the simple five-second setup process of typing in your username and password. You'll also find an alarm clock a calculator, the Gallery photo and video viewer, Google Maps, and Google Talk.
Camera
Surprisingly, the Samsung Moment includes "only" a 3.2MP digital camera, but the Moment's 3.2 camera outperforms many others currently on the market, plus the Moment has a welcomed flash option.
The Moment's photos are sharper, brighter and more colorful then most, and the flash feature makes indoor shots nearly as impressive. With the flash employed, snaps taken on the Moment are crisper with more realistic and natural color.
The Moment also includes a handy physical camera activation/shutter button that makes it easier to grab a quick shot.
Battery Life
The Samsung Moment's rated talk time is "up to" five hours, but in this age of multi-functionality, the question is as follows… Can any Android phone last a whole workday without recharging?
The answer to the question is yes, with plenty of time to spare.
When the Moment fell to just 5 percent of juice remaining, its AMOLED screen dimmed to half brightness.
In conclusion the Samsung Moment by Sprint is simply a great mobile device. Don't just take our word for it, visit your local Sprint dealer or the Sprint website to find out more information on this phone and other android phones.