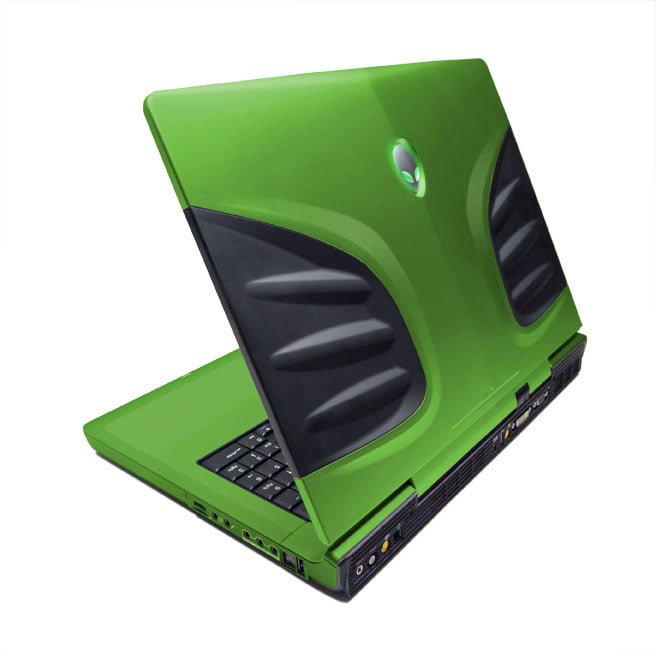 Ah…sweet Alienware. It's quite remarkable how such a simple thing can inspire such envy; envy from those who have no idea what it's packing under the obscenely aesthetic glossy case as well as envy from the nerds who know how long your laser mouse cord must be (is that really geek humor? It's barely humor at all…). As with most Alienware notebooks, the m9700 is not designed to be ultra portable; so let's clear that up right away. You won't be able to lug this around to classes or on the bus on a regular basis unless you're willing to kill your neck/back. It's heavy. The 17" display makes for a very wide case as well—wide enough to accommodate a full keyboard with 10-key (which is very handy if you've already got the space).
The touchpad is located in the excessive margin (the result of accommodating a gigantic display screen) and while it includes a scroll bar sensor, the actual pad is rather rubbery and difficult to use naturally, while the click button is a single bar with left and right click sides (not divided). Ultimately, serious gamers are going to choose an external optical (probably laser) mouse to perform their rituals. I was afforded the opportunity to try a true gaming mouse in the Logitech G5 laser mouse—complete with an adjustable weight cartridge (suspiciously similar to the battery cartridge in their wireless equivalent) and on-the-fly sensitivity adjustment. Laser is really the only way to navigate, since you won't likely need the touchpad most of the time. Being a notebook, it should go without saying that the speakers aren't amazing; however, for laptop speakers, they are surprisingly full (built-in sub) and with outputs for surround sound, the system can easily transform from a supped-up portable media device into a gaming/media powerhouse. As with the mouse, most hard-core gamers will utilize the 5.1 support or optical audio to really tap into the multimedia potential. They know the notebook isn't easily portable. They don't care.
When you pack as much performance into a computer system you can carry AT ALL, you've accomplished something amazing. Alienware has done just that. Starting with the display—which is a gorgeous 1920 x 1200 resolution—supported by dual (yes, that means TWO) NVIDIA GeForce Go 7900GS 256MB video cards. You want speed? You want SPEED? Okay…you've got it. All the fancy shading and anti-aliasing touchups that separate playing a game to experiencing a game are included in these mobile video cards. I think you mentioned wanting speed? Well, AMD Turion(tm) 64 Mobile Technology 1.59 GHz processor with 2GB of RAM (seriously, 2GB) plus a 200GB NVIDIA STRIPE RAID hard drive—pretty much redefines speed. *In case you are interested, Doom 3 runs at 95.5 fps and the 3DMark Score is 5637…you freakin' nerd. There's more than enough firepower to "get your game on" (NOTE: this has a completely different connotation outside of this elf-killing, Dorito-eating, Mountain Dew-chugging world, so don't be surprised if you get a few incredulous looks from the cashier upon uttering such a phrase). All the standard luxury accoutrements are here—DVD RW, Bluetooth, WiFi, four USB 2.0 ports, SD slot, Ethernet, optical audio, 5.1 surround capable, —but with a few more additions that you won't see on your stock Dell (even though Dell actually owns Alienware). Mounted front and center is the 1.3 megapixel camera for video chatting and…um…pictures.
A glossy green case with black accents and display add a geek-chic sex appeal (What the hell is SEX appeal doing associated with a WOW Plow?!?) to a powerful multimedia system. The m9700 is designed to function as a Windows Media Center with soft-touch controls on above the keyboard, every output known to man—DVI, SVGA, S-Video in/out, and coaxial—to connect to a slew of displays. There is even an infrared remote to control Windows Media Center and IR receivers to record satellite or cable TV directly to the m9700…which is pretty damned cool. SHORT AND SWEET: Alienware is the king of manufacture-built gaming systems. The m9700 is their best buy and a solid machine among iron-clad systems. If you're serious about gaming, you can't go wrong with the m9700…feel free to buy it.