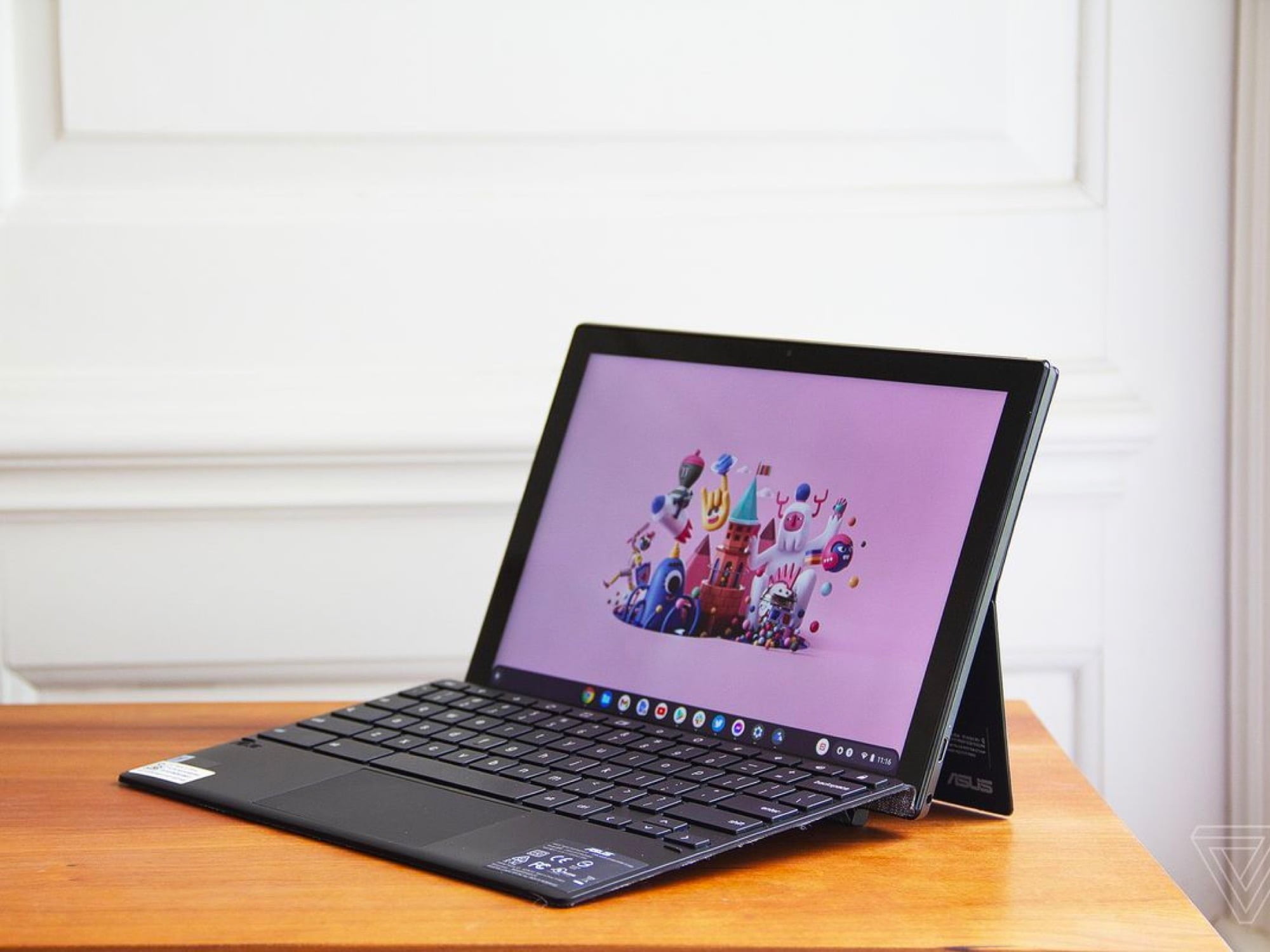 Technology has been continuously developing day by day, especially computers. Remember when people used to have a computer set? Without the mouse, keyboard, monitor, or unit, you can't use the entire unit. That's undoubtedly inconvenient if you need to finish work. Still, there's an outage or internet connection problem at home. If we continue to live in a world where we have to suffer from these instances, we are not moving forward.
Nowadays, we have laptops, but what's more interesting are tablet devices that can turn into laptops anytime and anywhere. There was a boost in demand for these devices, which is why different brands started offering more Chromebooks in the market, such as HP Chromebook x2 11, Google's Pixel Slate, and Lenovo's Duet. On the other hand, according to users, Duet's rival is more competitive, and here's an Asus Chromebook Detachable CM3 review to convince you to purchase it instead.
What's Inside the Box?
Techies in the United States or the US are lucky as the Asus Chromebook Detachable CM3 is available in the US market, unlike Australia and the United Kingdom or the UK. But what makes this Chromebook the talk of the town? Why should you buy it more than Lenovo's Duet?  Here are the things you'll get when you buy a package of the CM3.
You'll admire the 10.5-inch Chrome tablet as this two-in-one package comes with a detachable keyboard. You don't have to flip the keyboard around if you need to use the tablet as is, which makes it a rare model compared to other two-in-one Chromebooks.
It has a magnetic snap-on function to secure your keyboard if you need to use it on a regular laptop. Plus, it has a magnetic kickstand cover attached to the main tablet. If you thought buying the Lenovo Chromebook Duet released last year, you could get an improved version with the CM3.
The size of the CM3's keyboard is just right for answering emails or editing documents, but you have to use it in a place with lighting since it's not backlit. You may not find using it ergonomically if there's too much to write, but you can opt for a typical Bluetooth keyboard if you need to type longer write-ups. However, the size is right if we're talking about convenience because most people prefer smaller sized-keyboards for ease in keeping it, whether you need to keep it inside your bag or cabinet.
You'll love its classy style in black color, being the perfect unisex Chromebook. Plus, the rear and keyboard covers are also classy, which comes with portrait and landscape kickstands. Other users find the edges too frayed, but the covers have a nice touch. Another downside about the rear cover is how it doesn't fit well around the lens of the CM3's camera. On another note, the covers are enough to protect the tablet and keyboard from damages.
Aside from the 10.5-inch tablet and detachable keyboard, another freebie of this package is a USI pen. It's small but exceptional for taking notes or sketches, and it's an added deal about the CM3. The only downside is the struggle you may experience in pulling it out and up from the garage, especially when you have a small fingernail.
If you're an artist who wants to work on your sketching skills, you might not get outstanding satisfaction in using the CM3 because the features are not as advanced as what graphic designers need. Nonetheless, you can use it for 45 minutes after recharging it for 15 seconds, which is why it's best used for brainstorming or working on ideas.
Specs
Operating System: Chrome / Android 9.0
CPU: 2GHz MediaTek 8183
Display Size/Resolution: 10.5-inch 1,920 x 1,200 touch display
Memory: 4GB 2400MHz LPDDR4X (onboard)
Storage: 128GB eMMC
Graphics: Arm Mali-G72 MP3
Networking: 802.11ac Wireless, Bluetooth 4.2
Connections: 3.5mm audio jack, USB 2.0 Type-C (power, video out support)
Features
Most of the features of the CM3 will not disappoint you, especially when you prefer to use it for work or studying outside the home. Since people prefer checking on their emails or amending documents in cafés, or work hubs, investing in this two-in-one tablet may be their best option.
A laptop charger will make your messenger bag less bulky with the CM3 because the battery life is long-lasting. If you're going out for about three to four hours, you can count on its 14-hour battery life, which is way longer than the Duet's battery life. Also, if you're streaming a 15-minute video, it will not immediately drain your CM3's battery. The tablet's charger may not be as big as regular laptop chargers since it uses a 45-watt USB-C adapter, but you can use the tablet for a few hours without worrying about where you can recharge. Work hubs have available sockets, unlike most cafés, but it's good that this tablet doesn't drain its battery too quickly.
Another feature that gave it an advantage against Duet is the sound system. Despite having thin speakers, the size doesn't compromise the sound. However, the speakers might not meet your expectations in playing rock or music with beats, but the music can still be soothing.
On the other hand, connecting to a wireless speaker is not a problem, thanks to its built-in Bluetooth feature. Plus, if you want to keep it classy with wired earphones or headphones, you can also plug your favorite in its audio jack. Moreover, if you want to plug it in an amplifier, you need a 3.5mm audio jack connecter, and you're all set. You can even prolong your speakers' function, and you can also listen to louder music while working or playing at home.
The CM3 and Duet can't use a microSD card for added storage, but the best part about the CM3 is its 128GB storage. It's good as having a microSD card because of its extended storage, or even better because you don't have to carry a very small card, which you can lose any time. Its enhanced internal storage is way better than carrying a small card. After all, our technology today focuses on how things are stored in online drives, so even if the device needs reformatting, your files are secured.
The CM3 may be recommended for editing or doing office documents more, but it doesn't fall short on its performance when it comes to entertainment, thanks to its MediaTek processors. The 4GB-memory improved its performance, especially when you're opening applications or browsing on the internet. There is limited software it can cater to, but you can assure that all necessary software you need for studying or working is compatible with this Chromebook.
Did you think this Chromebook is not suitable for gaming? You got it all wrong, as you can do gaming as well. It may not handle other games that only gaming laptops can, like Valorant, but good options are GeForce Now and Stadia. A little fun wouldn't hurt, especially when you've been working or studying for many hours, and these android games will work on this tablet. You can enjoy your break times by playing these games without any problem or lag.
Lastly, its impressive Wi-Fi connectivity will give you a good time as you do anything on the internet. The CM3's Wi-Fi connection may not be as fast as the 802.11ax Wi-Fi 6, which Asus should improve, but it lets you connect to the internet without excessive lag or loading time. You can scroll into your social media account's feed or edit your display photo in a photo smoothly without the sudden closure of apps due to lag unless the internet connection is the main problem.
Pros
Long-lasting battery life
Comes with a USI pen for gaming or sketching
Very portable
Comes with a magnetic snap-on keyboard
Cons
Doesn't use a microSD card
Covers didn't use high-quality materials
The 802.11ac Wi-Fi connectivity is not impressive
non-backlit keyboard
Conclusion
Comparing the Asus Chromebook Detachable CM3 with the Lenovo Chromebook Duet, the CM3 has many advantages that most people will appreciate, especially students. Since it comes with a USI pen and a detachable keyboard, it's an exceptional package. Write down notes as if you're writing in your notebook, sketch ideas, play a game during your break, or listen to your favorite playlist on its speakers. These are some of the things you can enjoy while using the CM3.
The specs are also impressive, especially the 128GB internal storage, but the wireless network installed in this tablet may not beat tablets with Wi-Fi 6 when it comes to speed. On the other hand, its 4GB memory lets it function as a gaming console when you want to have some fun.
Furthermore, the CM3 and Duet costs are not relatively far from each other, but with the entire package of the CM3, it's undoubtedly a good investment compared to the Duet. The covers didn't meet many's expectations, but the tablet's performance, along with added freebies, made it more in-demand compared to its rival. Despite having many points for enhancements, this Chromebook is better to recommend than the Lenovo Duet.
Last update was on: July 28, 2023 12:52 am