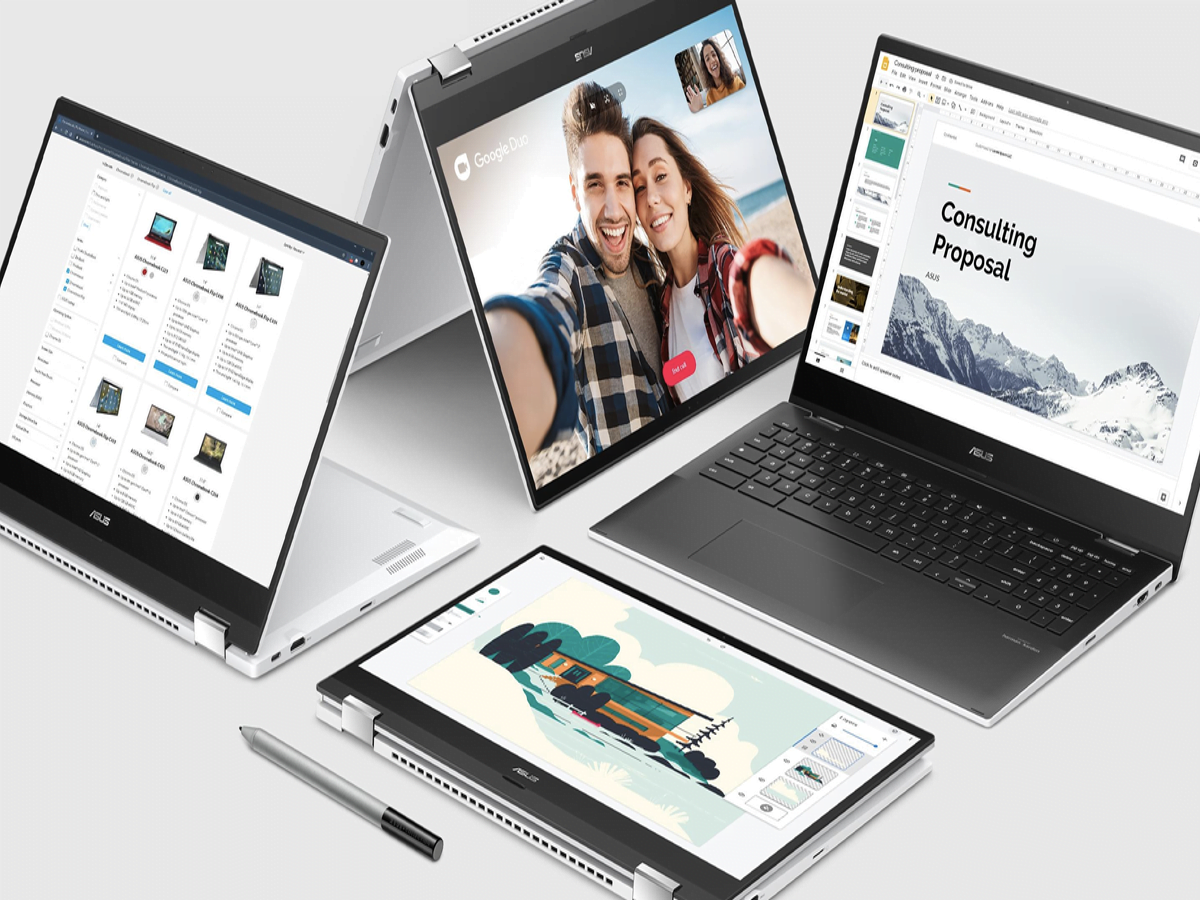 Laptops are becoming more advanced these days. People settle on typical laptops, which are heavy and bulky because it's better than the heavy desktop set. Nowadays, you'll find other more advanced and flexible laptops, which let you fold these to a tablet mode and use the screen as a tablet. If you're looking for one with exceptional features, you can never go wrong with Asus. Here's the Asus Chromebook Flip CX5 review to consider. 
What's in the Box?
The box comes with an Asus Chromebook Flip CX5 laptop that measures 14.08 by 9.48 by 0.73 inches, which is ideal for most laptops. Many users admire its size because it's neither too small nor big. Bringing it anywhere you go is not very hassling at all because it's also light, weighing 1.95KG. It fits most bag sizes, whether a backpack or a messenger bag. 
Aside from the size, many users admire the quality of this model because it comes from high-quality materials. You can assure that it will last very long, especially if you take good care of it. It may not be very cheap compared to other laptops in the market, but it's worth the investment since you don't have to buy another laptop for quite some time. 
When it comes to the design, this laptop is very classy. Asus laptops are popular for their designs because they manage a classy look without being boring. It has a modern touch, making it more attractive to users. You'll also love its flexibility, letting you flip it where you can use it as a tablet. The clamshell model of this laptop makes it more attractive and handier to many users. 
If you're expecting some freebies with this laptop, there are no freebies at all. It only comes with the charger for the 57Wh battery. It doesn't have a gaming mouse or a headset. 
Specs
Display Resolution: 1920p by 1080p

Processor: Core i5-1135G7

RAM: 16GB

Storage: 128GB SSD NVMe

Ports: two USB-C 3.2 Gen 2 ports, one HDMI 2.0, one USB 3.2 Gen 2 Type-A, one microSD slot, and one audio combo jack

Connectivity: Wi-Fi 6, Bluetooth 5.0

Camera: 720p
Features
The Asus Chromebook Flip CX5 laptop is one of the most recommended foldable laptops because of many features, such as the following. 
The performance of this Asus model is exceptional. It lets you do whatever you need to do without interruption because of its Core i5-1135G7 processor. There's no lag when you change from one task to another, which is an advantage because some brands are unreliable when it comes to performance. You can watch any movie you want or browse the internet without slowness. Plus, if you're a gamer, you'll love it more because it doesn't compromise your gaming experience. 
Aside from the processor, this Asus model comes with 16GB RAM, which helps more in giving you an exceptional gaming experience. You can play any computer game you want without sluggishness with the processor and memory of this model. 
When it comes to the display resolution, you'll love how the 1920p by 1080p screen display high-definition graphics, which is very favorable when watching movies or playing video games. Aside from that, you'll love how responsive the 15.6-inch touchscreen is. If you're not in the mood to navigate through the touchpad or mouse, you can navigate with ease through the touchscreen. 
The battery life of this Asus model is very impressive since you can use it for about eight hours. It's very competitive compared to other laptops in the market because some can only last for less than five hours. Despite having a touchscreen interface, the battery of this Asus laptop remains long-lasting. If you always go out for work, you don't have to bring the charger since it will last you for a day. 
The audio quality is impressive, especially when playing it on the stereo. The balanced sound will make you enjoy whatever music you play, regardless of genre. It comes with an audio combo jack for your wired earphones or headphones if you prefer to listen along. 
Lastly, the keyboard of this Asus laptop is also exceptional. It comes with a numeric keypad, making it very suitable for working. Aside from that, you'll find comfort in using it because the keys are not very hard to press, and these don't create noises when you use them. Moreover, the wide touchpad is another feature that users admire, but some find it stiff. 
Pros
Responsive touchscreen

Smooth texture

Long-lasting battery life
Cons
Expensive

Stiff touchpad

Has a 16:9 display
Conclusion
The Asus Chromebook Flip CX5 is a competitive Asus laptop that users love because of its features. Many users gave it an above-average rating, but some think it still needs improvements on other aspects. 
The battery life is impressive in that it satisfies users. It can last for about a day, which is favorable if you prefer working or studying outside the home. Other laptops in the market barely last for eight hours, which is why it's very suitable for offices or studies. 
The performance of this laptop will not disappoint you at all because it prevents the laptop from slowing down. The Core i5 processor makes sure you work without interruption. Also, playing video games is more fun because there's no slowness, thanks to the 16GB RAM. 
The touchscreen interface of this Asus model is very responsive, and you can control the cursor through the screen without discomfort. The touchpad is wide, but some think it's too stiff, which causes a little discomfort. On the other hand, the keyboard is very handy because it comes with a numeric keypad. 
The camera quality gives a decent performance, but others expected better quality than what it gives now. 
Nonetheless, if you want to buy a new laptop, you should consider the Asus Chromebook Flip CX5. It's not only handy, but it's also impressive in many aspects. You'll love the performance, battery life, and style, which are the features that many users value the most. It may be pricier than other foldable laptops, but it's worth the price.