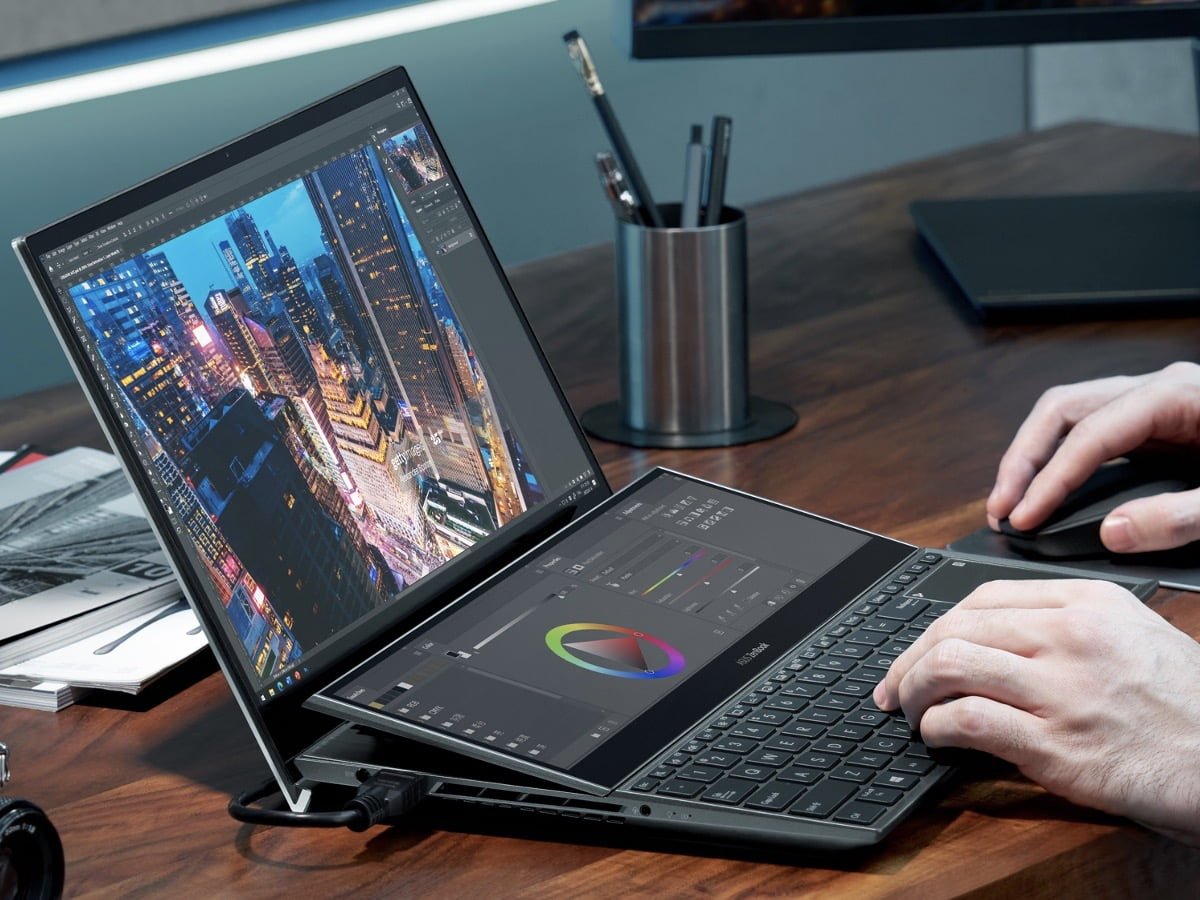 Laptops are becoming more advanced these days. Before, people used thick and heavy laptops since these were still portable compared to a desktop set. Now, different brands introduce their pride, where products become more competitive as days pass by. Nowadays, there's more to a laptop than editing documents or watching movies.
If you can't decide what laptop to buy, you should consider Asus's line of products. It undoubtedly makes sure you're getting the advancement you need to do everything you need to do. Here's the Asus ZenBook Pro Duo 15 UX582L review to convince you why you should purchase it.
What's in the Box?
The box comes with an Asus ZenBook Pro Duo 15 UX582L that measures 14.17 by 9.81 by 0.85 inches, but it has two display monitors. You'll find it interesting as aside from the main display monitor, like what laptops have, there's a smaller display monitor along with the keyboard, which functions as its secondary screen. It's not only functional but also very lightweight since it only weighs 5.16 pounds. If you always go out and work in cafés, carrying it is hassle-free. Plus, it's thin compared to other laptops, which is another thing that adds to its portability.
The design is another thing you'll love because it's both modern and minimalistic. The color is unlike typical laptops that follow the black and grey scheme. This laptop has an appealing color combination. Plus, it has a matte texture, which makes the entire laptop look more desirable.
This Asus laptop may look thin, but it's very durable. It comes from premium-quality materials, from the screen to the case. You can assure that it will last long even when you carry it anywhere most of the time.
Aside from the unit, this laptop comes with a stylus since the monitors are touchscreens. It's very responsive, especially when you're using it for designing or writing on software notepads. All your stylus needs is an AAA battery, and it will work 100% unless it's empty-battery and there are no spare.
Specs
Display Resolution: 3840p by 2160p (main), 3840p by 110p (secondary)
Processor: Intel Core i9-10980HK
Internal Storage: 512GB PCIe SSD, 1TB HHD
RAM: 32GB
Connectivity: Bluetooth 5.0, Wi-Fi 6
Port: one Type-C (Thunderbolt 3), one HDMI 2.1, one 3.5mm combo jack, and one DC-in
Features
The Asus ZenBook Pro Duo 15 UX582L is one of the most suggested laptops for any activity because of its exceptional features, like the following.
The design I the biggest flex of this laptop because it both has a modern and minimalistic touch. The idea of how you can raise the secondary screen makes it very exceptional. It doesn't look dull, from the screen to the keyboard. Plus, the touchpad has a different layout, where you'll find it on the right side of the keyboard.
The performance of this Asus laptop is exceptional as it uses Intel Core i9-10980HK. It's very advanced that you can expect zero sluggishness once you're using the laptop. Whether you're editing documents, watching movies, or playing games, you can switch from one activity to another without any crashes. Moreover, it's also ideal for photo and video editing, which makes it handier.
Aside from the performance, the web camera and microphone are also good features that you'll appreciate about this Asus laptop. If you often get involved in videoconferencing, you get a decent view with lesser noise when using the web camera. There's also a privacy shutter on the web camera, which is another thing that Asus boasts. Furthermore, the built-in microphone of this laptop will also satisfy your needs because it's very decent when you're recording.
The display resolution of both screens, the primary and secondary, meets the satisfaction of many users. The primary screen of this screen features a 15.6-inch 4K touchscreen that's very responsive. Navigating the screen is less hassling because of its responsiveness, and it doesn't have an awkward feeling in the fingers. Moreover, the secondary screen features a 14-inch anti-glare screen that you'll find very functional. If you often listen to Spotify while gaming or working, you can drag it on the secondary screen and control the music player easily.
Lastly, the battery life of this Asus laptop is not very impressive at all. It is average if compared to other laptops' battery life. However, since it's a bit pricier compared to others, users expect more about it. It can only last for four hours, and if you often go out to work, you'll need to bring your charger.
Pros
Dual screens
Responsive display screen
Exceptional processor
Cons
Poor battery life
Pricey
Awkward touchpad and keyboard position
Conclusion
The Asus ZenBook Pro Duo 15 UX582L is one of the newest laptops of the year, but it has been winning the hearts of many techies because of its competitive features. Most users gave it an outstanding rating with minimal points for improvement, which Asus needs to note.
The performance of this laptop is one reason why gamers also consider it. The 32GB RAM suits the Intel Core i9, which is best by combination, especially when you're playing high-end games. It's also exceptional when you're watching movies or doing office documents.
Aside from that, the display resolution of both screens is very impressive. The main screen's touchscreen interface is very impressive, while the secondary screen is functional, especially when you always listen to music while working or playing your favorite game. You'll undoubtedly enjoy using the stylus more.
On another note, the battery life of this laptop doesn't satisfy the users. It's not long-lasting at all since it can only last for four hours. If you want to work or study outside, you'll have to bring your charger anywhere you go. Moreover, you'll need to look for places with sockets for charging.
Nonetheless, this Asus laptop is undoubtedly worth your investment. It may be pricier than other laptops in the market, but you'll love most of its features, especially the dual screens. Moreover, if you want a gaming laptop, you can count on its performance, thanks to its processor.
Last update was on: August 12, 2023 11:45 am