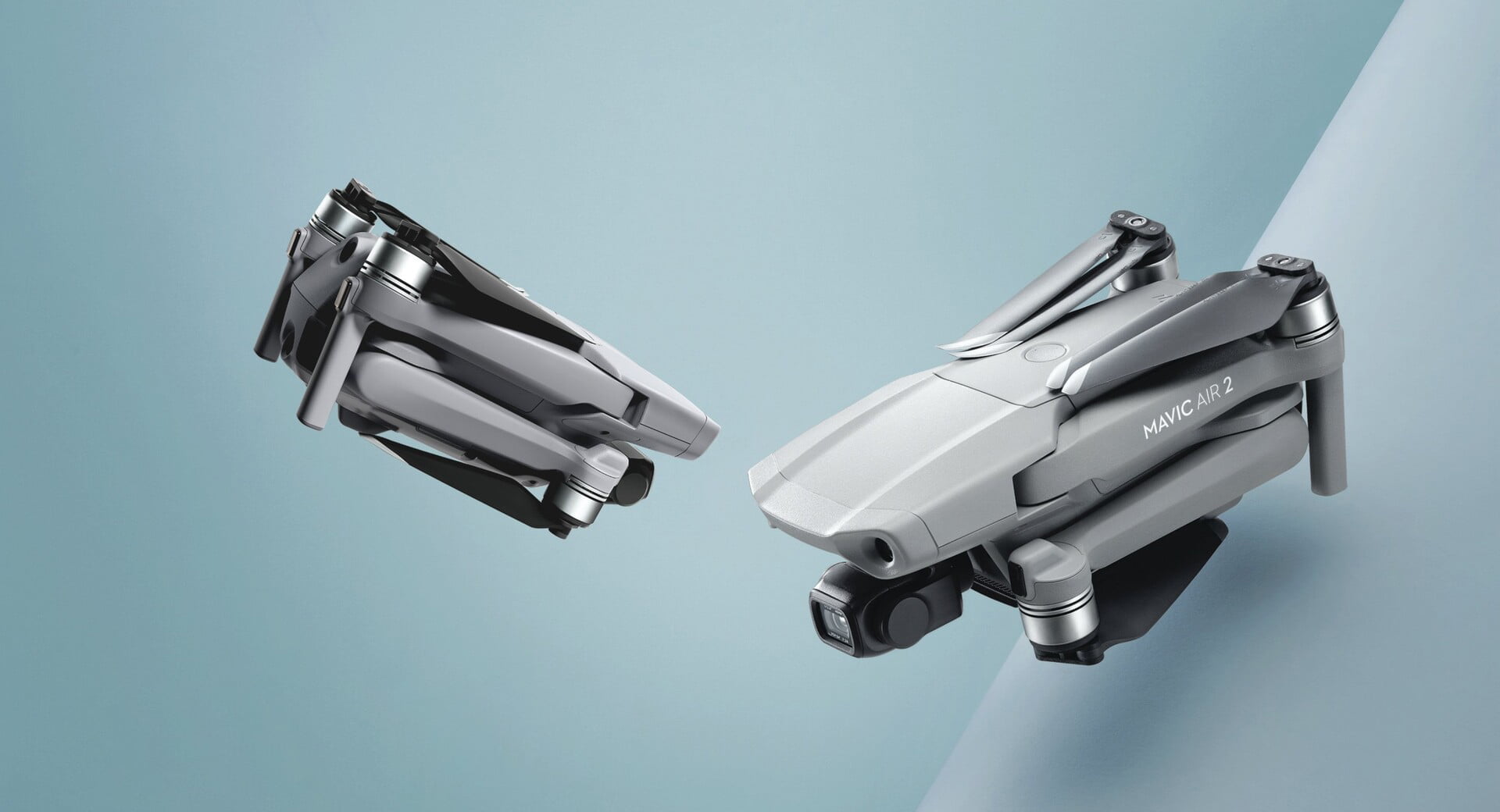 After DJI launched the original Mavic Air in 2018, they are now back with its new predecessor – the Mavic Air 2. The new Mavic Air 2 is DJI's mid-tier entry for the mini, folding drone series with safety features. With its portable design, the Mavic Air 2 can slip into any camera bag
The drone camera uses a Quad Bayer design and 4K HRD videos to capture crisp photos and silky smooth footage. If you have a hefty budget for a one thousand dollar drone, the Mavic Air 2 is your ideal choice.
Know more about this top-notch drone by reading this DJI Mavic Air 2 review.
Operating the Drone
If you own a pioneer model of DJI Mavic Air, you'll spot a small difference with Mavic Air 2 in terms of size. It is a tiny bit bigger than its previous model at 1.3 pounds. It's slim enough to fit inside in any camera gear bag.
You'll also notice that the footprint is larger once the drone is ready to fly with its arm extended. Ideally, you can launch the drone at any flat patch of asphalt or dirt instead of a lawn.
The Mavic Air 2 is excellent for capturing faraway images and tracking objects with a unique vantage point.  It has the latest object monitoring feature that can lock onto any image within its field of view. With its obstacle detection sensors, Mavic Air 2 offers an incredible suite of capabilities.
According to its manufacturers, the DJI Mavic Air 2 range goes as far as 10km, where you can smoothly stream a video near the stratosphere. It also has an automated flight path that can provide drama to your video footage.
When it comes to the camera performance, the DJI Mavic Air 2 zoom capabilities are top-notch. It can pick up an accurate image of the wispy clouds and blue skies, which is usually hard for other drones. With its 48MP sensor and high-resolution camera, it can capture beautiful landscape images and zoom into images without sacrificing quality.
Aside from Mavic Air 2's superb camera performance, it has an avoidance system and obstacle detection called APAS that will keep you from crashing at any random object.
DJI introduces a new component to the Mavic Air 2 called the AirSense, an ADS-B transponder. This feature will warn you if there is an aircraft flying near your drone. However, the AirSense hardware is in short supply. You're lucky enough if you're getting the Mavic Air 2 in North America.
One of the best highlights of Mavic Air 2 is its excellent battery life. It can run up to 30 minutes of flight time in normal mode. You can fly the drone a dozen times without worrying about recharging the controller.
Drone Accessories and the DJI Fly App
Of course, a flying drone won't be complete without a remote. DJI redesigned its remote control based on the original Mavic Air. DJI has dropped the LCD features and moved the phone clip to the top.
The Mavic Air 2 charges via USB-C that connects to your phone through a short cable. There is a lightning cable intended for iOS devices by default, but there is a bonus USB-C and micro USB included in the box. The control sticks are also at the bottom.
Since the controller doesn't have a screen display, you will need the DJI Fly App installed on your phone to see the drone camera's view.
The DJI Fly App will give you a full view of the camera lens. It has an on-screen control where you can switch between flight mode and camera settings. In just one tap, the screen is swappable with a Google Maps version of the area you're flying.
The app can also handle tracking functions and automated shot modes, which means the Mavic Air 2 can follow any identified object. It uses the new tracking option called Spotlight that allows the camera to focus on a subject while flying manually.
You don't have to worry if you don't have a container for your drone, because DJI offers a small shoulder bag with extra batteries once you buy the Mavic Air 2. The Fly More kit costs $988, including two extra batteries, multi-battery charger, neutral density filters, and two additional batteries.
For the registration, you only have to pay a small fee of $5 to use it in the US. Before flying the Mavic Air 2, make sure that you have thoroughly read the primer on drone regulations regarding the terms of its use.
DJI Mavic Air 2 Specs
Check out this list for more details on DJI Mavic Air 2 specifications:
Dimensions: 3.3 x 3.8 x 7.1 inches
Weight: 1.3 lb
Rotors: 4
Obstacle Detection: Yes
Integrated Camera: Integrated with Gimbal
Video Resolution: 4K
Megapixels: 48MP
Media Format: Internal, microSDXC
Live Video Feed: 1080p
DJI Mavic Air 2 Price
The DJI Mavic Air 2 is the right drone for most. It offers high-quality image and video features from a drone that costs less than $1,000. For professional drone enthusiasts who want a cheaper version of the Mavic 2 Pro, Mavic Air 2 is the best alternative.
Overall, Mavic Air 2 is the ideal drone to get. It has a capable camera that sidesteps wind-resistance issues and connectivity programs. However, DJI should consider upgrading the Fly App in terms of its imaging features.
Lack of Built-in Display
There isn't much to complain about DJI Mavic Air 2 except for the lack of a built-in display of the remote control. You have to connect your smartphone with the remote control, which causes too much inconvenience.
However, the lack of built-in display isn't too much of a flaw, if you focus on the drone's capabilities and camera performance.
Final verdict
If you're planning to buy the DJI Mavic Air 2, you're in for a treat. At less than $1,000, you have a fast speed drone, longer battery life, incredible range, and an obstacle avoidance feature, and most of all, it has a high-resolution camera.
Overall, Mavic Air 2 made an incredible performance by loading it with the newest technology and building on the previous model's success. Now it can go faster and farther while taking pictures.