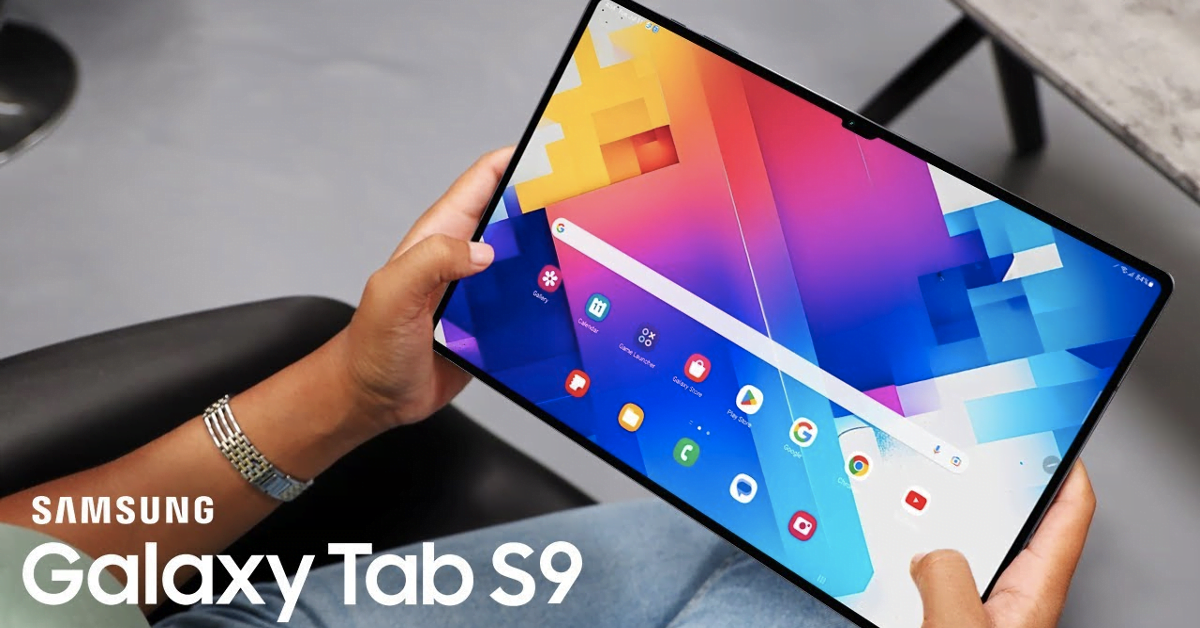 Samsung's annual Galaxy Unpacked event presented a plethora of products this year, aiming to strengthen its ecosystem. The main attractions were two foldables, but Samsung also launched multiple wearables and three new tablets, challenging competitors such as Apple and Google. The fourth-generation foldables garnered significant attention, but it's the Galaxy Tab S9 Ultra that is Samsung's shining star in the premium Android tablet segment.
This "Ultra" edition of the Galaxy Tab S9 isn't entirely new to Samsung's line-up. The company had introduced the Tab S8 Ultra previously, which had certain features that have carried over, including a 16:10 aspect ratio screen, a dual-camera setup on the back, and a spot for the stylus to magnetically attach. The updated design lets users attach the stylus to its spot from either direction and still allows it to charge, fixing an issue from the prior model.
Aesthetically, Samsung maintained its sleek design with a refined aluminum body and even slimmer bezels, offering a premium feel. The Ultra version's screen dimensions may take some getting used to, particularly with its almost 13-inch width. However, the display is undoubtedly impressive. Samsung's ninth-generation tablets now sport Dynamic AMOLED 2X screens, mirroring the technology in their top-tier Galaxy S smartphones and Galaxy Book Ultra laptops. Specifically, the Tab S9 Ultra boasts a 14.6-inch AMOLED screen, featuring a 120Hz refresh rate and HDR 10+ support. Similarly, the Galaxy Tab S9+ and Tab S9 also benefit from this enhanced display technology.
As for the displays, they exhibit vivid colors and stark contrasts, something Samsung has always excelled at. Photographing the Tab S9 Ultra posed a challenge due to its intense brightness. Interestingly, the Ultra model includes a notch, presumably housing two 12-megapixel cameras. These tablets are also equipped with four speakers optimized by AKG and support Dolby Atmos for an immersive audio experience.
Samsung has introduced IP68 dust and water resistance across the Tab S9 range, implying they can withstand water up to 1.5 meters deep. To further ensure their durability, Samsung plans to release a robust cover for these tablets.
When it comes to performance, Samsung has enhanced the tablets' processing capabilities. All the new models will feature Qualcomm's Snapdragon 8 Gen 2 processor. Performance metrics suggest noteworthy boosts from the previous generation, with improved CPU and GPU outputs. The Tab S9+ and Ultra variants offer fast-charging up to 45W, but only the Ultra includes the required charger. As for the cameras, both the larger models sport dual-camera setups, while the standard Tab S9 features a single 13-megapixel camera.
Depending on the model, users can opt for up to 12GB of RAM, though the base Tab S9 will also come with an 8GB RAM variant. The Tab S9 Ultra can accommodate up to a whopping 1TB of storage for those needing more space. Potential buyers should consider the additional expense of a keyboard dock, with costs for the Tab S9 Ultra's premium version still pending.
On the software side, Samsung is integrating specific applications for power users, highlighting the CAD design app ArcSite and the video-editing tool LumaFusion on its top-tier tablet.
The S-Pen, now with bidirectional charging and IP68 support, also received a design update. Samsung mentioned a forthcoming "creator edition" with a textured finish, though details remain sparse.
Attempting to bridge the gap between various Galaxy devices, Samsung introduced the Multi Control feature, facilitating easier integration between devices such as the Galaxy Flip 4 and the Tab S9 Ultra. This includes options like choosing the device positioning and even moving the cursor between devices.
As for pricing, the Tab S9 Ultra starts at $1,200. The Tab S9+ is priced from $1,000, and the Tab S9 begins at $800. Pre-orders have already commenced on Samsung's official site and Amazon, with the sale scheduled for August 11th.
Samsung Galaxy Tab S9 Ultra: A Deep Dive into Samsung's Expanding Ecosystem
As technology continues to advance at an astonishing rate, companies such as Samsung remain at the forefront of innovation, ensuring they not only keep pace with the demands of modern consumers but also shape the direction of future developments. This commitment was made clear at this year's Galaxy Unpacked event, where Samsung showcased an array of products that reinforced its position in the market and its vision for the future.
The Galaxy Unpacked Event: An Ecosystem on Display
Every year, tech enthusiasts and professionals alike eagerly await Samsung's Galaxy Unpacked event, anticipating the tech giant's newest offerings. This year was no exception. While the fourth-generation foldables were the showstoppers, the event's breadth was notable. It was more than just a product reveal; it was a demonstration of an entire ecosystem. By launching two foldables, several wearables, and three tablets, Samsung laid out a clear message: it's not just about individual products but how they integrate and function as a cohesive whole. This strategic move places Samsung in direct competition with other tech giants like Apple and Google, who have also been diligently building their ecosystems.
Galaxy Tab S9 Ultra: Leading the Charge
The Galaxy Tab S9 Ultra emerged as the crown jewel in the tablet segment during the event. A successor to the Tab S8 Ultra, this device boasts several significant improvements. Notably, it carries forward the 16:10 aspect ratio screen, a dual-camera setup, and a magnetic attachment point for the stylus. The newer model rectified a past design oversight by allowing the stylus to attach in either direction and still charge.
One of the most striking features of the Galaxy Tab S9 Ultra is its visual appeal. Samsung has always had a reputation for creating elegant devices, and the Tab S9 Ultra is no different. Crafted with a refined aluminum body and even more delicate bezels, the device oozes premium quality. However, its dimensions, especially the almost 13-inch width, might demand some acclimatization from users.
The display of the Galaxy Tab S9 Ultra is arguably its most outstanding feature. Employing the Dynamic AMOLED 2X technology, previously seen in top-tier Galaxy S smartphones and Galaxy Book Ultra laptops, the tablet guarantees vibrant colors and sharp contrasts. This commitment to visual excellence is complemented by an audio experience powered by four AKG-optimized speakers and Dolby Atmos support.
Protection and Durability
A device's longevity and durability are critical factors for consumers. Samsung has taken significant strides in this area by introducing IP68 dust and water resistance across the Tab S9 series. This resistance level suggests the devices can endure submersion in up to 1.5 meters of water. To further capitalize on this durability, Samsung plans to introduce a rugged cover, ensuring the tablet withstands the challenges of daily use.
Performance Upgrades
Powering the Tab S9 series is the Qualcomm Snapdragon 8 Gen 2 processor. This inclusion marks a significant upgrade, with performance metrics indicating substantial improvements from the previous generation. Both the Tab S9+ and the Ultra models support fast charging up to 45W. However, only the Ultra includes the necessary charger in the box.
Camera and Storage Options
The Tab S9 Ultra and S9+ both feature dual-camera setups, offering versatility in capturing moments. In contrast, the standard Tab S9 offers a single 13-megapixel camera. For those concerned about storage, the Ultra can accommodate up to a staggering 1TB, ensuring ample space for all files, apps, and media.
Bridging the Device Gap
One of the standout features introduced is Multi Control, aiming to seamlessly integrate various Galaxy devices. This feature demonstrates Samsung's vision of a holistic ecosystem, where devices don't function in isolation but as interconnected entities.
Pricing and Availability
The Tab S9 Ultra starts at a premium price point of $1,200, reflecting its flagship status. With pre-orders already underway and sales beginning on August 11th, it remains to be seen how the market responds to Samsung's latest offering.
Conclusion
Samsung's Galaxy Unpacked event was more than a product showcase; it was a statement of intent. With the Galaxy Tab S9 Ultra at the helm, Samsung is poised to make significant waves in the tablet market and further cement its position as a leading tech innovator.