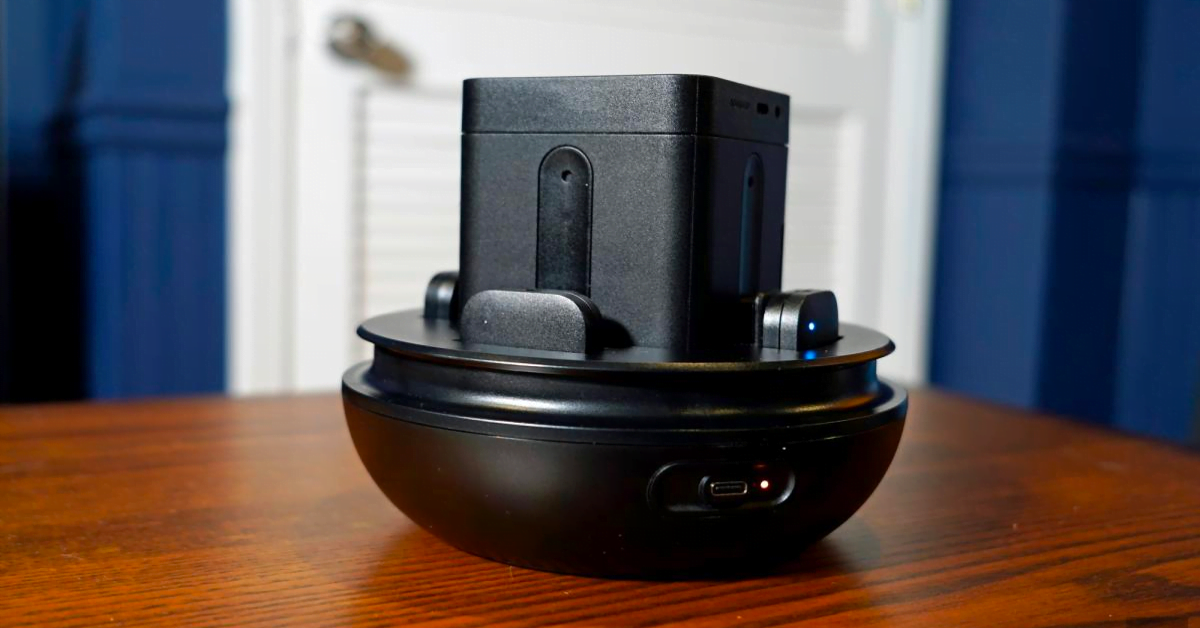 The exorbitant price tag of $3,000 for a podcasting kit, as initially marked by Nomono for their portable recording equipment, made me question its need in today's financial climate. The price has since been reduced to $2,490, which alleviated my concern slightly, but I continued to wonder about its necessity in comparison to smaller, more affordable audio tools. Nevertheless, curiosity drew me in.
The kit that Nomono offers comes with four lavalier microphones that are wireless, a room tone space recorder for capturing spatial data, and a carrying case that's easily portable and capable of charging the devices. Recordings can be seamlessly transferred to Nomono's cloud, where audio quality adjustments and browser-based editing are available. For a seasoned podcaster like myself, since 2008, the idea of a comprehensive kit to handle local recordings seems like a long-awaited dream. However, the question remains whether Nomono can justify such an exorbitant price for their product.
This is not a product designed to cater to every audience. The complexity and price point make it unsuitable for newcomers and even exceeds the needs of many regular podcasters. However, upon spending several weeks examining Nomono's kit, it became apparent that this could be a valuable tool for professional recording studios or companies looking for adaptable podcasting tools. It's user-friendly, produces top-notch recordings, and offers wide applicability. For some, the investment in Nomono's kit might make more financial sense than employing an engineer for every recording. An additional cost consideration is the cloud subscription, which could reach $29 monthly, clearly indicating that this isn't a solution for casual podcasters.
Nomono's intention to emulate an Apple-level quality in design is evident in their hardware. Despite being constructed of plastic, there's nothing flimsy about it. An egg-shaped charging case, embellished with a cloth handle and a USB-C port, adds to the aesthetic appeal. Its two sides are securely fastened, and once opened, one discovers four lavalier microphones encircling the space recorder, resembling an endearing nest designed for podcasting.
The central device of the Nomono experience is the space recorder. Shaped as a rectangle, it comes with omnidirectional microphones that capture spatial information, like the location of speakers during a conversation. It also displays the battery levels of connected lavaliers and has distinct recording and directional buttons, along with a USB-C port and a 3.5-millimeter headphone jack. As it records, the space recorder collects data from the lav mics, later uploading them to Nomono's cloud once completed.
Unlike the unique space recorder, the lavaliers are simple, unobtrusive squares with four LED colors for track differentiation. These attach to clothing with small magnets but are just as prone to slipping off. Although I didn't lose any during my tests, the concern of dislodging one lingered. Extra magnets are included in Nomono's accessory kit, alongside windscreen sleeves for added convenience.
Setting up the Nomono equipment was fairly easy. Charging the case was followed by downloading the Nomono Companion app, creating an account, and linking the kit to my phone. The app monitors the battery of the space recorder and lav mics, and initiating recording was quick and reliable, often taking less than half a minute.
Ending a session was mainly contingent on internet speed. For a 90-minute recording, the upload took under a minute, followed by a brief wait for the cloud processing. Shorter recordings were even quicker, though long audio files may require more patience. Nomono's hardware yields 16-bit 48kHz WAV files and an ambisonic WAV file from the space recorder, with up to four tracks.
These recordings impressed with their clarity and detail, even in somewhat noisy outdoor areas. Though lacking the richness of premium microphones, they were satisfactory and comparable to other wireless lavaliers. Conversations were clear and free of the issues often found in cheaper multi-mic solutions.
Nomono's cloud platform also offers three levels of enhancements for refining the audio further. These range from basic filters to advanced level and tone adjustments. While unaltered tracks can be downloaded, the enhancements are beneficial for those less skilled in audio editing.
Spatializing recordings is an option through Nomono's online platform, allowing sound to seem as if coming from different directions. This wasn't available during my testing, and frankly, I wouldn't likely use it in a podcast.
Though Nomono's full audio enhancement can reduce certain noises, it also altered my voice, sounding somewhat compressed. It's handy for cutting down background noise, but a quiet recording space remains essential for the best audio quality.
Nomono has plans to launch an online editor by 2023, possibly with spatial editing abilities. Since it's not a consumer product, those purchasing Nomono's hardware likely have more advanced editing options.
I was mostly satisfied with Nomono's hardware, but its online platform posed challenges with large files. Downloading a 90-minute track took more than five minutes, and that didn't include the actual downloading time. The appeal of an online audio solution is understandable, but the delays were frustrating.
An issue was that the space recorder didn't recognize my Mac or PC when connected. Nomono has plans for offline features next year, but currently emphasizes a cloud-based workflow as most efficient. Livestreaming is also not possible with this kit but might be incorporated into future Nomono products.
Justifying Nomono's steep price would be easier if the hardware could function without reliance on a website. Considering the risks of a startup company folding, the question arises of what value would this $2,490 kit hold then?
It's undeniable that Nomono has crafted something unique, but imagining this as the sole solution for an audio-savvy company is difficult. Dedicated podcasting spaces with hard-wired microphones are still needed. Nomono provides flexibility for recording in various locations, such as another room, someone's office, or a hotel. In such scenarios, the price tag of $2,490 might not seem so outlandish.