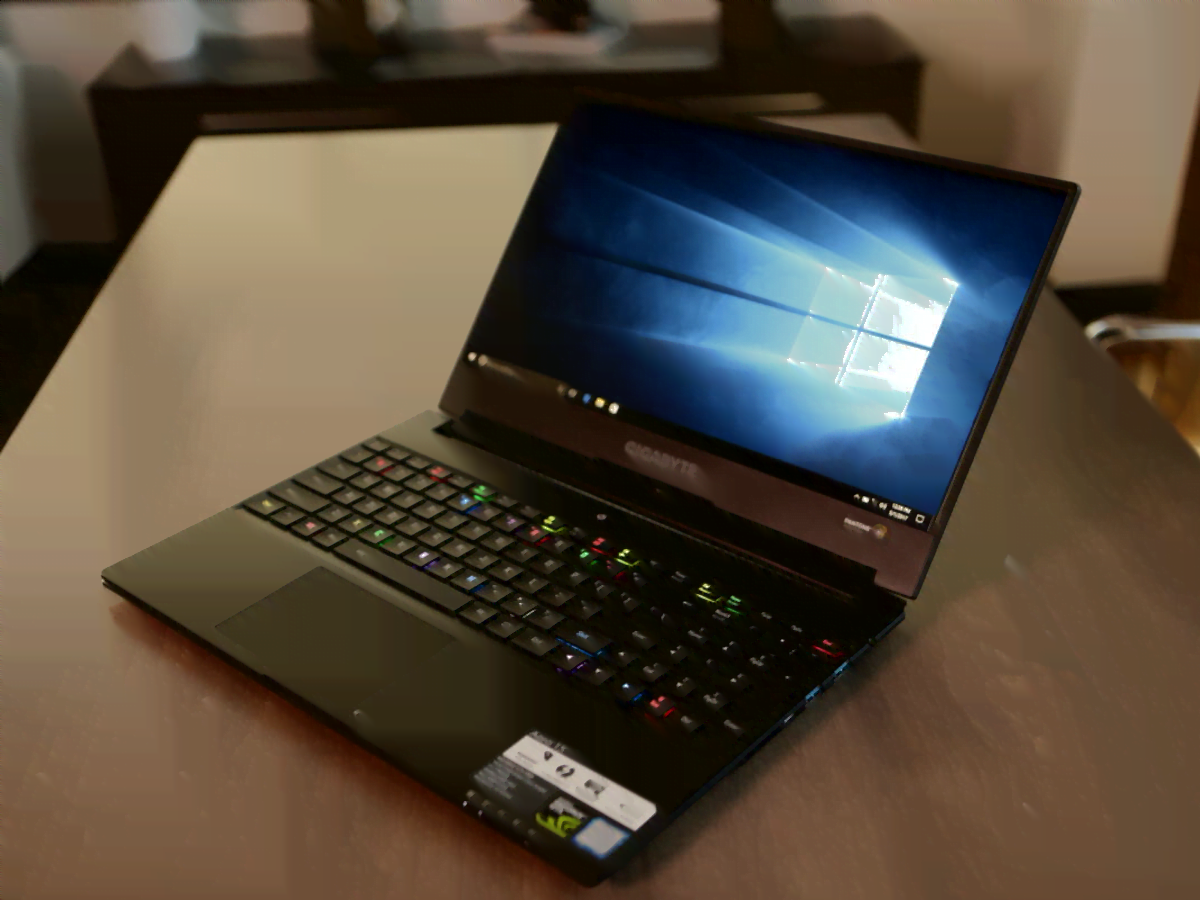 OLED screen panels are the newest feature of modern laptops today, and the Gigabyte Aero 15 OLED (2020) is one of them. It is the latest launch of the Taiwanese manufacturer's flagship laptop with an excellent 4K OLED panel, a comfy RGB keyboard, and a smooth aluminum chassis.
By looking at its features, the Gigabyte Aero 15 10th generation Intel processor is ideal among creative professionals like photographers and video editors. It also has cutting-edge components with a color-accurate OLED screen and high-end gaming performance, making it suitable for a gaming laptop.
If you ever consider owning this machine, read on this Gigabyte Aero 15 review to give you a background on why this should be your dream laptop.
Perfect for Gaming and Creative Programs
Let's start the review with Gigabyte Aero 15's star attraction, the 4K OLED Screen. It has a 15.6-inch (3840 x 2160) colorful Samsung AMOLED panel and Pantone color-calibrated screen. Who needs a gaming monitor if you have all these fantastic features in one portable device?
With Gigabyte Aero 15's OLED screen, it can cover 200% of the sRGB color gamut that can easily topple the average gaming laptop, which is only 144%. When it comes to its brightness, the Aero 15's OLED panel has a whooping 357 nits. Note that the brightest laptops in the gadget market must have 300-nits or more, which means the Aero 15 outshines other gaming laptops such as Razer Blade 15 and Legion Y740.
The Gigabyte Aero 15 comes with Nvidia GeForce RTX 2070 Max-Q GPU and 8GB of VRAM and 16GB of RAM. As you'd expect from a laptop with these kinds of components, you can trust Aero 15 for a brilliant performance, both for running games and creative apps.
The decent upgrade of RTX 2070 Super mobile GPU combines eight-core Intel processors, giving you a powerful laptop that can handle countless tasks without any lagging issues.
As an RTX Studio laptop, the Aero 15 is ideal for creative applications such as Autodesk, Adobe Premiere Pro, and Redcine-X Pro. The Nvidia's ray tracing features will benefit both game developers and digital artists to create scenes with incredible lighting effects.
Sleek Design
Design-wise, the Gigabyte Aero 15 aims to take all your attention on its flashy screen. It is attractive and functional, with a full screen for maximum viewing experience. It also has a low-key, sleek design that perfectly qualifies as a pro laptop.
The Aero 15 has an all-black appearance with an illuminating 'Aero' logo on its lid. With a weight of 4.40 pounds (2kg) and a dimension size of 14 x 9.80 x 0.78 inches, it is incredibly thin and light despite the powerful components inside.
Compared to the Apple laptop with only four USB C-ports, the Aero 15 has a far better selection of ports. On the left side, you get a full-size HDMI port, mini DisplayPort, and a USB 3.0, making an ideal office laptop for creative presentations. On the right, it has two standard USB ports, an SD card reader, a USB-C port, and a power port. These components are enough to get you started on your live game streaming.
When it comes to the keyboard, the Aero 15 does not fall short. It has an RGB LED backlighting that looks like a flashy gaming laptop. You can still turn it off, especially when you're in an office setting.
The keyboard deck feels comfortable to type on with its large keys and numeric pad. As for the trackpad, it's responsive and super fast. It is perfect for everyday use if you are always on the go. It's also easier to log in with its high-security fingerprint reader on the top-left side of the trackpad.
For its webcam, the Gigabyte Aero 15 veers away from the traditional webcam spot by placing it at the bottom. One of its excellent features is the physical cover that you can slide over to hide the webcam when it's not in use. You can ensure that your webcam isn't broadcasting without your permission.
All these fantastic features make the Gigabyte Aero 15 a versatile laptop that can fit both your work and gaming needs. Despite its size, you can still enjoy a slimline laptop with usable components.
Gigabyte Aero 15 Specs
Here is the list of specifications to know more about the Giga Aero 15 features:
CPU: 2.3GHz Intel Core i7-10875H (8-core)
Graphics: Nvidia GeForce RTX 2070 Super Max-Q
RAM: 16GB of storage
Weight: 2 kg (4.4 pounds)
Size (W x D x H): 14 x 9.8 x 0.78 inches
Summary
The Gigabyte Aero 15 does not come cheap with its brilliant 4K OLED screen, high-end components, and sleek design. The Aero 15 costs around $2,100, and the base model is around $ 1,699. Yes, it's costly, but you won't mind the price if you are willing to invest on a laptop like Aero 15.
With its brilliant graphics and overall performance, it's nice to spot a versatile laptop for gaming and designing. If you want to have an intense viewing experience for your work and game needs, go for it.
Aero 15 Drawbacks
There isn't much to complain about Aero 15 with its features. But there are indeed a few minor drawbacks.
If you are always on the go with no time for charging breaks, you better look for other slimmer machines. Note that OLED screens are notorious for their battery draining abilities. If you don't have time to charge it throughout the day, you better think twice.
There's also the unfortunate webcam position that is angled upward and mounted below the panel. If you're in a Zoom meeting, the webcam gets a full view of your chin and nostrils, which can cause an awkward video calling experience.
Also, the professional features of Gigabyte Aero 15 are not ideal for a full-on gaming experience. It is suitable for creative designers who are involved in a graphically-intensive work. You may also look for a dedicated gaming laptop in the market, which is worth the price.
Apart from these minor issues, the Gigabyte Aero 15 is nevertheless a fitting laptop both for work and play. It has excellent components that can handle modern creative apps and gaming programs with intense graphics.
Bottom Line
The Gigabyte Aero 15 boasts its brilliant 4K OLED display and smooth performance packed in a sleek, aluminum design. It is one of the best laptops both for gaming and content creating. If you are looking for a computer that can smoothly handle your demanding programs, you may purchase Aero 15. However, make sure that you've explored other cheaper alternatives that can still manage your tech needs.