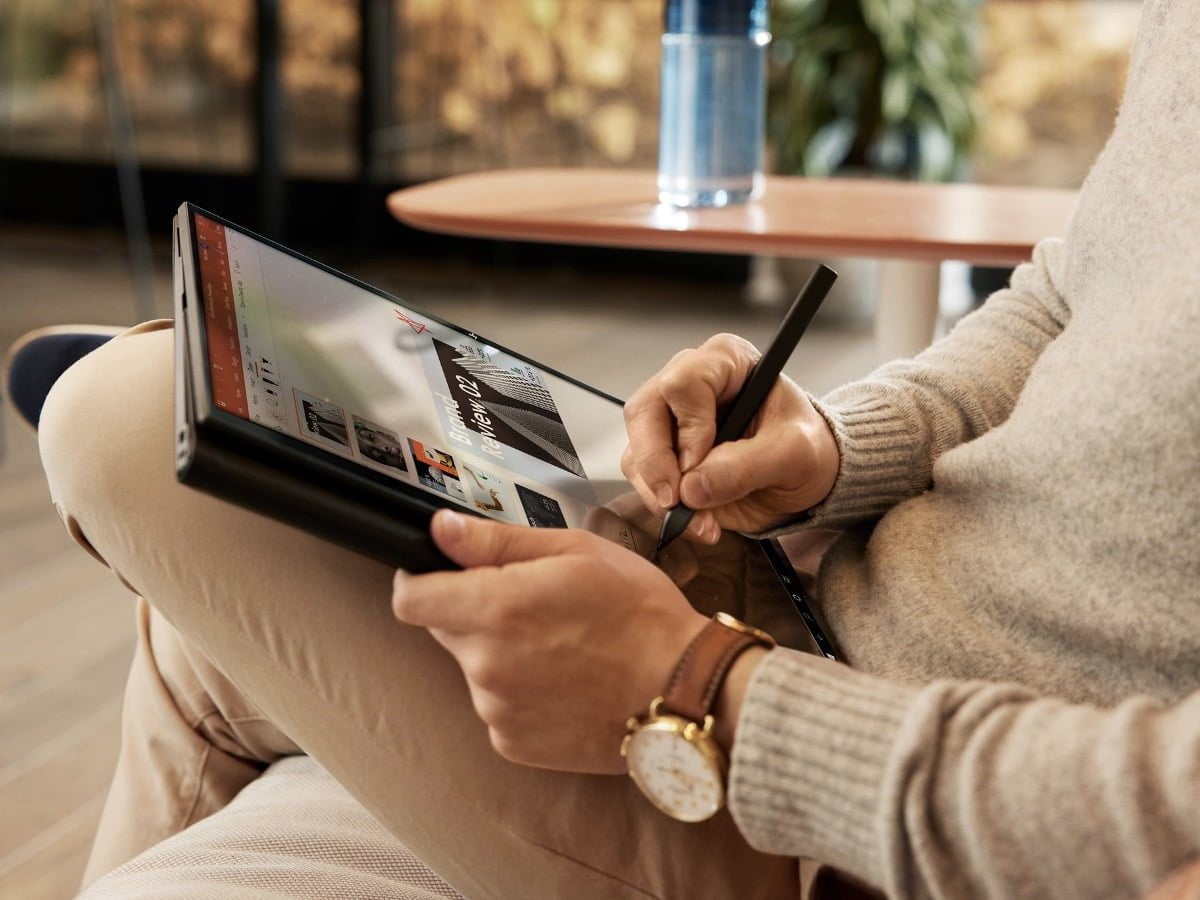 Computers used to come in a set where people found it very useful way back, but very convenient. This device helped us in many ways, especially in documents or playing the simplest game, like Pinball or Solitaire.
As technology progresses, computers are becoming more portable. We can use a single unit without attaching a keyboard and a mouse since our laptops already have built-in keyboards and mousepads. Moreover, progressive technology lets us use a laptop as a tablet as well.
Different brands have introduced two-in-one laptops, which you can also use as tablets when you fold them. Some of the best options in the market are the ConceptD Ezel by Acer and Galaxy Book S by Samsung. If you need a convertible laptop, here's an HP Elite Folio review to convince you why you should get one.
What's Inside the Box?
You get to enjoy the HP Elite Folio laptop, and you'll love how lightweight it is. It only weighs 1.32KG, making it perfect for the outdoors, especially when you enjoy working in cafés or working hubs. Aside from that, it measures 11.75 by 9.03 by 0.63 inches, where it can fit in your bag. There's no need to think about bringing a bulky bag because the size of this laptop is just right.
Aside from the size, you'll love its leather cover. It makes it look very fancy compared to other laptops. It looks premium, even though the cost is not as expensive as other premium laptops. Also, the dark onyx color of the keyboard matches the texture of the entire laptop.
Aside from the unit, it also comes with a charger. The charger is not bulky, which is a plus point. If you don't enjoy bringing heavy chargers, this laptop has a lighter but durable charger.
The best deal of this package is the built-in stylus in the silo. If you're a student or an aspiring graphic artist, you'll love this deal. It will give you a notebook feel, and when you're not using the stylus pen, it recharges after you put it back in the silo.
Most laptops in the market come with the main unit and a charger, but you can also get a built-in stylus with HP's convertible. It's the game-changer, which is why even though it's not as cheap as other laptops, users still prefer to buy it because of its inclusions.
Specs
Processor: Qualcomm Snapdragon 8cx Gen 2
Memory: 16GB
Wireless: Wi-FI, optional 5G, Gigabit-class 4G LTE
SSD: 512GB
Cameras: HD webcam with privacy shitter
Ports: Two USB-C Gen 1, one nano-SIM card slot, one 3.5mm audio combo jack
Features
There are many features why the HP Elite Folio is a win, and the first one is its touchscreen interface. It works regardless if you use your laptop in a typical tent, clamshell, and tablet options. You can also utilize its easel mode by bulling the screen over its keyboard to rest it in the deck's middle part. It will make it easier to sketch or take down notes using the stylus.
The stylus works well with the touchscreen interface, but there's a downside to the hinge. Since it's not very sturdy, you might experience a wobble movement whenever you touch the screen while it's on a clamshell mode. Other laptops with touchscreen interfaces also have this disadvantage, especially on lightweight devices, since the display is thinner compared to others.
You can assure smoothness in moving the screen forward and back or even sliding it around. However, you might struggle in pulling the screen to the keyboard because of the fixed tug, and it's impossible not to touch the screen while moving it. You might press other apps or files on your screen as you do it. It could've been better if there are larger bezels.
Typing is very comfortable because the keyboard has 1.3mm-key travel. You'll find typing very soothing in the ears, and it doesn't give inconvenience even when you have to type a lot of documents. Plus, it also doesn't need excessive pressing.
When it comes to this laptop's sound system, it meets the expectations of techies. It's a decent video conferencing feature, which makes it very suitable for office works. It comes with a four-speaker array, delivering excellent and clear sound with audible bass and strong vocals. However, a minor issue with high treble tones is difficult to eliminate even when I turn the volume down.
The HD camera provides an average performance for a standard-level laptop. It provides a grainy picture even when you're in a bright office setting. On the other hand, it's still useful because it supports Windows Hello. Plus, the physical privacy shutter makes this feature more desirable.
The performance may not exceed your expectation even though it uses Qualcomm's Snapdragon 8cx Gen 2. You might experience lag when you're switching one application to another, which is not very desirable if you have many things to do. You can use it on basic tasks, like editing documents or spreadsheets, but you might struggle a bit if you want to play a good game. Also, this laptop runs 32-bit apps, while 62-bit apps are available in the beta testing program of Windows Insider.
The wireless connectivity of this laptop is excellent. There's no problem in connecting to the internet. The option to use a Nano sim card will let you connect to the internet through a 4G or 5G LTE connection, which is handy when you're in a place without any access to public Wi-Fi connection.
Another thing that you'll also love about this laptop is the Windows Hello facial recognition. For an average laptop, this feature is exceptional. You don't have to key in any password in signing in. Once you open your laptop and the system can recognize your face, you can use it in a few seconds.
Gaming is the least priority of this laptop when it comes to its performance. You can download Steam, but you won't be able to download other good games, such as Red Dead Redemption 2, Cyberpunk 2077, and Horizon: Zero Dawn. If you're interested in playing CS: GO, you can download that game.
This laptop falls short in Adobe offerings for editing photos or graphics because you can only access Lightroom, Acrobat DC, and Photoshop from the app version. If you need InDesign, Audition, Premiere, and Illustrator, you might not be able to access these here.
The battery life of this laptop is not very impressive, which is why you might need to bring the charger along. You can use it for at least 8 hours and 15 minutes when you're using a medium brightness. It's not a bad performance, but the battery life could've been better since the style it promotes is portability.
Pros
Lightweight
Convertible
Comes with a stylus
Leather design
Cons
Compromised gaming experience
Pricey
Compatibility issues on apps
Slow performance
Conclusion
The overall rating for this laptop is above average as it has more desirable features than its downside. Since it
Many users admire this laptop, especially when they have to use it for office works. The processor makes sure you can multitask without any hassle. Its portability also matches its performance because you can take it anywhere you go. If you want to work outside, like cafés or working hubs, bring this laptop is convenient.
The speakers provide justice to their quality because you can listen to your Spotify playlists without compromised sound quality. There may be some opportunities for improvements, especially on the high treble sound, but the clarity of the audio is already enough to give you a good time.
The inclusive stylus and touchscreen interface are also reasons to admire this laptop. If you're fond of writing while brainstorming, you can utilize it as a digital notebook. You can sketch or write down your ideas with ease as you adjust your laptop's screen to its easel mode.
You can never go wrong with its classy style, especially the leather cover. It gives the laptop a fancier look, and the dark onyx color of the keyboard adds appeal to its overall look. The keyboard is not only elegant but also comfy to use. There's no need to worry when you need to type many documents because the keys are easy to press. You'll also appreciate how it makes lesser noise while typing.
On another note, this laptop falls short of having a primary driver because of its processing power. It might not be as favorable as other laptops when it comes to storage. You might end up deleting more applications, which is a big sacrifice to make, despite its premium look.
Nonetheless, if you're looking for a laptop for your office works or studying, the HP Elite Folio is worth the try. It may not exceed your expectations, but the performance is okay. You can type documents with full comfort, you can adjust your screen to any position, and the stylus pen also gives justice to its price. Moreover, it's very lightweight, and you can insert a sim card. These features are enough to optimize its usage, regardless of you're studying or working.
Last update was on: August 12, 2023 12:55 pm