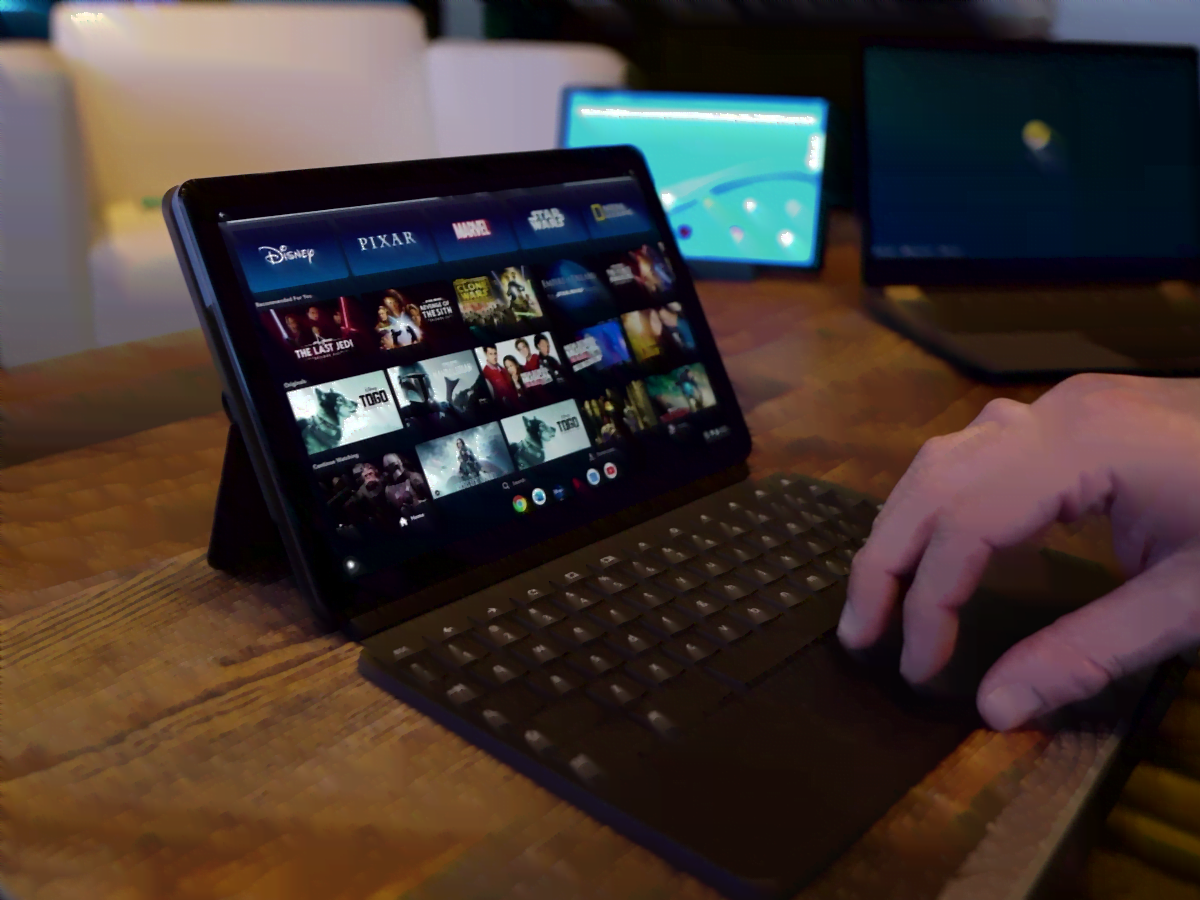 Two years ago, HP introduced the Chromebook x2, which is a detachable 2-in-1 Chromebook for the price of almost $600. Today, the latest Chromebook Duet defies most of its previous Chromebook trends at a cheaper price. It's a laptop and a tablet device at the same time, which can run Chrome OS smoothly. This laptop is a nice throwback on the days when Chromebooks used to be cheaper with fewer features.
The Lenovo Chromebook Duet costs $279, which is still an impressively cheap price for a laptop with a detachable keyboard. It is also portable, with a 10.1-inch screen. But there's a catch: it has no Intel processor. You might at least be wondering if this drawback may affect the laptop's performance and workflow. To help you with your queries, check out this Lenovo Chromebook Duet Review to know more about its specs.
Chromebook Duet Hardware
Lenovo considers the Chromebook Duet as a full-fledged Chromebook. However, the Chromebook Duet lacks the traditional laptop factor. Technically, it's a 10.1-inch tablet, including a kickstand and keyboard. The presence of a keyboard case provides some wiggle room on how you classify the device.
The Chromebook Duet has three components. The first and most essential piece is the aluminum alloy tablet that weighs at about one-pound. The second piece is a gray-colored fabric called "stand cover," a foldable kickstand where you can prop up the tablet on a flat surface. The last part is a magnetic keyboard with a flipping touchpad to cover the tablet screen.
Combining all these three components makes a 2-pound Chromebook Duet. Its display provides a well-lit brightness and fine-tuned colors. The default setting is an ideal mix of readability and sharpness without too many pixels.
The Lenovo Chromebook Duet is an ideal gadget both for entertainment and work use. For starters, it is quite rare to encounter a tablet that includes a keyboard. Even though Chrome OS can standalone in a tablet mode, it becomes a far more usable platform with a keyboard and mouse.
Chromebook Duet offers a convenient feature on its keyboard. The size of its letter keys is big enough to type on, and the extra space between the keys makes it easier for the user to hit the right letter. Meanwhile, the trackpad is also responsive and reliable.
Despite the size and constraints of the input experience of Chromebook Duet, it still proves to be effective.  It's an ideal device for casual use, especially if you find typing on the tablet a bit awkward and difficult.
Chromebook Duet Tablet
One of the highlights of Lenovo Chromebook Duet is its battery life. It can run up to ten to eight hours, a practical battery life span for a Chromebook. Even at a busy workday, the tablet can last longer within the 10-hour mark.
Although Chrome OS tablets have a few software issues in the past, the Chromebook Duet is an exception. It can run a stable Chrome browser at 1080p screen, which is ideal for some Netflix binge-watching sessions or casual gaming.
Although tablets are known for its booming speakers, the Chromebook Duet offers an agreeable audio system. It also has a 1,600-by-1,200-pixel front cam feature that can capture reasonably sharp and impressively bright images, perfect for a Zoom video call meeting. For the rear camera, it has an above-average quality for 3,264-by-2,448 pixels with snappy autofocus.
Despite its laptop setup, the Chromebook Duet is still a touch screen that supports USI pens. It also has 4GB of RAM along with the 128GB of storage. That's a lot impressive for a Chromebook tablet.
Lenovo Chromebook Duet Specs
Check out the list of Chromebook Duet Specs to give you more information on what the device has to offer.
2 GHz processor speed
4 GB of RAM
1 inches screen size
1,920 x 1,200 display resolution
Weight: 2.03 pounds
Runs Chrome OS
13 hours of battery life
Summary
To sum it up, the Lenovo Chromebook Duet proves to be a surprising success. Its excellent battery life, adequate performance, and ergonomic components serve its purpose as an ideal entertainment gadget and everyday use.
The Lenovo Chromebook Duet costs less than $300. For a cheap price, you get a capable device that's ideal for entertainment and everyday browsing. It may be small, but it serves its purpose as a Chrome OS device.
Chromebook Duet Drawbacks
You may be a little disappointed with Chromebook Duet's lack of headphone jack. Although the tablet is ideal for casual use, it may still be a huge bummer if you want to watch movies in private. Plus, its front-facing camera has only two-megapixels, which is a nice throwback to 2012.
If you are a dedicated tablet user, the Chromebook Duet is not for you. There are better options if you are looking for a tablet that can give you optimum performance. There are thousands of tablets in the market for as low as $250 that can offer several features than the Chromebook Duet.
Also, if you're planning to get the Chromebook Duet for everyday work use, you may look for a workable laptop. Despite its convenient keyboard size, the Chromebook Duet is not suitable for long hours of usage.
Despite the minimal flaws of Lenovo Chromebook Duet, this device is still a great deal for bargain hunters. It has well-crafted components and well-designed features perfect for students and casual users.
Final Verdict for Chromebook Duet
For a Lenovo Chromebook device, the price of less than $300 is not bad if you are a budget user. You wouldn't want to miss this tablet that offers long battery life and stable performance.
For a cheap Chromebook, it is easy to forget about its flaws, including the mini keyboard. But with all these fantastic features, the Lenovo Chromebook Duet will offer you the best deal. The good part is there are rare tablets in the market that come with a laptop setup, which you may find useful for your everyday needs.