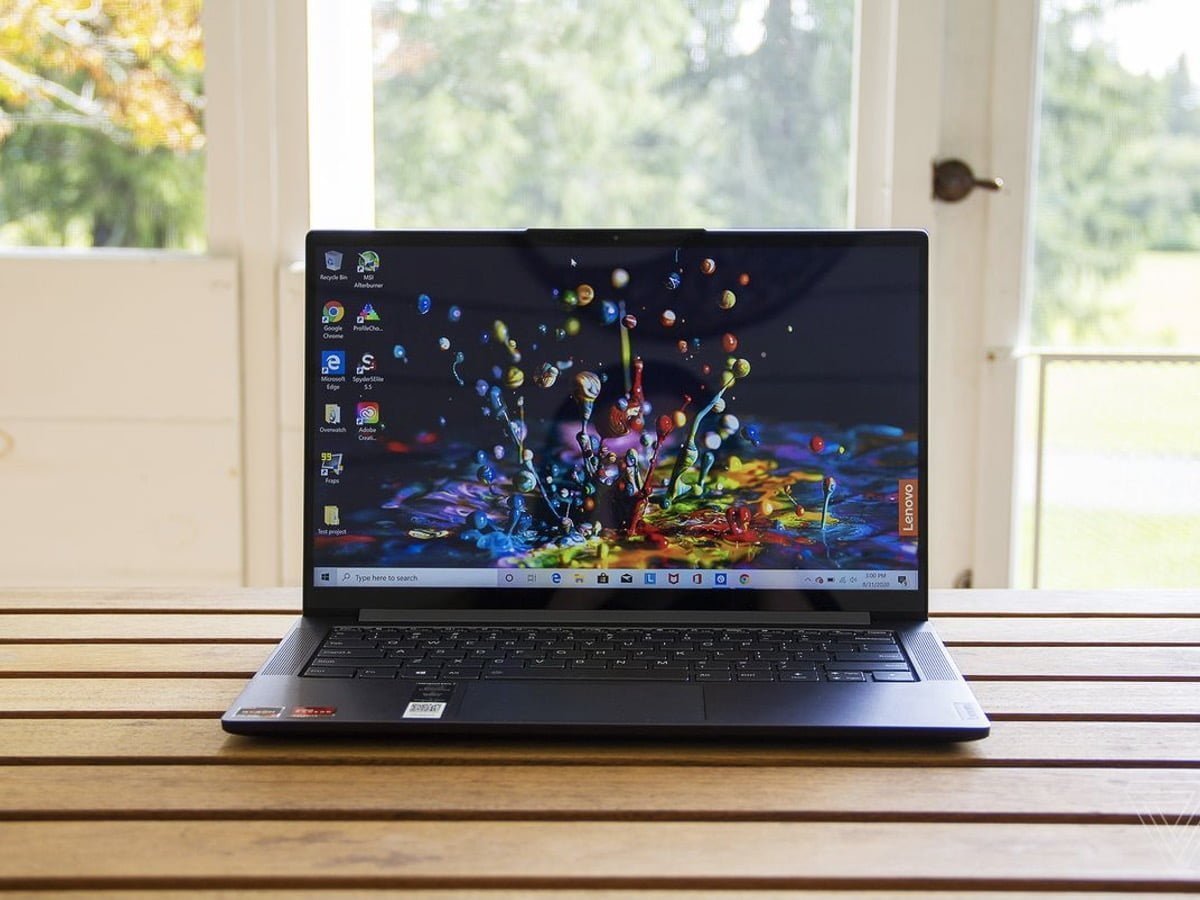 Laptops are becoming in-demand these days, especially when a lot of people have to work from home. While others utilize their laptops for office works or studying, others are enjoying their time playing their favorite computer games, like Valorant, Counter-Strike, Left 4 Dead, and more. Since laptops are portable, playing anywhere is easier, making these very in-demand now.
Nowadays, the market offers competitive laptops that are both suitable for gaming and other tasks. The price is relatively higher than typical ones, but the price you're about to pay is worth your month. If you're looking for an exceptional laptop that will satisfy your gaming experience and other stuff, you should read this Lenovo IdeaPad Slim 7 review. You'll know the reasons why you should buy it.
What's in the Box?
The box comes with a Lenovo IdeaPad Slim 7 that measures 12.62 inches by 8.18 inches by 0.58 inches. The size is very convenient to bring, anywhere you prefer to work, study, or play. The 14-inch monitor will satisfy you as you use it because it's wide enough for everything. Aside from that, it's slim compared to other Lenovo laptops as it only weighs 1.4KG. Bring it is more convenient, especially if you love spending time in cafés.
The design of this laptop will not disappoint you because of its minimalistic style with a modern touch. It's very classy on the outside, which is another reason why many users admire it. Plus, it comes from quality materials, making sure it's very sturdy.
Aside from the unit, it comes with a charger, but it doesn't have other freebies, like a stylus or a gaming mouse.
Specs
Display: 1920p by 1080p
RAM: 8GB
Storage: 1TB
Processor: AMD Ryzen 7 5800U
Connectivity: Bluetooth 5.0, Wi-Fi 802.11AX
Ports: two USB 3.2 Gen1, one USB-C (USB 3.2 + DP + Power Delivery), one USB-C (Power Delivery) for DC in SD card reader, one HDMI, and one combo audio jack.
Features
The IdeaPad Slim 7 is a total package for everybody, regardless if you're using it for gaming, studying, or working on documents. Here are the top things you'll love about this laptop.
The display on its 14-inch monitor is exceptional for its 1920p by 1080p resolution. It makes it very ideal for watching movies or playing your favorite video game.
The battery life is also another feature that you'll love about it. It can last for 14 hours, which is good if you often work outside your house. You can work continuously without worrying about your laptop's battery, and you don't have to bring another heavy item in your bag.
When it comes to performance, the IdeaPad Slim 7 is also reliable, thanks to its AMD Ryzen 7 5800U processor. It's perfect for multitasking, letting switch from one tab to another. Also, you can play any computer game. There's no lag when you're playing, letting you enjoy the time as you play.
Aside from the processor, the laptop comes with 8-GB RAM, which is extendable to 16GB. It makes sure there's zero sluggishness in your computer's performance as you use it. Also, the 1TB-storage of this laptop will make you realize how it's worth it. You can maximize it by installing the necessary software and a lot of games that you want to play.
The keypad of this laptop is another reason to recommend it to your gamer friends. The keys are very convenient and comfy too, and it doesn't make a lot of sounds. You can press keys without worrying about the noise it can create as you use it. Plus, this laptop has a numeric pad, which is a good thing for gamers to maximize.
It also has a combo audio jack if you want to listen while using your headphones or earphones, but the sound quality coming from the speaker is already exceptional. You can play any sound genre and enjoy the sound quality, regardless of turning the volume up. You might not get the top sound quality if you're expecting a lot on its bass output, but it will let you play anything with a good sound quality, especially dance or hip-hop songs.
Lastly, it's compatible with digital assistants, like Alexa. You can control your laptop easily through Alexa, which is also another good thing to keep in mind when you're planning to purchase a laptop. Not all laptops in the market are compatible with digital assistants, but this one is. You can play the next song or open something on your laptop without touching it.
Pros
Compatible with digital assistants
Slim
Has numeric keypads
Cons
The touchpad is not too big
Low-quality camera
No gaming mouse included
Conclusion
The Lenovo IdeaPad Slim 7 might lack some freebies, but the performance of this laptop is exceptional. Most users gave it an above-average score because of many things.
The battery life of this Lenovo Slim IdeaPad is impressive, especially for gamers, because it can last for 14 hours, unlike other laptops that can only last 10 hours. It's the best laptop for gaming when you often play outside your house. Bringing your computer to your gaming buddy is also hassle-free since you can play a couple of rounds before the battery drains.
The performance is also another feature that users admire because of its processor. It's not only excellent for gaming but also office tasks. If you're editing many files and using other software alternatively, you will not have a hard time switching since this laptop has no lag or software crashes.
Lastly, the display resolution and 14-inch monitor of this laptop are handy for any activity. You can expect the graphics of your game at high resolution without compromising the performance. It's also excellent when you're watching videos or movies. You don't have to plug it in on a bigger screen since the display is clear and the monitor is wide enough for optimum screening.
If you're looking for a handy laptop that you can use for gaming and other tasks, this Lenovo laptop will please you. The performance is already exceptional, while the battery life is very long-lasting. Aside from that, the quality is very sturdy since it comes from high-quality materials.