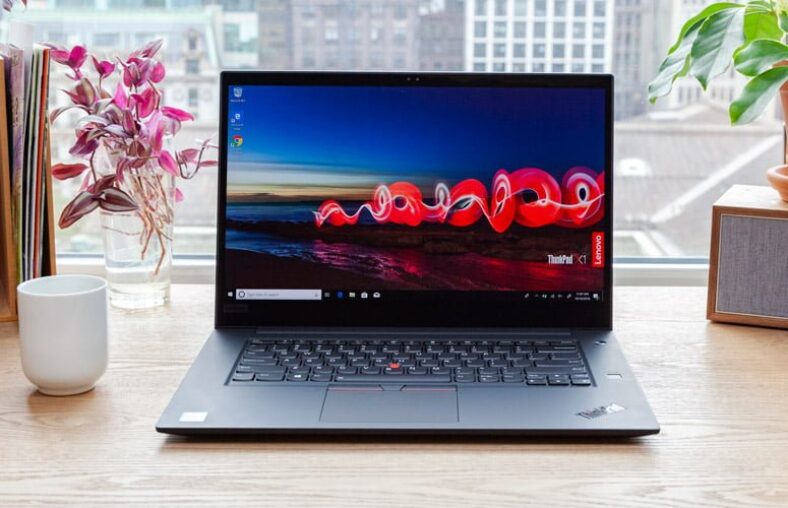 Lenovo's premium X series have managed to take the tech market by storm ever since their inception. This also applies to the Lenovo ThinkPad X1 Extreme whose launch came in October 2018. It is an amazing product which has been able to live up to its expectations despite only having been launched on the market this year. There are numerous features that set this product apart. Most notably, it comes with a remarkable graphic combination, an i7 processor with a mind-staggering processing speed. Its screen size is nearly 16 inches, giving it an elegant exterior along with a business feel. Generally, the laptop is meant for business as depicted by its screen size, hard drive capacity, the nature of apps its meant to run, its sleek body design, the RAM chip capacity,  and graphics. Without a doubt, this is a marvelous product worth laying hands on.
Major features of Lenovo ThinkPad X1 Extreme
Ethernet port
Fingerprint scanner
Display size of 15.6 inches
1 Tb hard drive capacity
32 Gb RAM chip capacity
Intel core i7 processor
Four USB ports
HDMI cable port
Earphone jack port
Micro SD card slot
3840 x 2160 screen resolution
NVIDIA GeForce GTX 1050Ti graphics card
4 Gb video memory
Uses Intel Wireless-AC 9560 for WiFi
Smart card reader slot
Kensington lock
4 pounds weight
What sets it apart from other products
This remarkable piece of product has a number of attributes that separate it from other products and account for its ability to compete favorably with a number of high profile laptops including Dell's XPS and the latest 15 inches Mac Book Pro by Apple. Its sleek design, unpretentious elegance, many input ports, and excellent combination of security features allow it to assert a commanding presence on the tech market. For example, Lenovo ThinkPad X1 Extreme comes with a very effective fingerprint scanning feature, which enhances security by a significant degree. This is the only laptop to have the highest screen resolution available today. The feature accounts for the laptop's ability to enjoy numerous accolades from members of the public, especially the business community which uses high-resolution apps. Despite being in possession of numerous features, it is remarkably light and comes with a very slim design.
Pros
Long battery life of 6 hrs
Many ports
Highest screen resolution available today
Slim design
Light weight
Cons
Touch pad not easy to clean
Heavier than most slim laptops
Heat management issues
Market availability and cost
Being one of the latest products to have been launched by Lenovo, this amazing laptop is readily available in countless major stores around the globe. It can also be bought from Amazon and eBay. Its price range is around $1600.
Final verdict
Based on the fact that the Lenovo ThinkPad X1 Extreme comes with a sleek slim design, a light weight, a vast combination of features, a remarkable hard drive and RAM chip capacity, unpretentious elegance, a long life battery, and the highest screen resolution on the market; it is definitely worth buying. Without a doubt, this amazing product deserves a 5 star rating.
Last update was on: September 6, 2023 11:23 am