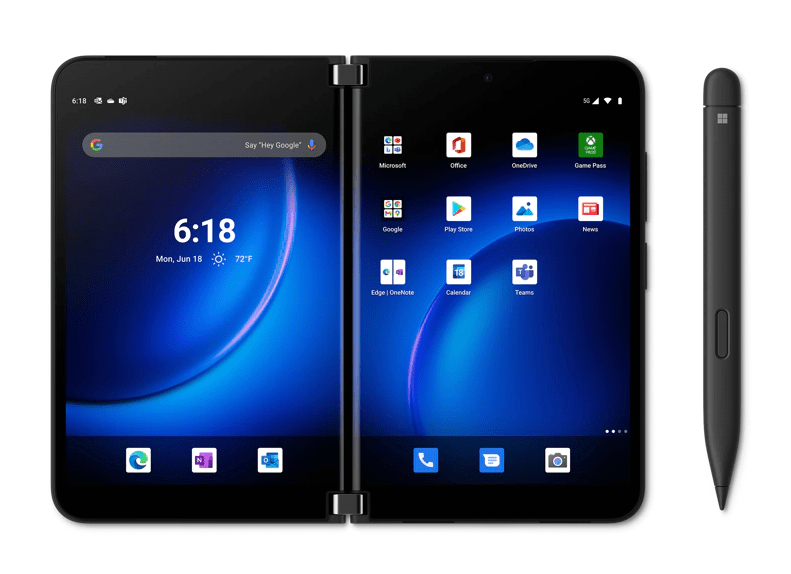 Technology these days progresses quickly, which leads different brands to a very competitive market. People used to settle with big computers and bulky phones, but now, we have many options with advanced features. Now, you can enjoy the convenience of laptops and tablets, along with smartphones that will let you do almost anything you need for entertainment and communication. 
If you're searching for a new tablet to purchase, but you're not sure which brand to select, Microsoft offers a line of products with exceptional features. These may be a bit pricier compared to other brands, but you'll appreciate its models once you start using these. Here's the Microsoft Surface Duo 2 review to convince you why it's worth your investment. 
What's in the Box?
The box comes with a Microsoft Surface Duo 2 unit that's foldable. You'll find it very convenient to use because it's foldable, shrinking to 145.2 by 92.1 by 5.5 millimeters. When you use it in an unfolded way, it measures 184.5 by 145.2 by 5.5 millimeters, and it makes it very convenient to use because it's wide enough as if you're using a tablet. It's not only portable, but it's also handy. Switching from a tablet to a phone is easy because of its foldable advantage. 
The style of this Microsoft phone is very appealing in the eyes of many users because it stays classy in its Obsidian or Glacier color. If you're looking for a handy tablet that has a modern touch, you'll undoubtedly love it. Moreover, the logo on the front cover adds a premium touch to its overall look. 
You can count on its sturdiness because this model comes from a premium quality of material that will assure its durability. Next year, there's no need to get a new device because you can assure that it will last longer. 
This unit comes with a charger for its 4,449mAh battery. There are no other freebies aside from the charger, which disappointed other users because some brands offer other freebies, like stylus or headsets. However, this bundle doesn't have any.   
Specs
Display Resolution: 1892p by 2688p

Processor: Qualcomm SM8350 Snapdragon 888 5G

RAM: 8GB

Camera: Selfie Camera uses 12MP wide lens; Main Camera uses 12MP wide lens, 12MP telephoto, and 16MP ultra-wide lens

Connectivity: Wi-Fi 802.11, Bluetooth 5.1

Ports: USB Type-C 3.2, DisplayPort
Features
The Microsoft Surface Duo 2 is a recommended Microsoft product for Android users because it comes with many features that you'll find handy, like the following. 
There's no lag when switching from one activity to another because it uses a Qualcomm SM8350 Snapdragon 888 5G. There's no slowness when you browse anything on the internet, watch your favorite series or movies, or even play any game. Plus, you will not encounter any app crashes, which is why it's ideal for daily usage. 
There's another contributor to its overall performance, which is the 8GB RAM. It makes sure your phone performs at its best, especially when you're playing games. If you love tactical or MOBA games, you'll enjoy using this model more because you get a bigger screen with better performance compared to other brands. 
The display resolution is another feature you'll appreciate because it comes with a balanced crisp and color. It's not too irritating in the eyes, which is another good thing about it. Moreover, it displays graphics well, letting you enjoy playing or watching. 
Another feature you'll admire is the battery life of this model because it can last for 15.5 hours at moderate usage. It's very impressive that you don't need any power source when you're outside. Moreover, recharging is very convenient because it will recharge its battery life 50% more in 15 minutes. If you're always in a rush to go out, it's the ideal tablet to get. 
The camera is a very impressive feature of this model despite having a big bump located on the back of the device. However, it guarantees decent shots with its triple-lens setup. You can capture anything with decent quality, regardless of any camera model you use. 
Lastly, the audio quality of this tablet is average. It doesn't have the best quality, but it provides a decent one when you're playing music on the stereo. It's not too noisy, which is why you'll still admire the quality of the speaker. On another note, you can connect to any wireless device easily through Bluetooth 5.1. 
Pros
Faster processor

Elegant style

Improved camera-quality
Cons
Pricey

Doesn't have a competitive memory

Comes with some UI bugs
Conclusion
An overall, the Microsoft Surface Duo 2 received an above-average rating from many users. Even though some pointed features need improvement, many users love the performance of this tablet. 
Users admire how fast the performance of this tablet was, especially when it comes to browsing the internet or playing games. You can also watch anything without sluggishness because of its processor. Plus, the 8GB RAM adds speed to its performance, letting you play anything without interruption. 
When it comes to photography, this tablet is competitive. It uses a triple-lens camera with different modes, letting you choose which is apt for the subject. It provides decent shots, which is another feature that many gamers admire about the device. 
When it comes to battery life, this Microsoft model is exceptional. With moderate usage, it can last for about 15 hours, unlike other tablets in the market. If you enjoy the outdoors, or you often hang out in cafés, you can use this device for longer hours without recharging it. If you have to recharge, it recharges fast, letting you have 50% in 15 minutes. 
On another note, some users don't admire how bulky it can look. It's not thin, unlike other tablets in the market, even when it's unfolded. However, many users love how you can fold it for easy storage. 
If you can't decide what tablet to buy but have the budget for a high-end model, you should consider the Microsoft Surface Duo 2. It's not only top-performing, but it's also very handy since it's foldable. Storing it in your small back is not a hassle anymore. Plus, it's very durable, making sure it doesn't break easily.
Last update was on: November 29, 2023 9:31 am