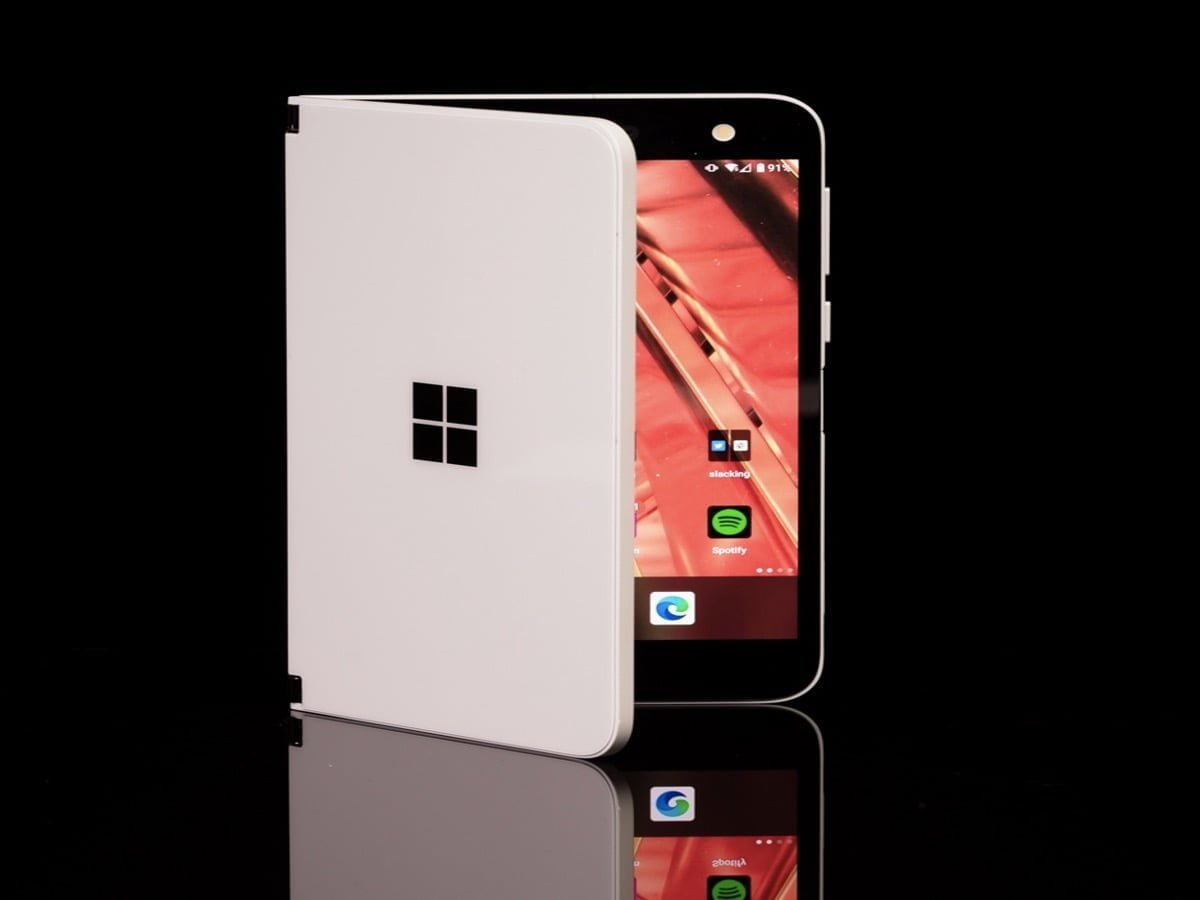 Smartphones are dominating the market now. Before, people care less about using phones, but the demand went up after adapting to the modern world. As technology progress, more models are in the market with different features, and one is the foldable phone.
There were foldable phones way back, which are called flip phones. However, these are mainly for communicating through call or messenger most of the time. Now, technology improved flip or foldable phones because you can do so much more, like playing a game, browsing the net, or watching movies, unlike before.
The Samsung Galaxy Z Fold 2 is one of the popular foldable phones nowadays. However, some think the screen is too small for other activities. Microsoft grabbed the chance to innovate a device that's portable and unfoldable at the same time. If you're looking for the best foldable phone to buy, here's the Microsoft Surface Duo review.
What's in the Box?
The box comes with a Microsoft Surface Duo, and at first, you might wonder if it's a phone or a tablet. It only measures 186.9 by 145.2 by 4.8 millimeters when you're using it as a tablet, but you can fold it as a phone, where it measures 145.2 by 93.3 by 9.9 millimeters. It's very portable that you will not have a hard time carrying it anywhere you go. Even when you use it while walking, you'll not have a hard time holding the device because it only weighs 250 grams. It may look heavy, but it's not at all.
The design is also another reason to love it. It comes in white color, and the style is very fancy. It's very appealing in the eyes, especially when you're into monochrome colors. Whether you use a cover or not, this phone is pleasing to the eye because of its aesthetic vibe. Plus, the Windows logo at the back adds appeal to the overall look of the device. If Apple has a brand vibe, Microsoft made sure it can make its device as appealing as Apple's devices.
The unit comes with a charger, but it doesn't include any stylus. It could've been better if Microsoft included a stylus to complete the package, but the screen is wide enough for you to enjoy. You have the option to buy the Surface Pen if you have the budget.
The quality of this device is not questionable as it comes from the premium quality of the material. The screen doesn't break easily because of its built-in Gorilla Glass 5. This protection will make sure your screen is safe from scratches. Moreover, since it's foldable, the connectors are also durable. Many foldable phones don't last for long because these break easily when you frequently unfold and folds the device. It's a good thing that this phone is extra strong.
The structure of this phone is impressive because it's symmetrical. The right side has the USB-C port, the volume rocker, a lock button, and a fingerprint sensor. Microsoft made sure the orientation will give you a natural feeling, and both screens have the same thickness.
Specs
Display: 1800p x 2700p
Processor: Qualcomm SM8150 Snapdragon 855
Connectivity: Bluetoooth 5.0, Wi-Fi 802.11
Ports: USB Type-C 3.1, Nano-SIM, eSIM,
Storage: 128GB
RAM: 6GB
Features
The Microsoft Surface Duo is one of the best foldable phones despite its price because of its many features. It's not only built durable and classy. It also has a lot of competitive features that will blow your mind.
The 1800p by 2700p-screen is not an issue at all because of its quality display. Both screens have the same resolution, and even when both are outside-facing, the resolution doesn't change at all. The colors blend well, giving a good time as you scroll in your feed, watch a video, or play a game.
Another feature you'll love is the messaging app. It gives a nostalgic vibe back when there used to be phones like Nintendo. You can type a message while using the phone in a gaming console set-up, where the top screen shows the inbox and the below one shows the QWERTY keypad. It's very handy because you can see a better view of the thread.
Also, you'll love how you can open an app on both screens as if you're using a notebook with infinite paper. You can surf on the right side, while on the other side, you can take down notes or talk to someone through messages or chats.
What's best about this phone is that using Microsoft Office apps is easier, as if you're using a laptop. You can make documents, spreadsheets, or PowerPoint presentations without the need to use your laptop. It's excellent for making rush documents while you're out of access to your laptop.
The dual-screen of this device is excellent for multitasking, and it doesn't lag at all. You can open your social media on the other side while using Slack or other productivity apps. If you feel like working using your phone, it will be easier to use two apps simultaneously with zero sluggishness.
The Qualcomm processer will ensure you can use this phone at its top performance without unexpected app crashes. It's not slow, even when you have a lot of apps running. You'd be surprised how it loads easily for a phone, and that's one reason why it's a good deal.
The RAM is enough for you to enjoy a good game while using this phone. If you're into playing tactical games, or MOBA games, you'll have a good time because there is no lag while playing. Plus, the screen matches the performance of the processer, which is why it's exceptional when it comes to gaming. You can expect a good gaming experience out of this phone.
When it comes to the camera, this device only has an 11-megapixel camera with a single lens. What's best about it is that you can use it as the main camera and a selfie camera simultaneously. What you have to do is to move it outfacing each other, and you're all set. However, it's not as high-end as the Google Pixel 4 or iPhone 11 Pro, but it does give a good shot. The fact that you can flip your screen for a dual-purpose camera.
The battery life of this phone is impressive. It uses a 3577mAh-battery, which improved a lot from its previous model. It lasts longer compared to before, even when you're playing a game. It can last for a whole day, even when you're using it most of the time. Plus, you can recharge your phone's battery in an instant because of its fast-charging advantage. Many gamers think it would've been better if Microsoft invented it for wireless charging, but the battery life and how you can charge it are already excellent.
There's nothing to expect much on its sound quality because users are into the dual-screen of this phone. However, it may not meet your expectations when you're playing music on a loudspeaker. You can connect through Bluetooth and use a speaker, earphone, or headphones, but playing sounds on a loudspeaker is not very desirable at all.
There are also preloaded Microsoft apps, such as Microsoft Office. You can also use these handy apps, especially if you're studying or working in an office. It's important to document what's necessary to help you along, and this phone will give you the convenience to write it down in a hassle-free way.
Pros
Dual-screen
Classy design
Foldable
Cons
Pricey
Low camera-quality
Dated hardware
Conclusion
The Microsoft Surface Duo received above-average feedback because of its exceptional features. Many users enjoyed using this device like a phone or a laptop. There are some aspects for improvements, but the overall performance of this phone is exceptional.
Users love its portability because you can fold it easily, and it's very durable. Aside from that, you can use the device as a dual-screen. Multitasking is easier because you can open two apps on a split screen. Playing a game while texting someone is not a problem anymore, or checking your social media while watching a video is also easier. It's not only portable but also handy.
The sleek design of this phone in white makes it very appealing, even without the cover. It's very pleasing in the eyes, from the screen to the back. Aside from that, it's lightweight, and the foldable size is also small, which brings it anywhere is hassle-free.
Lastly, the performance of this phone is impressive. You can play your favorite game without any lag or watch how many videos without slowness. Changing from one application to another is swift without crashing the app.
On another note, the lens of the camera can still do better. Being able to flip it to get an instant selfie or main camera is already a good feature. If Windows can improve the camera further, a lot of users will switch to this phone. It may come at an additional price, but an improved camera is worth it.
Foldable phones are becoming trending in the market, and if you're looking for a decent one with exceptional features, check out the Microsoft Surface Duo. The performance is impressive, the device is durable, and you can multitask however you want.
Last update was on: July 21, 2023 3:06 am