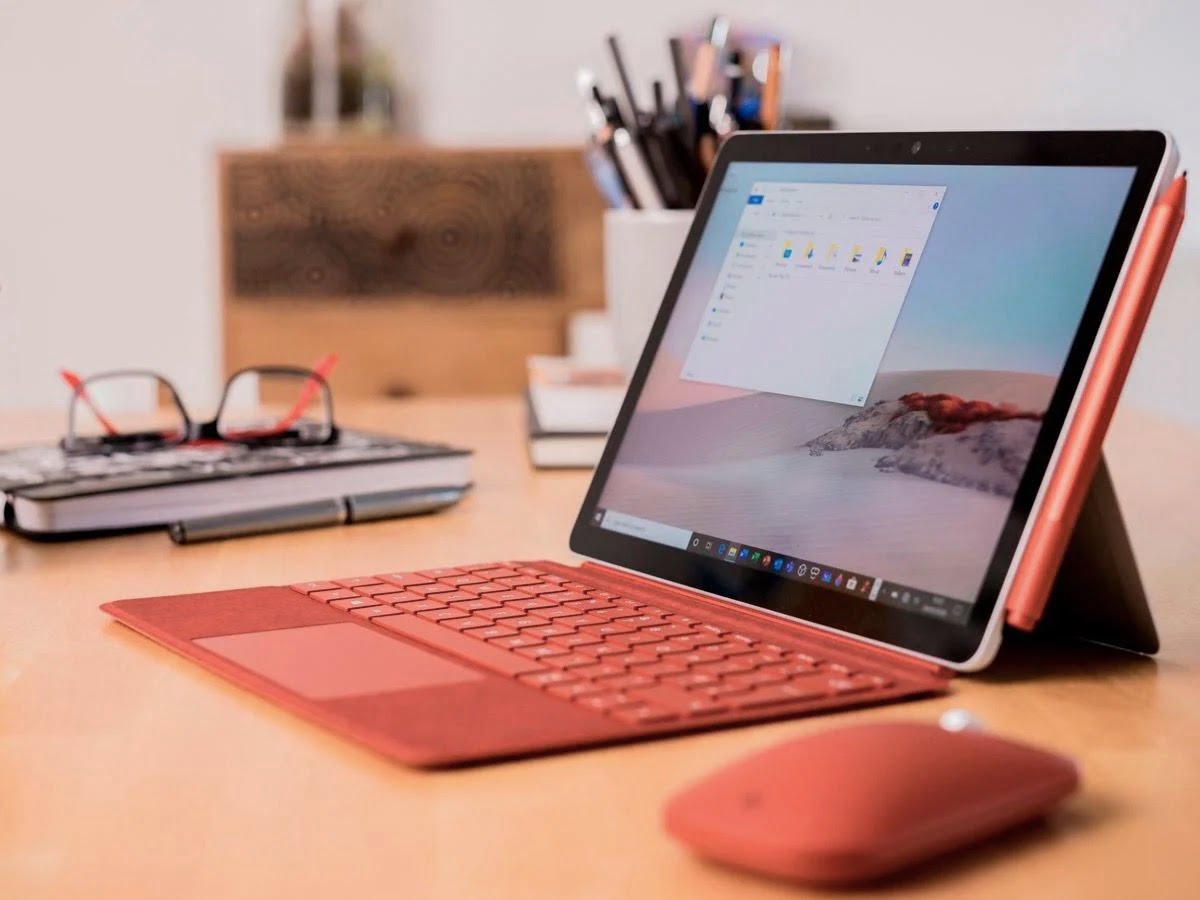 Laptops are evolving as days pass by. People used to work on desktop computers, which are not very convenient to bring at all, and it's why laptops exist. However, laptops are becoming more convenient because some brands already offer detachable screens and keyboards. If you want to invest in a very portable laptop, you should check the Microsoft Surface Go 3 review. You'll find out why this model from Microsoft is worth your money.
What's in the Box?
The box comes with a Microsoft Surface Go 3 laptop that measures 9.65 by 6.9 by 0.33 inches. It's the best laptop if you're talking about portability and convenience. It's not too big, but it's also not too small for daily use. You'll love carrying around without putting it in your bag because it's very convenient to carry. Plus, it only weighs 1.2 pounds. It's one of the choices if you prefer lightweight laptops.
The design of this laptop is impressive as it is naturally. The display screen maintains a classy style, but the keyboard's best part of the entire laptop's design. Its aesthetic vibe makes it more interesting to other users, and some are excited to see more of this model.
When it comes to sturdiness, it's undoubtedly long-lasting. It may look and feel thin, but you can guarantee that it will not break easily on minor incidents. The quality of Microsoft is reliable, and it's one thing that you'll also love.
The laptop's screen and keyboard are detachable, wherein the keyboard is part of the box. Moreover, it comes with a charger, but it doesn't come with a Surface Pen. You can opt for an additional one at a cost, but you can still use the laptop without the pen.
Specs
Display Resolution: 1920p by 1280p
Processor: Intel Core i3-10100Y (dual-core, 8MB Intel Smart Cache)
RAM: 8GB LPDDR3
Internal Storage: 128GB SSD
Connectivity: Wi-Fi 6, Bluetooth 5.0
Camera: 1080p IR Webcam
Ports: one USB-C 3.1, microSD card reader, combination audio jack, Surface Connect port
Features
The Microsoft Surface Go 3 is one of the hottest topics in the gadget industry because of its competitive features. If you're curious how or why many users are talking about it, here are the best features.
The design of the entire laptop is very sophisticated, especially the detachable keyboard. It doesn't only have a good color combination, but the texture of the case is very comfy. When you type long documents, you will not find any discomfort.
The battery life of this laptop runs at a maximum of six hours, which is average compared to other laptops. Despite being in a tablet-like laptop, the battery life is already competitive enough to last six hours without any power source. If you often work outside, you can use this laptop without any problem because you'll be able to finish 50% to 70% of your work with its battery life.
The performance of this laptop is one thing you'll love about this model because you can guarantee zero sluggishness when you're doing office tasks or playing games. The Intel Core i3 performs at its finest despite any app or software you access. Multitasking will not be an issue when you're using this laptop because of its processor.
Aside from the performance, you'll also love how it can perform well on games because of its RAM 8GB. Regardless of any game you play, you'll have a good time when you're using this Microsoft laptop.
The speakers are also decent, which will let you listen to your favorite music without any unwanted noise. The sound quality is impressive, which might surprise you because it only has a thin monitor. There's also minimal distortion when using it on a laptop mode because the speakers are near the top of the screen. Nothing is blocking the speakers.
You'll also love the webcam of this laptop. Most brands at the same range will give you a decent webcam, which still has too many image-noises during videoconferencing. Its excellent output makes it more competitive than other brands in the same range.
Lastly, this laptop's display resolution is another feature you'll admire because it provides a balanced contrast and brightness, along with quality graphics when you're playing games or watching movies.
Pros
High-quality webcam
No bloatware
Lightweight
Cons
Thick bezels
Average battery life
No stylus included
Conclusion
The Microsoft Surface Go 3 is one of the top-performing laptops you should consider buying if you want something lightweight. Microsoft made sure it has the necessary features you need despite its thinness. Moreover, users gave it an average rating because of many things, like the following.
The performance is impressive for a Core Intel i3-processor, letting you multitask with ease. You can switch from playing your favorite game to your browser without any app crash, and it's one reason why it's very competitive against other brands in the market.
The camera quality of this Microsoft laptop is also another good feature that users admire because there's less noise when you're video conferencing. They can see your face clearly when you're using it. Most laptops with this type have average webcam quality, but this model from Microsoft is impressive.
Lastly, the design of the laptop is another reason why many users admire it. The display screen is already impressive with its classy design. However, the keyboard of this game makes it more appealing because of the color and texture. It makes the entire laptop look premium with the keyboard.
Many users still think that the battery needs further improvement since it's only average. It can last for six hours, which is not bad at all, but other brands in the market can last over six hours, which is also a good deal for others who prefer to work or study outside their homes or comfort zones.
If you're searching for a lightweight laptop with handy features, you can check out the Microsoft Surface Go 3. The performance and design are some of its best features. Plus, Microsoft boasts its design and camera quality, which other brands lack.