The Microsoft Surface Pro 6 is an updated version of Microsoft Surface Pro which was launched in the year 2017. No doubt it comes with many new and advanced features in comparison to its previous version. The Microsoft Surface Pro 2017 gained great popularity because of its great processing speed, long-lasting battery life, and sleek design. Therefore the company came up with even more better Surface Pro 6.
The new Surface Pro 6 is inarguably the best and most reliable in terms of battery life and durability. Talking about its design, Microsoft has added a new and shiny black color scheme. The black color shell makes it look very premium. Other than the new color scheme there is no major change when talking about its outer design. The tablet is very thin; it measures just 0.33 inch. It is also extremely lightweight and weighing 1.7 pounds. The 12.3-inch touchscreen with 2736 x 1824 high-resolution crystal clear display makes it look impressive. You can use it for almost any kind of work from gaming to videos, movies and official use.
The ports are just the same because of the same outer cover as before.
Processor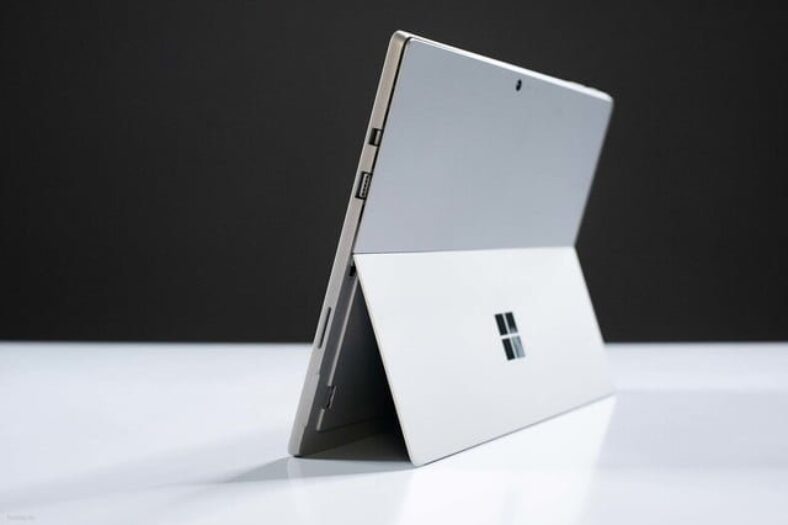 The Surface Pro 6 features an eight generation Intel Core i5 processor. It is reportedly the first 2 in 1 device with a quad-core CPU. It is the powered by 8GB of RAM and 256 GB Solid State Drive for seamless performance. These features make it capable of handling a number of tasks simultaneously.
The benchmark performance of the Surface Pro 6 is nearly the same as other devices having eight generation credit i5 processor such as ultralight laptops and convertibles.
Battery
Microsoft Surface Pro 6 shines the brightest in terms of battery. It sports an extra durable and long-lasting battery which gives almost 8 hours of backup. The outstanding battery life of 8 hours is much higher when compared to the previous versions of the device. The previous Surface Pro devices generally offer 5.45 hours of battery backup.
The type cover keyboard is again the best in class. However, you need to spend some extra bucks for it as it is not provided with the device.
Connectivity
Talking the connectivity you are only going to get two ports for wired connectivity one is the USB 3.0 port and the other is a mini display port jack. The only disadvantage is that there is no USB 3.1 port. USB 3.1 is almost double in terms of data transfer speed than the old school 3.0. Nowadays it is a must-have feature for any latest device, and it's a bit embarrassing thing that Microsoft has not included it.
Price
The starting price for the Surface Pro 6 is $899. You can further customize it and can add Intel Core i7 processor and up to 1 TB of storage, but that will cost you a lot of money.
Final verdict
Overall Microsoft Surface Pro 6 is a great device with gorgeous looks. It's sleek and powerful and is an absolute beast in terms of performance.
Last update was on: September 6, 2023 1:41 pm