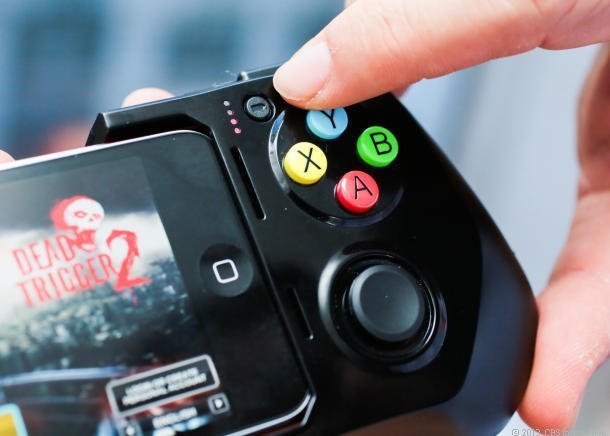 The well awaited Moga Pro Ace meant for iPhone has been rolled out. Though, they only work with very limited number of games, which are played with real and physical button; it has some advantages as well as limitations. This Moga Pro Ace for Iphone review would give you a clear picture about this product. Right now MOGA is head-on-head with Logitech Powershell and the competition is pretty tough.
Compatibility
The device is compatible with;
iPod touch of 5th generation
iPhone 5s
iPhone 5
iPhone 5C
There are many similarities that one will find between the most popular controllers of console and MOGA. The fact that it can work with everything above, including iPod Touch 5G; but not the iPad sets it back only by an inch. This gap would be filled in near future, which is what the manufacturer of MOGA has to say.
Design
The design is pretty odd, but it is definitely attractive with a sliding opening to house the compatible device into it. After the device is kept and settled inside, it could be locked with the 'lock' button. The comfort is on a higher side, while similar colours of four buttons on its analog dual and d-pad setup make it a bit old fashioned. The conventional four triggers and the entire 360 look, makes it appear more like the controller of old days. However, it can't be denied that this attractive small box is more powerful than anything, any gamer may have used in the past.
Functionality
This controller would work on anything, which supports the MFi controllers. Just in case you have an interface or platform, which required d-pad similar to that of 'Risky's Revenge,' it is easier to go ahead with classic setup to play. For the FPS games, you can use the twin analog sticks, which are available to control the aim and movement. It aids in both, as the games that have iOS 7 faux-support and never 'unlock' the peculiar d-pad; it works very well.
It is powered by 18mAh battery, where one has to charge it on any kind of device with a USB cable, which is provided in the package. The controllers stop charging, as soon as it reaches to its 25% capacity. The headset can be played directly through the unit by plugging it, while no adapter is needed here; as it would in Logitech Powershell.
Overall experience
Whilst playing on it, the first game we took out was San Andreas of the GTA Series. When it booted up, we were blown away by the exponential gameplay, which was made possible with the face buttons and acceleration triggers. The device supports not just the basic mapping, but the complete requisite for MFi. All of this makes the mapping absolutely perfect, when it comes to GTA series of action packed realistic games.
Verdict
For less than $100, this is an excellent buy that must not be missed. There is nothing complicated here and since it goes very well with almost all the apple products, it is going to be a good treat for gamers.