Excellent!
If you are looking for a sleek and premium design that comes with overall incredible performance, the Moto 360 (2019) is a great option.
PROS
Solid quality design and build
Comfortable fit
Good display quality
Always-on display
Good battery life and fast charge
CONS
No groundbreaking features
No wireless charging feature
The leather strap could be less plasticky and much softer
As a beautiful stainless steel timepiece, the Moto 360 (2019) may be more than just an accessory.
The Moto 360 (2019) is the first compelling smartwatch launch, which Motorola brought in 2014 originally as Android Wear.
The second generation came the following year, ditching the flat tire display from its original version. But after 2016, when Motorola released the sportier model for this line of smartwatches, the brand vanished.
Fast forward to half a decade, and here comes the latest Motorola Moto 360 (2019) smartwatch.
Moto 360 (2019) Key Specs:
Processor – Qualcomm Snapdragon Wear 3100
Operating System – Wear OS by Google
Memory – 1GB RAM+ 8 GB Internal Memory
Connectivity – Bluetooth 4.2, Wi-Fi b/g/n, GPS/NFC/Galileo/Beidou/GLONASS
Sensors – Barometer, Accelerometer, HRM, Gyroscope, Ambient Light
Battery – 355mAh; quick charge at 0-100% in 60 minutes
Compatibility – iOS 10.0 or higher; Android 6.0 or higher
Water Resistance – 3ATM, Tested for 10,000 swim strokes
Display – 1.2 inches Circular AMOLED; Always On, Full Color
Dimension – 42.8 x 42.8 x 11.68 mm
Weight – 52g (without strap)
Case – SUS316 stainless steel with PVD or DLC coating
Strap Width – 20 mm
Premium Build Quality and Design
The Moto 360 (2019) features some parts of its original design, but it is more substantial and a bit bulkier than the old ones. But, the changes are not necessarily a bad thing for this new smartwatch model.
This third generation of the Moto 360 features a sleek and premium finish with the durable build quality. While its previous version looks more like a toy than a superior smartwatch, this new one is all about providing the most exceptional design quality. The brushed finish material for this smartwatch is also available in different color options such as rose gold, steel grey, and phantom black. All come with a PVD/DLC coating to offer a better scratch resistance feature.
The brushed stainless steel smartwatch now features two polished buttons on the right-hand side, from the previous model with only one of this. The top round button toggles to the settings and the home screen, which also acts as a scroll control. Meanwhile, you can configure the other button on any specific application you want.
The genuine leather strap, and polished ring at the top of the casing of this model, adds to its overall premium look. Plus, the Moto 360 (2019) features a 3ATM water resistance rating. It can withstand a couple of splashes of water or light rain, but you may not want to wear it while swimming.
Other features that you can get from this device includes a GPS, heart rate monitor, and NFC for mobile payments using Google Play.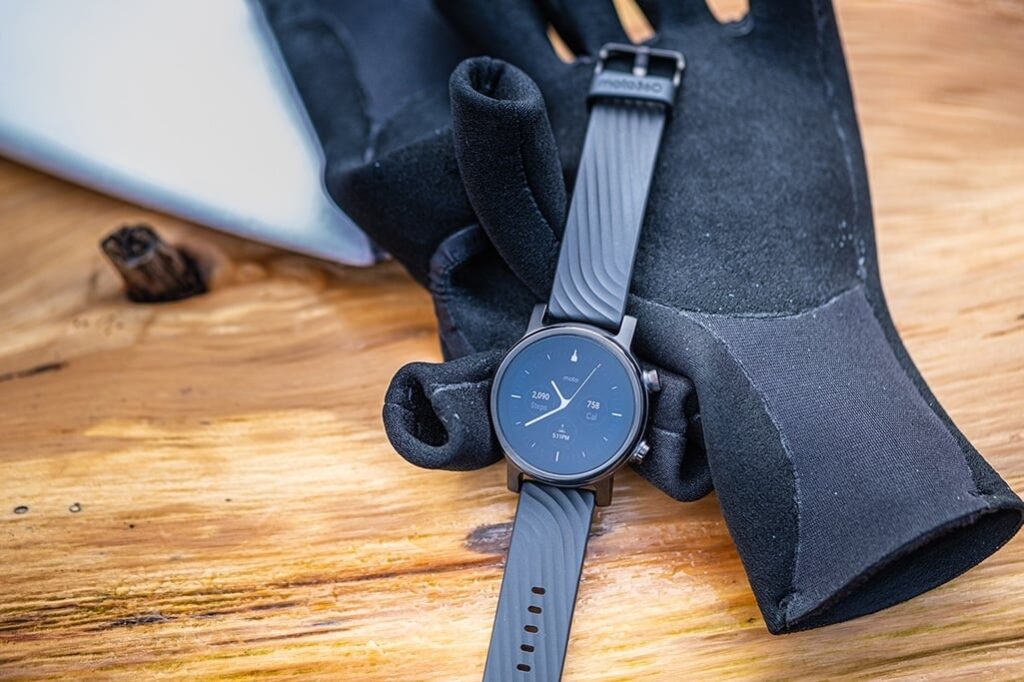 Fully Round AMOLED Display
The Moto 360 (2019) smartwatch comes with an AMOLED display with a1.2-inch fully round shape over the stainless steel casing. The touchscreen quality is impressive as it is impressively crisp and responsive.
One of the apparent changes in the new Moto 360 model is the absence of the flat tire from the original smartwatch. Although there is still a slight bezel between the edge top of the ring and the screen, it's barely noticeable, which is a great thing.
The AMOLED display of this smartwatch comes with an Always-On functionality. It means that the device will not show a black screen unless you want it. There are also five different brightness settings you can choose. However, the Moto 360 (2019) doesn't leverage much on the available screen space compared to other competitors in the smartwatch world.
Impressive Hardware and Performance
As much as the Moto 360 (2019) features a sleek and premium outside look, it packs excellent performance on the inside as well. The smartwatch comes with impressive hardware, running using the Snapdragon Wear 3100 processor from Qualcomm. It comes equipped with a 1GB of RAM and an 8GB storage space as well.
The processor and RAM for this device are similar to some of its premium competitors. It is known for providing a smooth experience for users.
When it comes to smartwatch performance and battery life, the new Moto 360 model is nothing short of excellent. It has a 355mAh battery, which can last you about 16 hours and more even with the Always-On display. The watch also features fast charging functionality so that it can go from zero to 100% in just an hour.
The only downside for the change of design is the new charger for the Moto 360 (2019). It doesn't have the desk mount charger from the original version. Instead, you get a puck charger that sits flat on a surface and connects to the watch through two pins. The design of the charger is unconventional as well, and a bit challenging to handle with the charging puck doesn't comfortably sit flush on the table.
Google Wear OS
While most features and specs of the Moto 360 (2019) are impressive and industry-leading, the software it comes equipped with, not so much. This new model runs on the Wear OS platform of Google, which is not the best in the market right now.
However, it's not so bad as you can still get a lot of features like the Google Fit, Google Play, Google Play Services, and Google Assistant.
And while other non-wear OS smartwatches are consistently offering new health and fitness features, Google very seldom makes groundbreaking feature updates. There are countless better options for smartwatches that run in more robust software, but the new Moto 360 model is among the best Wear OS watches.
The Verdict
Although the new model of the Moto 360 line runs on the slightly neglected Google's Wear OS platform, it makes do to provide impressive performance for its kind of smartwatch. For its price, you'd expect a much better charger for the device as well. It's a shame that out of the features from the original model, Motorola forgo the much better charger design.
But when it comes to performance, this device has enough power, and a sustained one at that. This smartwatch can last you an entire day and still has battery life left for your sleep tracking at night. Plus, if you are looking for a sleek and premium design that comes with overall incredible performance, the Moto 360 (2019) is a great option.
Last update was on: September 6, 2023 1:22 pm