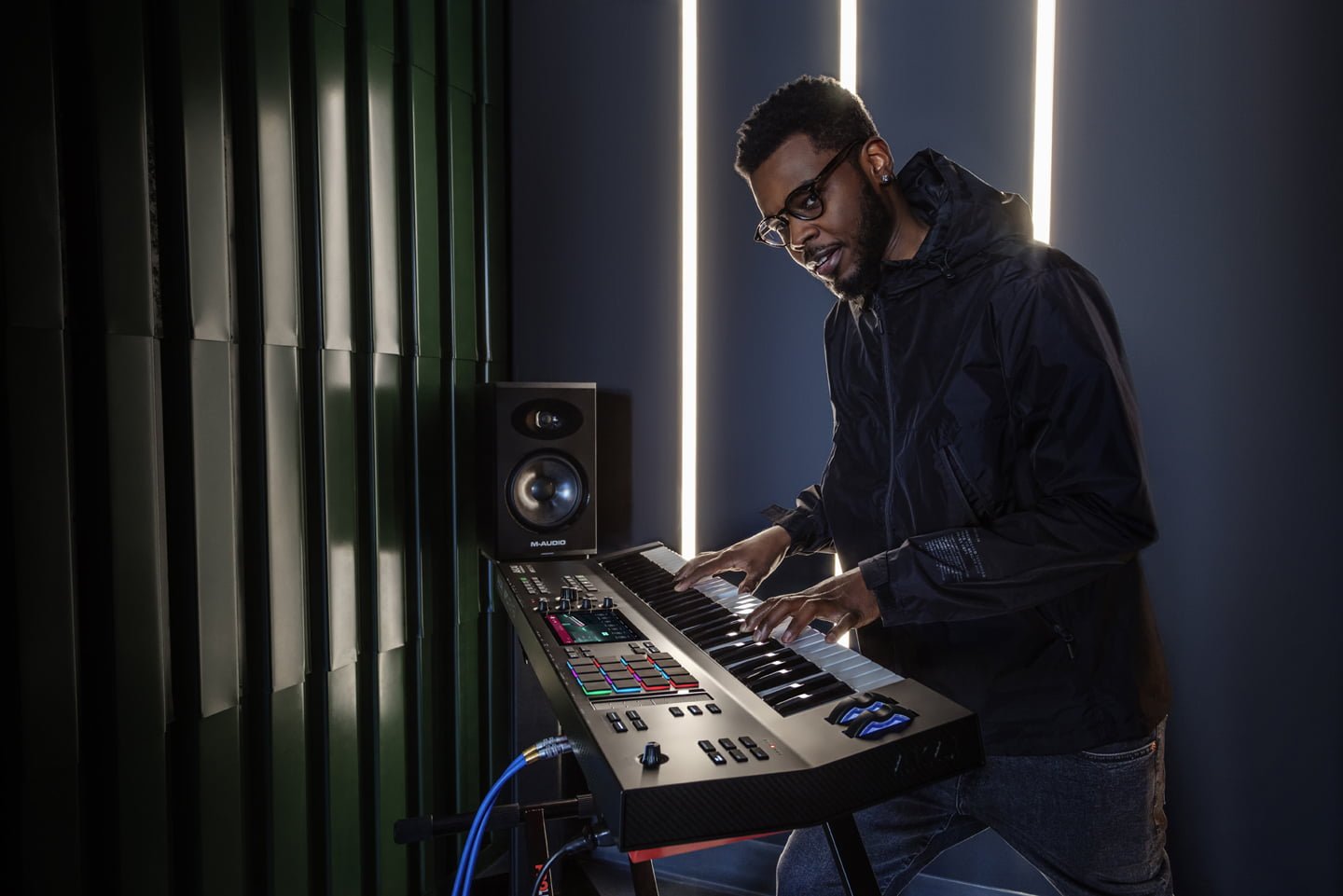 The Akai MPC Key 61 is a highly advanced production synthesizer that combines technology and artisanship to provide a seamless music production experience. With a focus on creative control and responsiveness, the MPC Key 61 features a semi-weighted keybed with aftertouch, onboard assignable Touch Strip Controller, pitch bend and modulation wheels, and over 100 state-of-the-art effects. Additionally, it boasts a vibrant 7-inch color touch screen, 25 cutting-edge instrument plugins, and a powerful 128-track MIDI sequencer. This article will explore the features, functionality, and benefits of the MPC Key 61 for music production.
The MPC Key 61 boasts a highly expressive keybed with aftertouch that provides dynamic, responsive control over sounds. This is especially important for performers and producers requiring precise control over their music. The aftertouch feature allows nuanced control over sound dynamics, adding a layer of expression and creativity to the music production process.
Another notable feature of the MPC Key 61 is the onboard assignable Touch Strip Controller. This feature allows users to manipulate sounds in real-time, bending and warping them in previously impossible ways. The touch-capacitive assignable real-time Q-Link controls also offer endless artistic ingenuity, opening up worlds of new creative energy for production and performance.
The pitch bend and modulation wheels are other important aspects of the MPC Key 61. These wheels provide an added touch of expression to compositions, allowing performers and producers to bend notes of synth and lead sounds, add gentle vibrato to stringed instruments, and dial in the speed of the organ's rotary Leslie cabinet for a wide chorused tremolo effect. These features bring depth and dimension to any keyboard part.
The MPC Key 61 includes over 100 state-of-the-art effects, ready to load across music productions for mixing and mastering. These effects include lush and spacious reverb and delay effects, as well as modern and vintage-style compressors and limiters. The onboard plugin FX, including modern-day vocal tuning FX, doubling, and adding 4-part harmonies, provide a high level of creativity and versatility for sound design and vocal recording.
In addition to its advanced features for sound manipulation, the MPC Key 61 is also designed for seamless integration with other music production devices. With the ability to connect up to 32 MIDI devices via USB with MIDI Multi, expand audio I/O to 32 inputs and outputs using class-compliant audio interfaces, and connect vintage synths using MIDI In/Out/Thru, the MPC Key 61 is a versatile production tool that can connect to virtually any setup. The onboard Wi-Fi/Bluetooth allows for wireless synchronization with Ableton Link and MPC OS updates, while an additional SATA storage bay allows for volumes of expandable sounds and tracks.
The MPC Key 61 also features a powerful onboard 24-bit audio interface with high-end preamps and AD/DA converters. The individual gain knobs control the input of the combo XLR/TRS ¼" inputs with phantom power for driving condenser microphones. The 2 main outputs, 2 sub outputs, and an additional headphone output further allow for expansive connections. This allows users to capture pristine vocal tracks and process them with the onboard AIR Vocal Suite or record guitars, bass, or any other instrument for the ultimate in recording and sampling capabilities.
For even more advanced production capabilities, the bundled MPC2 Desktop DAW for Mac and PC provides expanded track counts and support for 3rd party AU/VST plugins. The MPC2 is the optimum platform for unrestricted creative versatility, delivering unprecedented surgical control and integration with the MPC Key 61 system. Users can run it as a DAW or a VST/AU plugin in 3rd party DAWs like FL Studio, Logic, and Ableton.
In addition to its impressive hardware, the MPC Key 61 also comes bundled with MPC 2 Desktop software, a comprehensive DAW designed specifically for MPC users. With MPC 2 Desktop, you can access advanced editing tools, track automation, and a wide range of mixing and mastering features. The software also includes a library of over 80 GB of sounds, samples, and loops, so you'll have plenty of inspiration to work with right out of the box.
One of the standout features of MPC 2 Desktop is its ability to host third-party plugins. This means you can use your favorite VST and AU plugins alongside the MPC Key 61's built-in instrument plugins. Whether you're looking for classic analog synth sounds, lush reverbs and delays, or powerful compression and EQ, there's a plugin out there that will help you achieve your desired sound.
Overall, the MPC Key 61 is a powerhouse of a synthesizer and MIDI controller packed with features designed to elevate your music production to the next level. Whether you're a professional producer or a hobbyist musician, this instrument will inspire and help you create music that stands out from the crowd. With its expressive keybed, versatile sound engine, and comprehensive software integration, the MPC Key 61 is a must-have for any serious music producer.