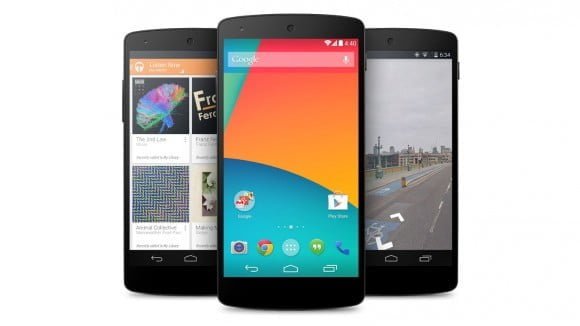 It's a 5" phone, and so much more. Built with precision, Nexus 5 delivers an intelligently simple design and showcases a stunning full HD display. Plus it comes in black and white.
All-new photo and video features help you capture moments in fresh new ways. And thanks to the latest from Android, Nexus 5 is fast, powerful and truly yours.
Android updates, straight from the source.
With Nexus 5, you're always the first to get the latest Android updates from Google. It's like being at the front of the line at every movie premiere.
Made for unlimited entertainment.
With over 1 million apps and games to choose from on Google Play, there's something for everyone. Find the most popular free and paid apps, explore hand-picked collections, browse by category or simply search.
Made for getting stuff done.
Gmail, Chrome, Google Calendar, Drive and Google Keep. All your favorite Google apps work together seamlessly across all your devices—desktop and mobile. Everything important to you is instantly available.
Made for finding your way.
The newly redesigned Google Maps app makes navigating your world effortless. Whether you're in an unfamiliar town or uncovering new local favorites, navigate like a pro to find the top places.