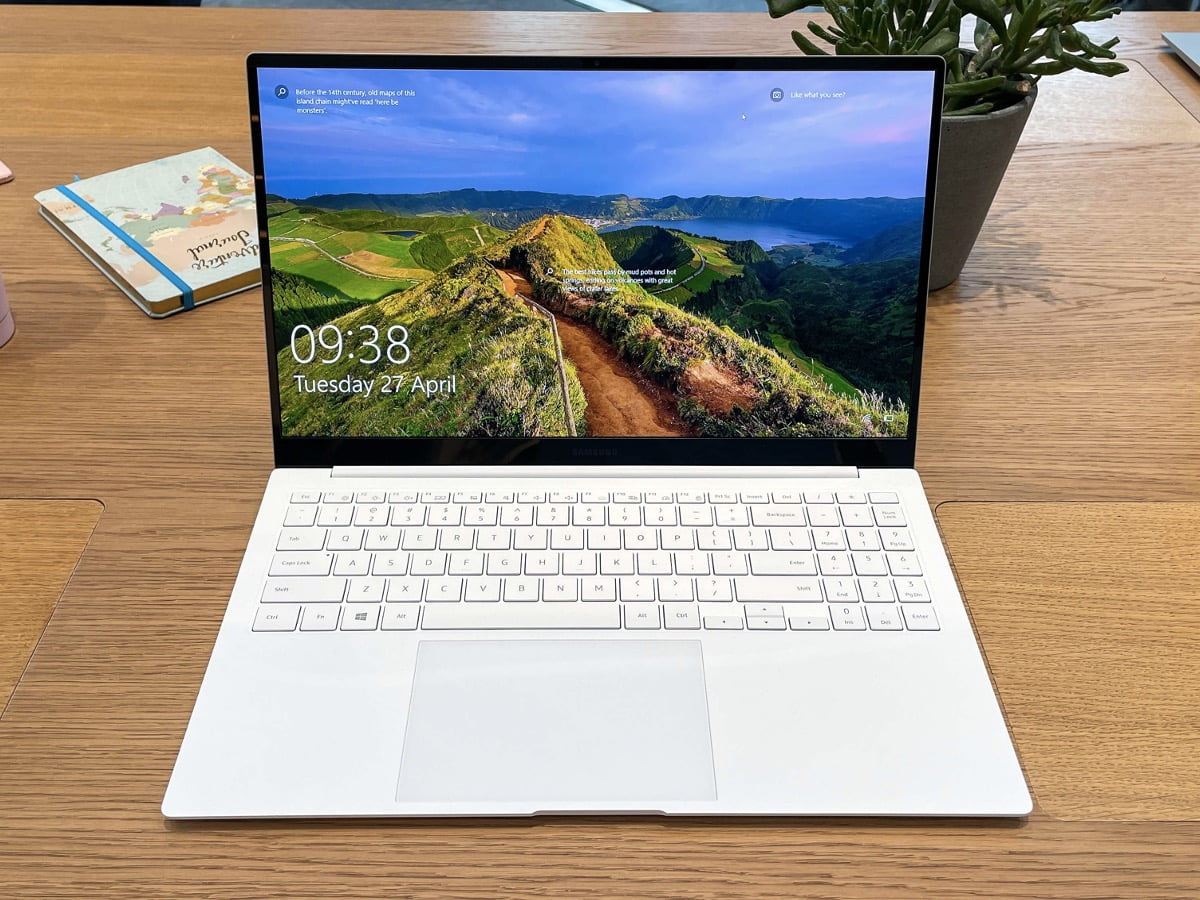 Many users are considering a travel-size laptop, especially students. Even though some prefer bigger ones for gaming or entertainment, others search the market for the best 13-inch laptop they can find. If you're struggling to find the best out of many choices, here's the Samsung Galaxy Book Pro 13-inch review that you can consider. 
What's in the Box?
The box comes with a Samsung Galaxy Book Pro 13-inch that measures 11.98 by 7.87 by 0.44 inches. You'll love how the size is neither too big nor small at all. You can carry it around with ease, especially when you often go out to study or work. It fits in most bag sizes, making it very convenient to bring anywhere. Aside from that, it's not very heavy at all. It only weighs 1.92 LBS, which is another feature you'll love about this Samsung model. 
The design of this laptop stays classy in its black and white combination. It doesn't stay out of style, which is why many users admire it. You'll also love how the keyboard is designed in white keys. You can guarantee the comfort when you use it. It's not too noisy, and pressing the keys is not difficult at all. 
Aside from the style, you'll also admire how durable this laptop is. It comes from high-quality materials, ensuring it will last longer compared to other brands in the market. You don't have to buy another laptop with this Samsung model because of its guaranteed sturdiness. 
Aside from the unit, it also comes with a charger for its battery. However, no other freebies are available, such as a gaming mouse or headset. Other laptops have freebies, but this unit doesn't have any. 
Specs
Display Resolution: 1920p by 1080p

Processor: Intel Core i5-1135G7

RAM: 8GB

Storage: 256GB

Connectivity: Wi-Fi 6E

Ports: one USB C, one USB 3.1, one microSD card reader, one combo audio jack, and one HDMI
Features
The Samsung Galaxy Book Pro 13-inch laptop comes with many features that you'll undoubtedly love, such as the following. 
The display resolution of this laptop is one thing that you'll admire, especially if you often watch movies. The 1920p by 1080p resolution will not disappoint you at all. It displays high-quality graphics on the screen even though it's not as big as typical laptops. If you're also playing your favorite video game on your computer, you'll love it more because of the graphics. 
Aside from the display resolution, the processor will not disappoint you because it uses an Intel Core i5-1135G7 processor. You can assure that the performance is not sluggish at all, especially when you're playing or watching movies. Thanks to its processor, you can switch from one task to the next without a lag. 
Contributing to its overall performance is its 8GB RAM. It's one of the reasons why many users enjoy using the laptop while playing their favorite video game. It guarantees no slowness when you're using it for gaming or entertainment. Aside from that, the 256 GB storage makes it more desirable. 
The battery life of this Samsung laptop is also another feature you'll admire. It can last for about a day, which is favorable if you prefer working outside your house. You don't have to bring your laptop charger with you when you're in cafés because the battery can last longer, making it more advantageous than other laptops in the market. Plus, there's a Battery Saver feature that you'll surely love. 
The handy size of this Samsung model is another feature you'll find exceptional. It's the ideal laptop you need if you travel or go out for work or study. Despite its size, you can see everything clearly on its 13-inch screen. It doesn't compromise resolution, which is another good thing about it. 
When it comes to camera quality, this laptop provides decent performance. You can use it well for videoconferencing, which is ideal for office-works. However, some noises in the background don't affect the camera's overall performance during video calls. 
You'll love the speakers of this laptop as it plays a quality sound, whether you're playing hip-hop music or acoustic. You can enjoy your favorite music without unwanted noises because it doesn't produce unwanted sound even when you turn the volume up. If you prefer sharing your music, you can listen to the sounds through your earphones or headphones since it comes with an audio jack. Moreover, connecting to any wireless device is hassle-free, thanks to its Bluetooth features. 
Lastly, you'll find the touchpad very convenient and comfy to use. It's wide enough, giving you convenience in navigating your cursor, unlike other laptops in the market that have smaller touchpads. Also, the texture on the finger is very comfortable.  
Pros
Travel-size

Exceptional display resolution

Long-lasting battery life
Cons
Minimal ports

Stiff touchpad

Few configurations options
Conclusion
The Samsung Galaxy Book Pro 13-inch laptop received an above-average rating from users in the market because of its remarkable features. Many users found it very interesting, but some still think some features need improvement. 
This Samsung laptop's performance and battery life are two features that users appreciate. They love how the performance is not sluggish even when you're multitasking. Plus, you can also use it for playing other video games because of its processor. When it comes to the battery, it can last for about 8 hours, which is a good feature since other laptops can't last over 5 hours. 
The size of this laptop is also another feature that users love. It's perfect for travel since it fits in most bag sizes. It's also not very heavy to bring, which is why many students consider buying it. 
Lastly, the sound quality will also not disappoint you at all. It may look cool, but it doesn't compromise the sound quality. You can play the music you want without noise. 
On another note, the touchpad is not very desirable to many users. It may be wide, but it's stiff, which other users don't appreciate. 
Nonetheless, this Samsung model is a good deal because it comes with many features you'll need when working, studying, or playing video games. It's also not expensive, compared to other brands in the market.