Launched along with Note 9 the Samsung Galaxy Watch is not only stylish but also makes things convenient for you. Samsung has launched the watch in two sizes 42 mm and 46 mm. You have two color options in 42 mm – Rose Gold and Midnight Black and the 46 mm comes in Silver (sort of two-toned actually with Black). You can customize it with different watch faces to suit your lifestyle. The battery life of the watches is indeed superb which make them manageable. Here is a sneak-peak in to details of this elegant watch:
Design and Size
Unlike the Apple Watch, this one looks like a normal watch. In fact even the 46 mm one looks perfect when it sits on someone with a medium sized wrist. The watch is circular and you will definitely be complimented for its looks. The 42 mm weighs 49 g while the 46 mm weighs about 63 g. You can wear the 42 mm watch with 20 mm straps and your options are Cloud Grey, Onyx Black, Terracotta Red, Lunar Grey, Cosmo Purple, Pink Beige, Lime Yellow and Natural Brown. For the 46 mm the choice of colored straps are limited and you get Basalt Grey, Onyx Black and Deep Ocean Blue.
The rotating bezel of the watch is an exciting feature which is not only cool but functional too. There are two buttons located on the right side, but Samsung has cleverly placed them off-center so they are not pressed accidentally.
Display
The watch comes with 1.2 inch/1.3 inch AMOLED screen for 42 mm and 46 mm Samsung watches respectively with a resolution of 320 x320 pixels. The screen is protected by military grade Corning Gorilla DX+ which makes it scratch proof and durable. The colors of the screen are bright and it is quite easy to see the watch even in the sun outside. The background uses blacks mostly which makes the pixels look clear.
Excellent Fitness Tracker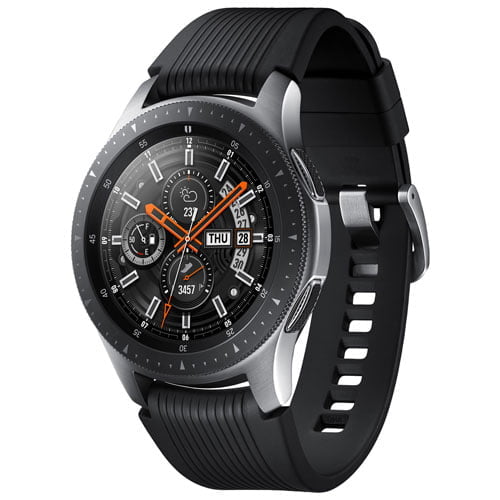 The auto-tracked workout feature is superb. It tracks running, walking, cycling, rowing, dynamic workout and elliptical workouts automatically – you don't need to activate the feature before you begin workouts for the above. Samsung Galaxy Watch automatically keeps track of calories burned by walking, running, etc. and send you notifications to keep you updated. However, there are times that it doesn't auto track your physical activities so you can always keep an eye on your watch to check if things are being tracked. The tracker also offers some good breathing exercises – go ahead and give it a try.
Price
You can grab this classy watch at $329 and $349 for 42 mm and 46 mm models respectively. If you are looking to get the LTE version, then there is a slight difference in the price. You need to pay $379 and $399 for the 42 mm and 46 mm models respectively.
Final Verdict
It is indeed a smartwatch with nice features, but it doesn't support apps like WhatsApp, Google Maps and Facebook Messenger along with a few others, on it. However, excellent battery life, modish look, contactless payments and an awesome fitness tracker make it a superb buy.
Last update was on: June 5, 2023 3:01 am