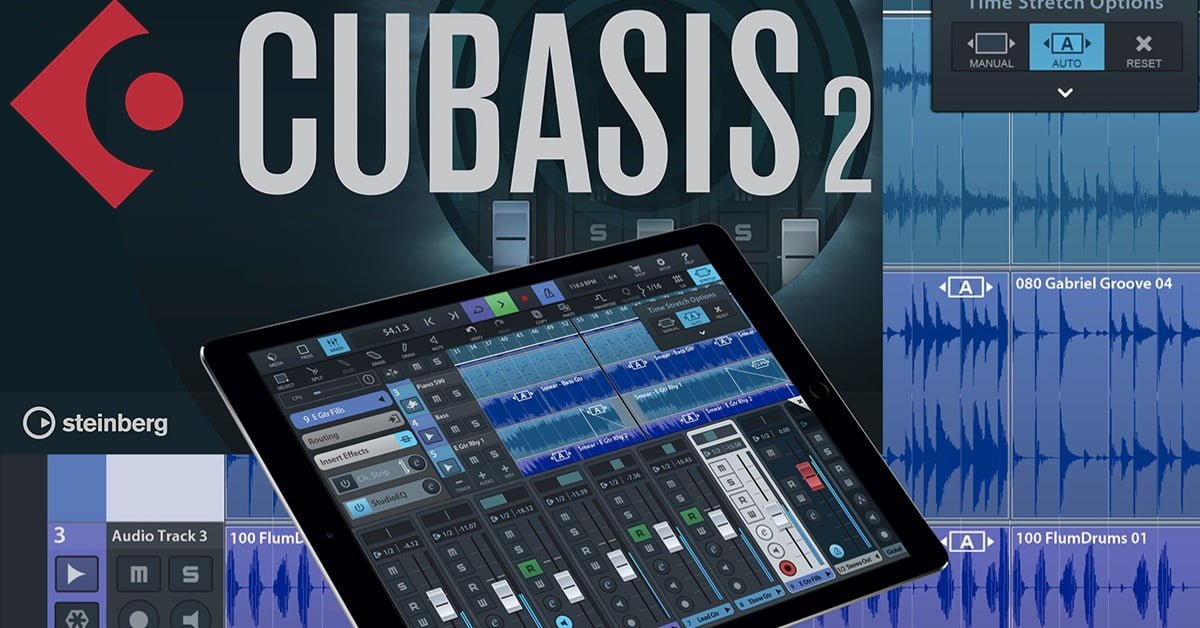 Steinberg, a renowned player in the world of digital audio workstations (DAWs), brought forth its iPad offering named Cubasis. It's been three years since experts dove into the details of this software. Since then, the digital realm has witnessed remarkable advancements. Apple's tablet, a powerhouse of mobile computing, has augmented its processing power and memory. Concurrently, Auria, Cubasis' noteworthy competitor, embraced MIDI capabilities, making it a force to reckon with in the world of mobile music creation.
However, the unveiling of Cubasis 2 showcased Steinberg's commitment to innovation. Existing users of Cubasis were pleasantly surprised with a complimentary upgrade, which redefined the way they perceived mobile music production. But before unraveling the novel elements of Cubasis 2, it's crucial to understand the software's inherent essence.
Cubasis acts as a bridge between comprehensive functionality and user-friendliness. It's the miniature counterpart of Steinberg's flagship Cubase DAW tailored for desktop environments. But don't let the term "miniature" misguide you. This compact variant is optimized for touchscreen interactions and is geared to handle an array of simultaneous audio and MIDI tracks. Steinberg ensured that while size is reduced, quality remains uncompromised.
The software boasts of three elite virtual instruments: Micrologue, a cutting-edge 'analogue' synthesizer; the Micro Sonic ROMpler, a powerhouse in itself; and the MiniSampler, which, though simple, is astonishingly efficient. As users traverse through Cubasis' interactive landscape, they can either record fresh or upload pre-existing MIDI and audio tracks. The system's innate versatility is further showcased by an adjustable mixer, which is complemented by a plethora of insert and send effects. The allure doesn't end there; these effects are expandable, offering a suite of possibilities to the user. Adjustments, whether audio or MIDI, are seamless, thanks to a highly adaptive editor. Flexibility continues to be a prime focus as the software permits exporting in multiple formats, and for those ingrained in the Cubase ecosystem, transitioning projects from Cubasis is a breeze.
However, what's software without consistent updates? Since our last deep dive, Cubasis has been drenched with a myriad of enriching updates, making the software more robust. A defining moment in its evolution was the support for Audio Units instruments and effects just before the launch of Cubasis 2. Audio Units on iOS is reminiscent of their Mac counterparts. Instead of functioning as stand-alone entities, they meld within the host software, resulting in a smoother, integrated user experience. This fluidity outshines other systems in the market, such as Inter App Audio or AudioBus. Designed as an extension, they fit into Cubasis like a missing puzzle piece, enhancing its capabilities. Yet, one must ponder why the Audio Units protocol hasn't seen widespread adoption among iOS developers. Irrespective of the reasons, it's evident that the potential of this system remains largely untapped.
Amidst the spectrum of updates, Cubasis 2 made waves with its real-time time-stretching and offline pitch-shifting capabilities. Empowered by the revered elastique 3 technology from zplane, the software offers users a canvas to select and modify audio clips with unparalleled precision. Every nuance, every tweak is manifested with clarity, ensuring that the user's vision translates into reality.
Parallelly, the audio pitch adjustment tool, a non-real-time marvel, opens avenues for impeccable sound modification. It might bear semblance to older systems, demanding user expertise and intuition, but the results achieved are nothing short of revolutionary.
Diving deeper into Cubasis 2's offerings, the Channel Strip emerges as a game-changer. Designed to elevate the auditory experience of iPad-based musical creations, this feature is an amalgamation of four dynamic processors, each meticulously crafted, imported straight from Cubase's vast arsenal. This integration promises an unmatched mixing ambiance, solidifying Cubasis 2's position in the market.
Among other features, Spin FX stands out, primarily designed with live performances in mind. This module, traditionally DJ-centric, finds its niche in studio settings, thanks to its adaptability and automation capabilities. Its presence accentuates Cubasis 2's diverse offerings.
The software's journey doesn't end here. Automatic MIDI recording quantization, an expansive array of sound content, and several other features make it a powerhouse. While Cubasis 2 builds on its predecessors, it stands as an emblem of consistent progress.
To conclude, Cubasis 2 is a beacon of software design excellence. Crafted meticulously for iPads of varying sizes, it promises an unparalleled user experience. It's a testament to the fact that powerful software doesn't have to compromise on user-friendliness. While some may argue about the limited presence of quality Audio Units, it's important to remember that Steinberg's brilliance shines in the face of these minor setbacks. With rivals like Auria Pro in the market, Cubasis 2 carves its niche, offering an intuitive and engaging experience. For anyone vested in the world of mobile music