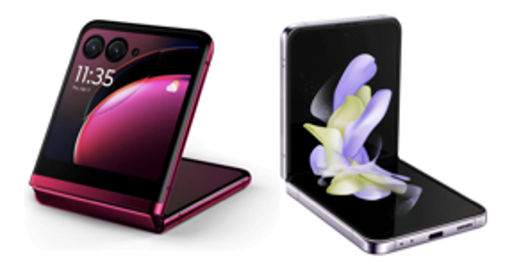 Summer has unleashed a surge in the availability of folding phones like never before. Motorola has revived its folding Razr smartphone (its inaugural reboot since 2020), and Google has also introduced its original Pixel Fold. OnePlus is likewise planning to launch a folding device in the U.S. later this year, among other offerings.
Samsung, having been a longtime player in the flexible device sector, has released its fifth generation of Galaxy Z Fold5 and Galaxy Z Flip5 devices. With years to hone their dual folding phone designs, Samsung ought to be at the forefront. Yet, in the face of these fresh and refined Flip5 and Fold5 models, my attention is gradually shifting toward the competing brands.
Innovative Clamshell and Book Designs
Manufacturers appear to have settled on two predominant folding phone styles. The first resembles a clamshell, akin to a regular smartphone that can be snapped in half. The second is the book style, opening vertically to provide a mini-tablet feel. Without a doubt, folding phones have demonstrated their practicality.
These flip folding phones are more compact compared to conventional smartphones. They allow you to angle the top half of the screen towards you for hands-free video chats without needing to fashion a stand. Moreover, book-like designs facilitate efficient full-screen multitasking with a larger display, offering a desktop-like experience for apps that utilize the broader screen.
Samsung's New Galaxy Z Solutions
What stands out in Samsung's new Galaxy Z phones is the absence of a visible gap when the screen is folded, an issue that plagued earlier models. The competition has resolved this too, leading us to question which brand truly excels in folding technology.
The Flip5, Samsung's clamshell-style folding phone, boasts a newly enlarged cover screen when shut. Unlike previous iterations that had a small sliver of a display, the latest model's 3.4-inch screen displays far more information. You can customize this screen, but it's not without its limitations, such as the restriction of only six apps and a constrained number of widgets.
Comparing the Razr+ and Flip5
Motorola's Razr+ offers advantages, such as a larger cover screen (3.6 inches) and unrestricted app access. Its vibrant ruby red design and textured back are more aesthetically pleasing compared to Samsung's glass finish. However, Samsung trumps Motorola in crucial areas like software updates, build quality (free from annoying noises), a vivid 6.7-inch unfolded main screen, and a more proficient dual-camera system in terms of capturing detailed and colorful photos.
Unique Features of Folding Phones
Folding phones are distinctive in their varied functionalities. Quick selfies or group photos are more engaging and easier to manage, using the rear or external screen. I appreciate these inventive ways to utilize the Flip5, especially during voice or video calls, making conversations more delightful even on a smaller device.
However, there's a letdown in battery performance. For instance, the Flip5's 3,700-mAh battery lasts only around four hours of screen-on time, similar to the experience with Motorola's Razr+.
The Fold5's Evolution
This year, the Fold5 feels somewhat dated, particularly with Google's Pixel Fold unveiling a wider front screen. Samsung's Fold5, on the other hand, uses a more constricted display that impacts user experience, especially typing. Nevertheless, the Fold5 brings neat multitasking features and enhancements, such as a more flexible triple-camera system. Yet, Google's folding phone seems to offer more precise photos, despite Samsung's improvements.
As for energy efficiency, the Flip5's 4,400-mAh battery managed to last over a day under regular use, an impressive feat.
Durability and Price Considerations
In terms of durability, Samsung seems to have an advantage with its Galaxy phones rated IPX8 for water resistance and alleged dust resistance. Yet, the major obstacle remains the steep pricing, unaltered after five generations. Various discounts and incentives might reduce the sticker shock, but the significant investment required for these folding phones demands careful contemplation of their necessity in one's life.
The folding phone market is booming this summer, with offerings from Motorola, Google, OnePlus, and Samsung, who recently released the fifth generation of Galaxy Z Fold5 and Galaxy Z Flip5. Despite Samsung's continuous refinement of their folding technology, competition seems to be catching up.
The Variety of Folding Designs
Two distinct designs have emerged among folding phones: the clamshell style, akin to a snap-in-half smartphone, and the book style, providing a mini-tablet feel. These designs have shown their practicality by offering more compact form factors and multitasking capabilities.
Advancements in Samsung's New Galaxy Z
Samsung's new Galaxy Z phones stand out for a design that folds without a visible gap, a previous flaw that's now resolved by Samsung and competitors. Their clamshell-style Flip5 features a larger cover screen when shut. Despite this innovative step, it has limitations, such as a restriction on app usage and widgets on the cover screen.
The Razr+ and Flip5 Face-Off
Motorola's Razr+ has certain advantages, such as unrestricted app access, a larger cover screen, and appealing aesthetics. Samsung still leads in software updates, build quality, a vivid main screen, and a proficient dual-camera system. These advantages extend to the unique functionalities of folding phones, such as quick selfies and engaging group photos.
However, the Flip5 suffers from disappointing battery performance, with only around four hours of screen-on time, paralleling Motorola's Razr+ experience.
Evolution of the Fold5
Samsung's Fold5, in comparison to Google's Pixel Fold, feels somewhat dated due to a more constricted display that impacts user experience. Yet, it brings neat multitasking features and an improved triple-camera system. Google's folding phone seems to offer more precise photos, though Samsung has made strides in this area.
The Flip5's 4,400-mAh battery is impressive, lasting over a day under regular use.
Final Thoughts on Durability and Price
Samsung's folding phones, with their IPX8 rating, appear durable but remain steeply priced, even after five generations. Though various discounts may lessen the cost, the investment in these folding phones still requires serious contemplation.
In conclusion, the folding phone market has expanded and evolved, with different designs and unique functionalities. Samsung remains a strong player, but other brands are not far behind. The critical choice now lies in balancing innovations, aesthetics, performance, and price.