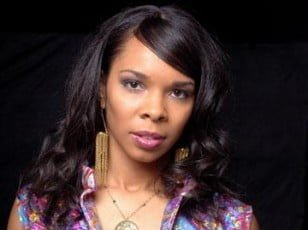 Can you say "grown & sexy" Yes it is Cherie Johnson, the girl who has grown up with us on sitcoms such as Punky Brewster and Family Matters. This woman has done a little bit of everything; star roles, guest stars, animated characters, guest appearances, producing and writing. Cherie Johnson was born in Duquesne (Du-Kane) located right outside Pittsburgh, Pennsylvania, but she grew up in Hollywood. With 25 years in the entertainment business, Cherrie is considered a veteran.
Cherie Johnson grew up on TV, in America's households, and has blossomed into an intelligent, well-rounded, grown & sexy woman. She carries a powerful and positive spirit and has accomplished many goals throughout her life so far. Fever caught up with Cheri Johnson to discuss her life as a child star and how she's become the successful woman that she is today.
You started your acting career at the precious age of six on Punky Brewster for four years, then moved on to be a reoccurring guest star on ABC's Family Matters for nine years, can you explain some advantages and disadvantages of growing up on TV as a child star?
Cherie Johnson: I loved it! To be able to go to work and see people I loved. The kids
on Family Matters were like my brothers and sisters. I had a very normal childhood. As far as the industry goes, I don't have a bad memory.
So you would go back and do it again?
Cherie Johnson: I would go back and do ALL of it over again. I would relive my life any day!
You just finished producing your first movie, suspense thriller, 7eventy 5ive, how was that experience?
Cherie Johnson: Producing 7eventy 5ive was a fun experience for me. At first the other producers didn't think I could handle the job but soon after, I flashed my resume at them to remind them I had been in the business for 25 years, they were soon convinced and gave me the executive producer position. Brian Hooks, my business partner worked with me on 7eventy 5ive. I first met Brian in 2003 and he has been my mentor since then.
How long did the movie take to film?
Cherie Johnson: About 2 1/2 years.
Tell me about producing the "Spirit of Comedy."
Cherie Johnson: Well, currently, I am producing three straight to DVD comedy shows. The Spirit of Comedy was one of Walmart's biggest sellers.
You are in the process of doing a series of children's books, can you tell me about that?
Cherie Johnson: Yes, I am creating a series of books about me. Not the celebrity Cherie
Johnson, but Cherie Johnson as a kid. I had a normal childhood. I got in trouble, I rode my bike, I lied to my mother, everything a regular child does, I did.
Did you have any boyfriends growing up?
Cherie Johnson: Oh yeah, I had the same boyfriend throughout high school and we are still good friends. I have had a few boyfriends growing up. A man should be respectful, honest and funny. I think making eye contact is important too.
Do you have kids?
Cherie Johnson: I don't have any kids now but I am in the process of adopting a sixteen year old girl who is pregnant so I would be a mother and grand-mother at the same time. I do want my own kids one day but I refuse to be a "baby mama," I would like to be married first.
You have grown into a sexy woman, are you planning to do any modeling?
Cherie Johnson: Yes, I would love to do some modeling.
What humbles you?
Cherie Johnson: My family! I enjoy spending time with my mother, my Aunt Debra, and my brothers. The best place to relax, laugh, and eat is with my family. My brother,
"The Wise Man," he always has my back and has put me up on a lot of game. I love my dog; he is my best friend. I really enjoy the simple life. I feel so thankful for what I have now and think the best thing about what god has given me is opportunity and the power for the people to hear my voice.