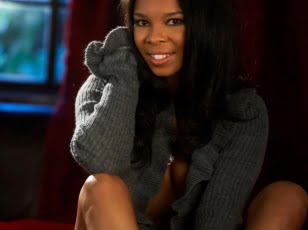 Do you remember the 80's TV show Punky Brewster with Soliel Moon Frye and Brandon the dog? If you do, you'll also remember her best friend, Cherie Johnson who was also on the show. Her body of work includes her memorable role as Maxine in the 90's hit TV show Family Matters, The Parkers and Days of Our Lives. Today, she's writing, producing films, co-hosting a radio show and participating in several charities. Along with a children's book series, she has several books out including her first one, Around the World Twice. Read more about what the award winning author, Cherie Johnson, has been doing since starting out on those young days of acting!
When you were a young girl, you started out as a determined actress. Tell us how you got the role of Cherie on the hit show Punky Brewster?
My uncle created the show and wanted to use my name. He gave me the script and told me to read it. I looked at the script said, "Oh this is great! When do I go to work?" He told me he sold the show to NBC and it'll go to an actress. Then I like, "Well then I want to be an actress!" To me, it was just about my name…how you going to use my name and let some other girl play me. I auditioned seven times and the president of NBC said, "Dude, give your niece the job." And I got it!
How did you use the acting experiences you've gained to write a book called Two Different Walks of Life?
Everybody always says it's all about my experiences acting. It was written by a good friend of mine, Charisse Edey. We lived two different walks of life! People look at celebrity women and think that their life is so much different than the average woman, but we're average with a different job. It shows that our lives parallel just like every woman does.
Tell us how you progressed into producing films?
I was a co-executive producer with Magic Johnson for a film called Dead Tone (2007). I've always wanted to do a horror film. After I did it, I fell in love.
Tell us how you got started co-hosting a sports radio show?
It's called the Bottom Line Sports. I actually came on as a guest. When I came on, one of the co-hosts and I started arguing about how girls don't know about sports. Eventually they ended up offering me a position.
Tell me about how you got into the restaurant business?
It's official. I'm a restaurateur! One of my reasons for coming to Houston (Tx) is to go in and give a neighborhood that is underserved the opportunity to have what every other neighborhood has as well as create employment opportunities for the neighborhood. It's called Datt's It! In a couple of months from now we are going to open a boutique next door.