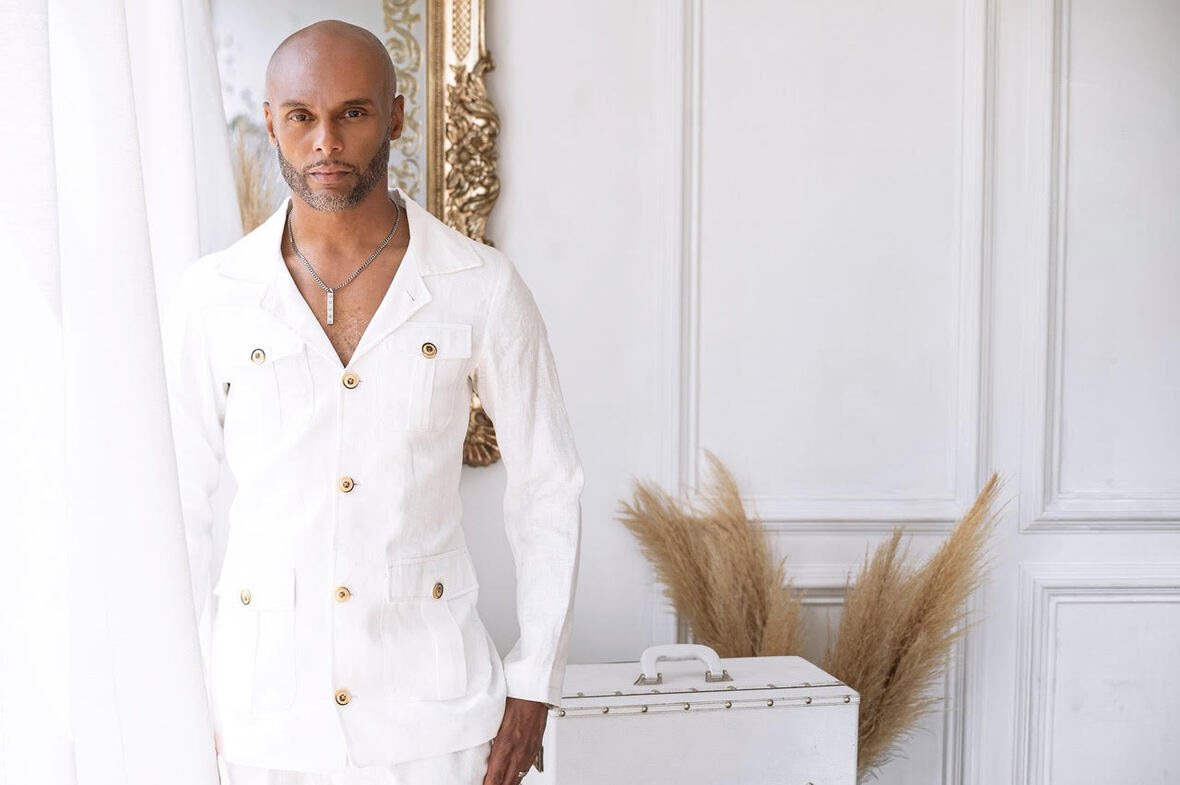 After many years in the business and chart-topping songs, Singer-songwriter, Kenny Lattimore, seems to have mastered the art of re-entering the music scene as if he never left, with a new album, new perspective on life, and new wife. During quarantine, Kenny has managed to create a whole new life for himself. Marrying the beautiful and intelligent, Judge Faith Jenkins, of Divorce Court Judge, and creating his latest album released at the end of last year. I was able to chat with him about love, life, and his new project.
Hi Kenny, how are you?
I'm fantastic.
Good I love to hear it! With everything going on in the world, you've had great things happening, new love, wife, and project. Meanwhile, everyone else's world seems upside down. (laughs)
(Laughs) I guess everything is about perspective at this point. One thing we did during the quarantine is, used it to connect on a higher and deeper level. With having a tour schedule like mine, and Faith (wife) taping Divorce Court, a television show with Oxygen, her book, and all of that, the time we were able to spend together was probably equivalent to what we would have in three years of time together. So, we saw it as an opportunity …and made the best of it. We did a lot of binge movie watching, hanging out in the backyard, and cooking a bunch of meals together as a family.
That's wonderful, not many people get the opportunity to just slow down in life as we were forced to do, it really brought things back to the core of life.
Absolutely, and then to actually be creating during that time and space as well! Which didn't start out as me just creating. As a matter of fact, I was enjoying the pace of things, and with technology I was doing virtual performances from home, I was doing weddings and things like that. It's very different but it still helps.
Now I'm so excited because live music is back, that's a different type of conversation being face-to-face with the audiences again and it's exciting. I'm like, let's get my new show together, I feel like I'm at my best and I want everybody to see it.
You've been in the business for some time and blessing people with your voice. How was this creative process? What was your favorite part of creating this new project?
Well, I didn't think I was going to do a contemporary R&B, it became a mentoring project for a great producer and writer, Madison Wesley. This gave him an opportunity to create music with me and for me, which also allowed me to keep learning. Sometimes people that have been in the business a long time get jaded and we start thinking "well I'm Kenny Lattimore and this is what I do", but I'm one of those people that feel we're ever-learning and growing. I want this generation to teach me what's relevant about the sound of today. I try to listen to other artists like Ro James, Lucky Daye, and different Jazz singers and love them. Now that the music industry has changed I had to make a sound that was relevant to the streamers. As a businessman, I know I also have a mature audience that isn't going to stream, so it's been a process of digesting this new system while learning it and embracing it. It's all about attitude.
You definitely did a great job. I was able to catch some sounds, the song Only Girl…. love it.
Oh, thank you.
I've been a fan of yours for a really long time. You did a wonderful job at creating a "right now" sound with this new album.
(slight chuckle) Thank you, I appreciate that.
You for sure did not struggle there, but um my all-time favorite of yours is, For You, I love that song. It's from a long time ago, so I've been with you a long time Kenny (laughs)
Yes, I love it I love it. For a person that's been with me through that legacy I did not want them to say, " Oh god why is he doing this" (laughs), because that happens sometimes. I wanted to do something that was still authentic, yet relevant for today.
You did a great job. It still has that same Kenny sound but is new, crisp, and relevant. Were there any influences as far as the new love in your life that played a role in what you chose for this album?
Absolutely, I wanted to make sure that every lyric authentically reflected my thoughts towards Faith and where our relationship is. That helps me sing from a different place.
Ok, do you plan on doing any tours?
Oh yeah, I'm so excited. Things have already been opening back up. I've done some small touring with Faith in celebration of her new book, Sis Don't Settle. It's about all matters of the heart which compliments all this love music I'm singing (slight laugh).
January, 16th is my first full-on headline show at Rams Head Live in Baltimore, MD.
Rams Head Live in Baltimore…Will you be mixing in some of your classics or are you tired of singing those? (laughs)
Oh no, it's so funny that you mention that. I think we've become too self-indulgent as artists a lot of times thinking about what we're tired of because that does happen. But I had to find love for what has made me who I am. My show is a mix of old, new, cover songs, or even acapella. Someone might shout out something and I just start singing it. You never know exactly but I try to give a well-balanced show and make it a storyteller journey of what my childhood was like and how I ended up where I am today.
You go with the flow…
I go with the flow.
How much influence has that had over the years because there's a secret, a secret sauce to being able to have a career spanning this much time?
Yeah, you know I think I um me giving reference to my past and how I grew up and all of that has been refreshing. A lot of it was about me taking voice lessons at an early age and singing classical, jazz, gospel, and all kinds of genres of music.
What is on the horizon for you, not just your career but now you have a new wife and family, what is the next step for you and your whole new life?
Wow, you know it's really been like a step at a time because now that we're out of quarantine we're learning who we are as career people. We have to be intentional about our relationship and time together.
Again, thank you for chatting with me today. I'm already loving the brand new album. It's available on all music platforms?
Yes, on Spotify, Pandora, YouTube Music, Apple Music…everywhere. And if anyone wants to know my tour schedule they can go to Kennylattimore.com.
Excellent, congratulations on your new marriage and finding your person during these crazy times. Good luck with the success of this album.