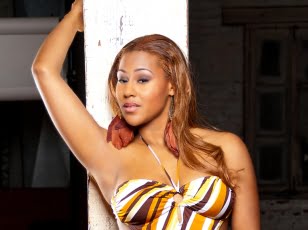 In an era where opportunity knocks few, far and between, here comes a lady whose fire is finding a way towards success. Ladyfire is a whole brand by itself…an author, a model, entrepreneur, motivator, a mother and an actress. Check out what makes this mogul in the making!
You have the makings of a true mogul… So tell me a little bit about yourself?
I always wanted to model since I was young. I've always watched Kimora Simmons because she started out as a model but turned herself into a brand. That's something I always looked up to…Even Tyra (Banks) because she has an empire and that's why my company is called LadyFire Empire.
You have a book entitled, The Tears of an Inmates Wife," available on April 15th. Tell us more about the book?
A lot of books are about using men, the drug game and the drug life. No one tells the story about being on the other side when a guy gets locked up. The book is about a female who's not in the streets. A lot of people think that when a female is in a relationship with someone in prison, she's automatically a hood rat or come from a bad neighborhood. I wanted to write a story about how she got caught up, how she stuck it out and all the things she went through.
Can you give us more information about your Blog Book Tour?
While I was researching, I saw one guy that was Top 100 on the Kindle list. My book will be sold as an EBook. However, I also want to do book signings in a book store and also a blog book tour where I go all around the Internet. I want it to be convenient for the people to read.
Your company, LadyFire Empire LLC, is launching a beauty line entitled, Inspire Beauty, this summer. Let us in on how it got started and some of the products you plan on selling?
A lot of girls are coming out with cosmetics…and I wanted to focus more on beauty and skin care. Wearing too much makeup…you will eventually have bad skin and age quicker. So that's why I wanted to start on that!
My product specially helps with Exira, Psoriasis and things like that. I know people that have Exira and Psoriasis, but have no help for it. My products is going to be facial scrubs… lip gloss that is actually gel to help heal lips… oil cold warming therapy for body acne… lotion that helps with Exira, Psoriasis and other skin conditions… a creamy balm to help sooth itching. You can even use these products if you don't have skin conditions.
You also co-host a radio show. Tell us more about this move?
The station is based out of Miami. I'm going to be out in the streets interviewing. I want my radio show to be different. I want people wanting to know who I'm going to be interviewing this time…or I can't wait to see what location she at. So I can't wait to start it! It should be out by this summer.