Adrián Núñez is a bilingual actor working in the English and Spanish market. He stars in the hit Netflix film Yucatán, which started streaming on February 15 in the Americas. In Spain, the film is distributed by 20th Century Fox España and debuted as the number one box office film. Adrián plays the character of 'Brendon' in the comedy about competing con artists on a cruise ship sailing from Spain to Mexico. Adrián is also known for lead role in the film 30 Days with My Brother. He appeared in television series Falling for Angels and Start Up (Adam Brody, Martin Freeman, Ron Perlman).
Congratulations on your new Netflix Film! How does it feel to know all your friends and family will be watching you?
Thank you so much!! It's been awesome – so beautiful to feel so much love and support from my family and friends getting together to watch the movie in different cities… getting so many messages from people that have enjoyed it. It's all still sort of surreal haha I'm feeling really fortunate and loved.
Are Adrián and Brendon anything alike?
I mean, I guess there'll always be my essence somehow blended into every character I play, and there's actually a lot in Brendon that we don't share, but I really got to let my playful, sassy, weird, festive and loud side come out and play through him for sure. And I also got to dance in the project, which is part of my roots. I never took any lessons or anything, but it's something I just have always enjoyed a lot…in elementary school, I would be the one kid dancing with all the girls in my class, and their moms haha I always hoped I'd get to one day do combine it with acting, so this was a blast for me.
In your own words, how would you describe your character, Brendon?
Brendon's a special one – he's funny, sassy, loud, overdramatic…yes he's a con artist, and there's some darkness behind that for sure, but he's also got a big tender heart underneath it all and he can sense that there's more to life than what he's been experiencing…deep down he just wants to love and be loved…just as he is, without judgment…but then again, don't we all?
I hear the role was originally written for a Brazilian actor. Were you at all discouraged by this?
You know, for a moment I considered sending them a take with a Brazilian accent…I guess out of this place of wanting to please, but I was encouraged not to by the person who recommended me for the role… she told me she had already told the casting directors that the character wasn't Brazilian; that it was me, haha And I had played a Puerto Rican character in my previous film, so to make it more interesting and fun for myself I gave him a Cuban accent, in honor of my family. And that's how the character went from being "Joao" to "Brendon". Glad I went in that direction.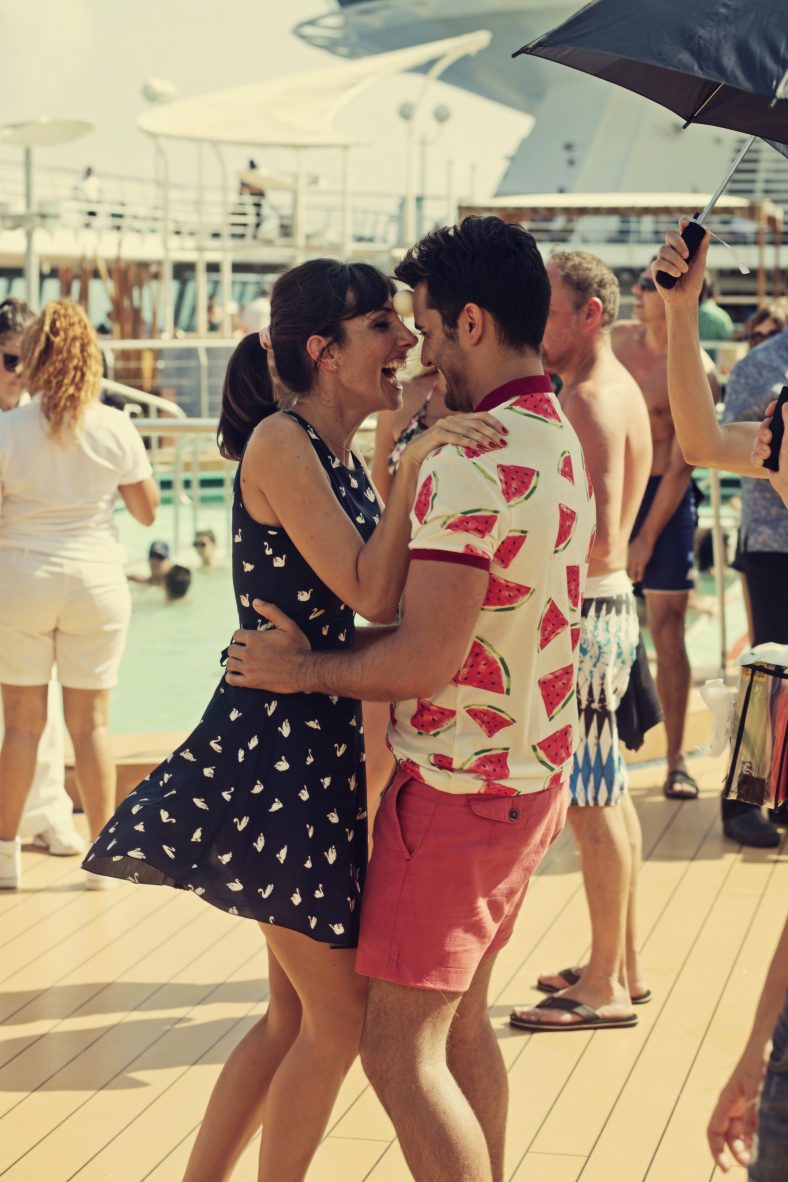 For me this is huge I mean I am half Puerto Rican myself and for mainstream Netflix to embrace Spanish speaking Film is major and I am excited! What do you think this means for the future of Latinos on in the industry?
Wepa Boricua!! Haha You know, it's really exciting to see and be part of the change. I am so grateful for that. There's so much great cinema in a variety of languages and I'm happy that we're getting to share and enjoy a more diverse set of stories and experiences across borders now…helps us all see how much more alike we all are than perhaps we may have thought. At the end of the day, it's all human experience…all the same under the surface. I'm excited to continue to see more people and experiences accurately represented and to help continue uniting a greater diversity of people through art.
Your film 30 Days With Brother was amazing I watched it last night. On amazon prime. Your character Jonathan was also a "Bad Boy" do you have any fears of being typecast?
Aw, that's awesome! Thank you so much for that. You know, I definitely used to give into that fear before…it was challenging not to at times. You invest so much of yourself for so many years into your art, which is also a career…and to think that you could be so limited within an art form that's supposed to be all about freedom can get scary. However, I realized that I also have the choice of going deep and bringing out more aspects to these characters, which allowed me to play in various sides of them…Jonathan was definitely darker and more brooding, but I got to find moments of lightness and vulnerability within him too. Same as for Brendon (though they're on very different sides of the bad boy spectrum). I love exploring the different sides we all have…embracing the contradictions that make us up…and that makes us all human. So hopefully that's coming through in my work and it allows me the opportunity to continue playing a wide range of characters. But at the end of the day, any opportunity that I get to be on set to play and create and help tell stories that I connect with is a huge blessing no matter what.
I have heard that you also go back home to Puerto Rico quite often to help young talent there hone their craft! Can you tell us more about your program?
I've always enjoyed sharing what's worked for me and I look for opportunities to do so. Right now I've been developing a workshop called Art Aligning that combines various healing modalities such as meditation, breath work and sound healing along with creative imagination exercises to empower artists by helping them cultivate their creativity and nurture their imaginations to deepen their work and hone their craft. At the same time, we're helping equip them with tools to help them improve their personal lives as well…because as artists, I believe they are especially intertwined, and to find balance and joy in the process is key.
How could someone who's interested in the program contact you or get involved?
Oh yeah, I love co-creating! Instagram's become a great and fun tool for me to connect. An email to RisingVibesStudio@gmail.com would also work. Thank you! I really appreciate the interest and support with this.
Okay shifting gears I was with my female friends last night while we were watching 30 Days With Brother…and the ladies want to know if you consider yourself a romantic guy?
hahaha Yeah… I like to plan thoughtful and romantic surprises…from little things to way more elaborate ones – it's exciting to me! And then seeing and feeling the reactions… I really enjoy those passionate telenovela moments, you know… but I'm also just a dorky, weird goofball who likes to laugh and cuddle.
Are you on social media? If so how can people follow you?
I am. My Instagram is @adrian_nunez
I'm also on Facebook as Adrián Núñez – Adrian Nunez and Twitter as @adriannunez03
Thank you so much for your time and support. I really enjoyed answering your thoughtful questions. Sending you love and much gratitude…
Un abrazo fuerte!
Handsome and such a gentleman what Fever are excited about your journey and will support you always!