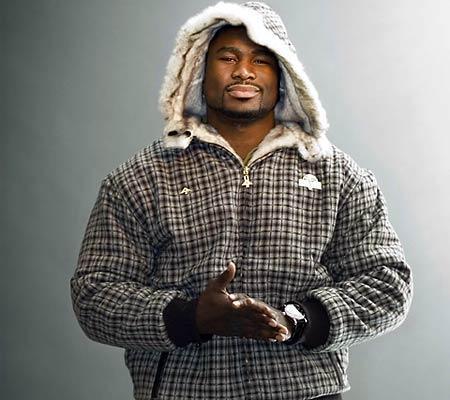 His incredible journey started in Boston, Mass. Ovie Mughelli opened his eyes to the world for the very first time on June 10th, 1980.
His arrival was met by proud parents, both of which are of Nigerian descent. As a youth, Ovie grew up pretty normal. "I was real adventurous. Climbing trees, loved to be outside, just loved being active." He had no clue just how far that would actually take him during the next 27 years and counting. Only needing to look as far as his immediate family, Ovie learned the tools of success early on; will, commitment, focus, and hard work. His efforts both on and off the field are a testament to his character.
Aside of being a star athlete in school, being awarded state Player of the Year as a high school senior , and three-time all-conference and team MVP honoree, he also served as the ASB vice-president, did hospital volunteer work and was a member of the church choir. After graduating from Porter-Gaud in Charleston, South Carolina, Ovie went on to attend Wake Forest University where he continued to do well.
"I was preparing to take the MCAT's just before the 2003 NFL draft", Ovie explained. "I was interested in becoming a pediatrician or doing something in physical therapy." As it turned out, that NFL draft proved to be a pivotal moment making the Baltimore Raven's his home for the next four years. He had finally earned a chance to do what so many people told him he wouldn't ever be able to. "Everyone thought playing professional football in the NFL was just a dream and I would never make it, or that I wasn't ready." Now that the door was open, he made sure to take full advantage of his opportunities. The drive that led him to success in earlier years did the same during his stay in Baltimore and continues to do the same for him today.
In 2007, Ovie became a free agent which allowed him to negotiate a new 6 year deal for a staggering $18 million dollars, the highest paid fullback contract in NFL history. Of his new deal he said, "I've got the best treatment. They send a private luxury jet to fly not just myself, but my parents down (to Atlanta) as well." The signing took place in the very early morning hours, officially making Ovie Mughelli the newest addition to the Atlanta Falcons. "Just a few years ago I would've never guessed my life would be where it is today." A long way from climbing trees as a kid, who would've thought #34 would be playing for the NFL, ringing the closing bell at Nasdaq in New York, hosting a radio show in Georgia, or any number of other things he's got going on. Ovie explained, "My first love will always be football but I also like business and now I've got the opportunity to do something in those areas too." Whether it's a trucking company, soft drinks, investing, or talking business with Ted Turner's daughter, the opportunity is definitely there these days.
In addition to everything he's got going on, Ovie always makes time to show his appreciation and give back to the community. "It's an honor to know I'm considered a role model. There's a lot of responsibility that comes with it but when you love giving back it's a privilege." He went on to say that he's frequently "speaking at schools, promoting positive change, and running the Ovie Mughelli Project", whose objective is to support underprivileged youth through education, health and sports initiatives.
When Ovie has the time, he's still as adventurous as ever doing things like jet skiing, riding horses, sky diving, and snow skiing. And we can't leave out the hiking and spelunking. He also enjoys traveling. "I like traveling and would love to visit Japan. I'm a fan of the Japanese culture, their style, and anime." Ovie even keeps a collection of Samurai swords on display in his house. With his professional career and personal life in full-swing, Ovie see's his blessings as an honor and is glad to bare the responsibilities that come with them.